Global Stock Markets Plunge In Europe, Asia On Looming Greece Default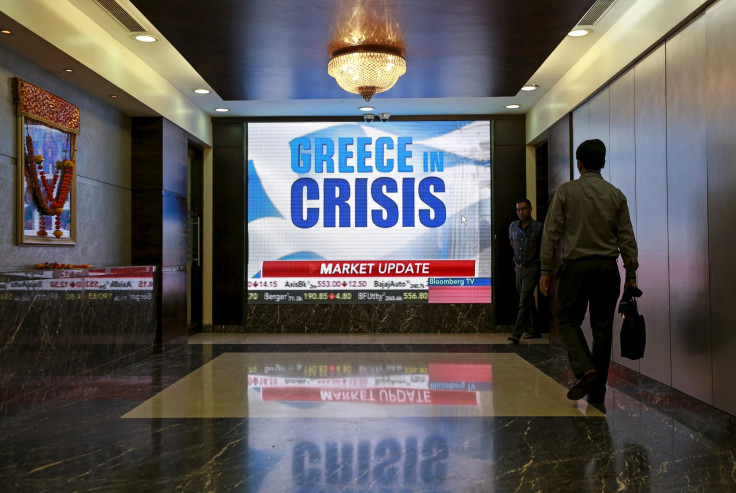 Global stocks plunged Monday after Greece failed to strike a deal with its international lenders. European and Asian markets tumbled. A meeting over the weekend between Greece and its debtors was one of the last opportunities for the country to reach a deal before it must repay 1.6 billion euros ($1.8 billion) to the International Monetary Fund on Tuesday.
The European Central Bank froze funding support to Greece's banks after debt negotiations collapsed. Greek Prime Minister Alexis Tsipras announced Sunday Greek banks would close Monday and capital controls will be imposed until July 7.
Athens is headed for a bailout referendum on July 5.
The European STOXX 600 tumbled more than 2 percent, while Spain's IBEX 35 index fell nearly 4 percent. Meanwhile, the Shanghai Composite index dropped 3.3 percent, its lowest level since April 16. The Athens Stock Exchange closed Monday and will not reopen until July 6.
The euro fell as low as $1.0953, touching a one-month low against the U.S. dollar.
The current government of Prime Minister Alexis Tsipras was seeking to restructure the country's massive debt burden, which stands at nearly 177 percent of annual GDP, more than any of the 19 nations using the euro as their currency.
Talks between Greece and its international creditors have stalled multiple times in the last four months. Greece struck a deal with the European Union (EU) in February to get 7 billion euros ($8 billion) in extra bailout funds, in exchange for economic reforms. The deal specified that the funds would not be released until Tsipras' leftist government submitted reform plans that were approved by Greece's creditors.
Greece was renegotiating the terms of its now $270 billion bailout program after the far-left Syriza Party won elections in January. Before the national elections, the Syriza Party, led by 40-year-old Tsipras, had staged a revolt against the budget cuts and other painful austerity measures mandated under the bailout arranged by the European Commission, European Central Bank and International Monetary Fund -- known as the "troika" of Greece's creditors. The previous conservative government of Greece had agreed to those bailout terms.
The major obstacles during negotiations have been pension reforms and VAT discounts for the Greek islands.
Ahead of the opening bell, U.S. stock futures traded sharply lower. The Dow Jones Industrial Average futures (INDEXDJX:.DJI) tumbled 180 points, or 1 percent, to 17,693. The Standard & Poor's 500 index futures (INDEXNASDAQ:.IXIC) lost 21.25 points, or 1 percent, to 2,074.25. The Nasdaq composite futures (INDEXSP:.INX) fell 54.25 points, or 1.21 percent, to 4,426.25.
© Copyright IBTimes 2023. All rights reserved.