Dresser Recall 2019: One Child's Death Prompts Recall For Tip-Over Hazard
South Shore Furniture has recalled over 310,000 dressers for a potential tip and entrapment hazard that has left one child dead. The company made the recall after two reports of tip-over accident from the dressers.
The recall affects the company's Libra-style, three-drawer chests that can become unstable if they are not anchored to the wall. This can cause the dressers to tip-over and trap a child, which could result in injury or death.
Dressers affected by the recall have a model number that ends in the letter A, B, C, D, or E. The model number is printed on a label on the back of the dresser. The dressers were made available in nine different colors and were equipped with one metal handle. They measure 27.5 inches high by 31.25 inches wide and 15.5 inches deep. They weight approximately 56 pounds.
The dressers were sold online from Walmart, Amazon, Target, and other online retailers from October 2009 to July 2018. The cost of the dresser was about $60, and it was manufactured in Canada and Mexico. Some of the dressers were sold as part of a three-piece bedroom set that included a bed and a nightstand. Only the dressers are being recalled at this time.
A full list of recalled dressers from South Shore Furniture can be viewed here.
South Shore Furniture is urging consumers to stop using the recalled dresser if it is not properly anchored to the wall. They should place in an area where children cannot reach or access it
South Shore Furniture is offering a full refund with free pick-up of the dresser. Consumers may also receive a free tip-over restraint kit with one-time free home installation of the kit. Consumers may also remove the drawer slides from one side of the dresser. South Shore Furniture will send packing as well as a prepaid shipping label to return the drawer slides for a full refund.
Consumers with questions about the recall can call South Shore Furniture at 855-215-4932 from 8 a.m. to 5 p.m. ET, Monday through Friday. Consumers can also visit www.ShouthShoreFurniture.com and click on the Recall Information link for more details.
In one of the top-over accidents, a child was bruised and scratched on his legs. In another tip-over accident, a two-year-old child was killed by the dresser that was unanchored and had three empty dresser drawers. Another 6,900 dressers were sold in Canada.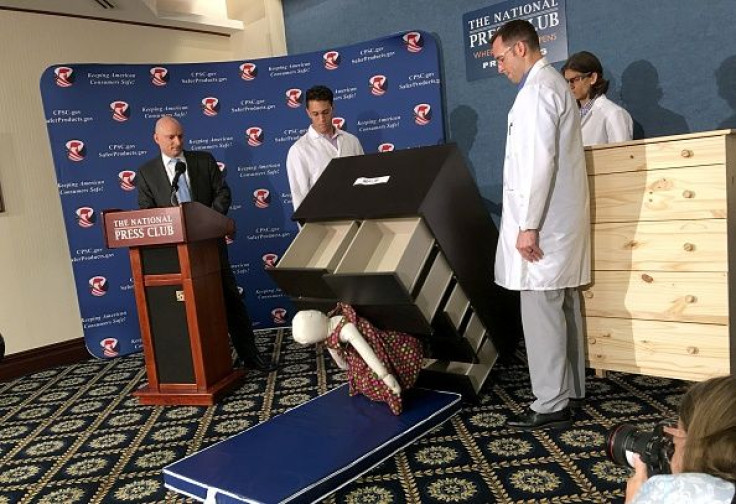 © Copyright IBTimes 2023. All rights reserved.