Drone Found Crashed In South Korea, A Day After North Korea Slammed Drone Investigations By The South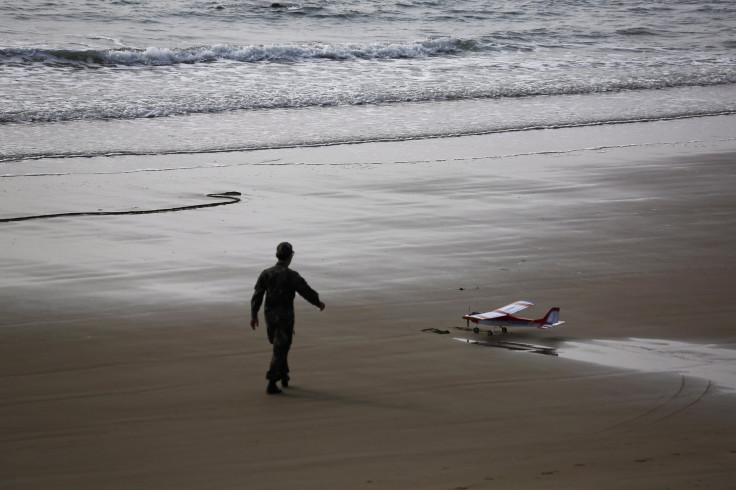 South Korea found another crashed drone Wednesday, following last week's investigation that concluded that the drones found earlier came from North Korea, which retaliated by calling the findings a "charade."
The drone was discovered by some passersby on Mount Cheonggye near Seoul, adding to the count of drones found in the South after three were discovered in March and April, which the defense ministry concluded were flown by the Democratic People's Republic of Korea, local media reported Wednesday. The date of the crash of the newly-found unmanned aerial vehicle, or UAV, remains unknown, Xinhua, China's state-run news agency reported, citing military officials.
"An investigation team from a nearby military unit is at the site," the official reportedly told local media, according to the South China Morning Post.
Not much is known about the UAV except that it resembles the three other drones in color, but is shaped differently. The three drones, according to news reports, were small, single-engine propeller planes equipped with Japanese-made digital cameras and were programmed to fly over military facilities. The South Korean military said last Thursday that they investigated the built-in memory chips and discovered images of the demilitarized zone and the Blue House in Seoul, which is home to South Korean President Park Geun-hye's residence and office.
The North has accused the U.S. of creating pretexts "for justifying the huge armed buildup needed for laying a siege to Eurasia and its permanent presence in South Korea," CNN reported, citing a statement from the country's military Tuesday.
"What the Park group uttered this time is an undisguised revelation of its wild ambition to achieve unification by absorption and a declaration of all-out confrontation with the DPRK's social system," North Korea's National Defense Commission reportedly said Tuesday, Xinhua reported, citing KCNA, a local news agency.
© Copyright IBTimes 2022. All rights reserved.
FOLLOW MORE IBT NEWS ON THE BELOW CHANNELS