Drug Convicts Executed In Indonesia, But Filipina Spared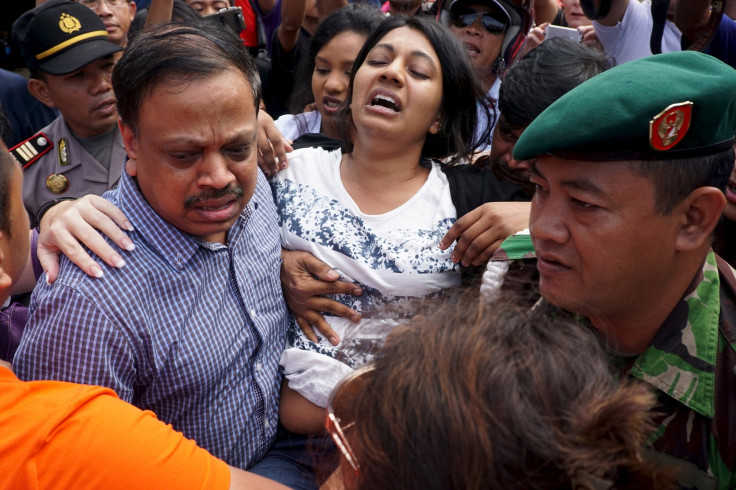 CILACAP, Indonesia (Reuters) - Eight drug-trafficking convicts from several countries were executed by an Indonesian firing squad shortly after midnight on Wednesday, local media said, but a Filipina who was on death row with them was unexpectedly spared at the last minute.
There was no immediate official confirmation from Indonesia that the eight men had been executed, though a lawyer for two Australians among the group said they had both been shot dead.
The Brazilian government also confirmed one of its citizens had been killed as well, saying it was shocked by the second execution of a Brazilian in Indonesia in three months despite President Dilma Rousseff's personal humanitarian appeals.
Earlier, Jakarta rejected last-ditch pleas from around the world for clemency to be granted to the drug traffickers from Nigeria, Australia, Brazil and Indonesia, ordering their mass execution to proceed within hours.
A spokesman for the Attorney General's Office said it had delayed the execution of Mary Jane Veloso, a housemaid and mother of two who was arrested in 2010 after she arrived in Indonesia with 2.6 kg of heroin hidden in her suitcase.
He said the delay came in response to a request from Manila after an employment recruiter, whom Veloso had accused of planting the drugs in her luggage, gave herself up to police in the Philippines on Tuesday.
Supporters holding a vigil for Veloso outside the Indonesian embassy in Manila cheered and clapped on hearing the news.
The proposed death penalties strained ties between Indonesia and other countries, in particular Australia andBrazil.
Amnesty International said the executions were "utterly reprehensible".
"The execution of eight people in Indonesia today shows complete disregard for due process and human rights safeguards," it said in a statement.
In Australia and around the world, supporters of those executed expressed sadness, shock and anger on social media.
"Ham-fisted policy from a medieval regime," Twitter user Darren Reid said. "You will never get a travel cent from me."
Virgin tycoon Richard Branson, who has campaigned against the death penalty for drugs offences, said he was shattered by the executions despite calls for clemency.
Hours before the expected executions, crowds had gathered in cities across Australia to hold vigils for Myuran Sukumaran and Andrew Chan, holding placards and calling for Australia to respond strongly to its neighbour if the executions proceed.
Security was tightened on Tuesday at the prison on an island off Cilacap town on the Java coast ahead of the executions.
A small group of protesters held a candlelight vigil, weeping and singing hymns as they counted down the minutes to the executions, calling for the death penalty to be abolished.
A lawyer for the Brazilian man said witnesses of the execution would leave the island in about two hours.
Officials said the prisoners were to be given the choice to stand, kneel or sit before the firing squad, and to be blindfolded. Their hands and feet were to be tied.
Twelve marksmen were assigned to fire at the heart of each prisoner, but only three would have live ammunition. Authorities say this is so that the executioner remains unidentified.
The unexpected reprieve for the Filipina came after a compatriot who had promised Veloso a job in Indonesiaand given her the suitcase with heroin secreted in its lining, surrendered to police in the Philippines on Tuesday.
Veloso's lawyers had filed a human trafficking complaint against the recruiter, Maria Cristina Sergio.
Philippine President Benigno Aquino leapt on the development to make one last appeal to spare Veloso, arguing that she could be a vital witness in prosecuting drug syndicates.
His plea appeared to have been rebuffed and Celia Veloso, Mary Jane's mother, told Philippine radio that her family had already been on the way to retrieve her daughter's remains. But in the ensuing hours there was a change of heart.
Authorities on Monday granted Australian Chan's final wish, which was to marry his Indonesian girlfriend at the prison.
But they rejected last-minute appeals from Australia to save the lives of Sukumaran and Chan, who were arrested in 2005 as the ringleaders of a plot to smuggle heroin out of Indonesia.
Australian Foreign Minister Julie Bishop told ABC television earlier: "Should these executions proceed in the manner that I anticipate, of course, there will have to be consequences."
Australia-Indonesia relations have been tested in recent years by disputes over people smuggling and spying. In late 2013 Indonesia recalled its envoy and froze military and intelligence cooperation over reports thatCanberra had spied on top Indonesian officials, including the former president's wife.
Indonesia has harsh punishments for drug crimes and resumed executions in 2013 after a five-year gap. Six have been executed so far this year.
The case of the latest group to be executed had drawn significant media attention because the Australian government was openly outraged over the cases and because many saw the judicial process some convicts went through as unfair.
There were at least two ongoing legal appeals from the eight executed prisoners, Amnesty said, adding that one of them had mental disabilities.
© Copyright IBTimes 2023. All rights reserved.