Drunken Russian Soldiers Detained For Driving Armored Troop Carrier Without Licence [VIDEO]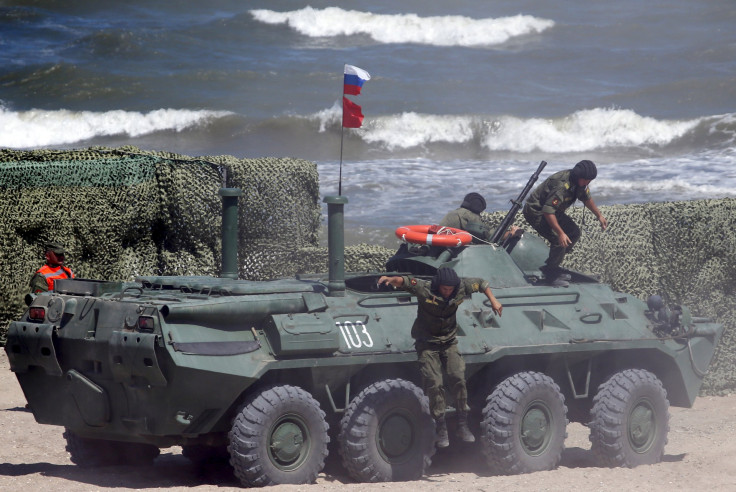 Police in Russia Tuesday detained two soldiers in the eastern Siberian city of Chita for riding an armored personnel carrier (APC) in a drunken state. The soldiers reportedly did not have a licence to drive an APC.
Police stopped the APC in a courtyard of an apartment block as it crossed the path of oncoming traffic, RT.com reported Wednesday. The soldiers refused to leave the vehicle and the police reportedly had to use a sledgehammer to drive them out.
"A report about an armored vehicle moving around the city came in the previous evening. According to eyewitnesses, the vehicle began moving along the highway crossing the path of oncoming traffic and creating an emergency situation on the road," Larisa Ivanova, a spokeswoman for the regional branch of the Russian interior ministry, told TASS news agency.
A witness told a local news network that the soldiers drove the APC to a playground and "profundly" damaged the fence around it, RT.com reported.
The two soldiers would be dismissed from the Russian Armed Forces, TASS reported, citing the press service of the Eastern Military District.
"After conducting a medical examination and establishing the fact of the alcohol intoxication, the servicemen who drove an armored vehicle in Chita will be dismissed from the Russian Armed Forces by the decision of the commander of the Eastern Military District," the press service told TASS.
The press service reportedly added that the officials whose negligence caused the incident will also bear personal responsibility for the dismissal of the soldiers in accordance with military regulations.
Watch the drunken Russian soldiers driving the APC:
© Copyright IBTimes 2023. All rights reserved.