Dry Dock Flooded, Flags Mounted! China's Third Carrier To Be Unveiled On President Xi's Birthday?
KEY POINTS
Chinese flags were seen on the carrier's islands and deck
China has not yet released any statements about the launch
The advanced Type 003 has catapults for launching jets
The launch of China's third aircraft carrier, the Type 003, is imminent, according to satellite images from the Jiangnan Shipyard in Shanghai. The images show the aircraft carrier in a now-flooded dry dock.
The images were taken at 3:21 am ET on June 14 by Planet Labs, a San Francisco-based public earth imaging company, reported The Drive.
Besides flooding the dry dock (done usually to prepare for the vessel's departure), decorations were also seen on the catapults. Chinese flags have also been mounted on the carrier's islands, flight deck, and along its sides, similar to what the PLA did for its two other carrier launches.
Though there were reports that the carrier launch would happen in the first week of June, the event got delayed, probably due to technical problems. Satellite images around that time had shown the dry dock where the warship was positioned cleared, leaving an open path to the Yangtze River.
China has not yet given any public statements about the carrier launch but speculations are rife that the warship may be launched on June 15, which is also Chinese President Xi Jinping's 69th birthday.
Collin Koh, a research fellow at the S. Rajaratnam School of International Studies, had tweeted that the "launch of new carrier on his stated birthday (15 June) would be apt" as "Xi is deemed the chief architect of an increasingly powerful bluewater PLA Navy."
Under Xi's guidance, China reportedly undertook an ambitious project in 2015 to turn the PLA into a world-class fighting force. The PLA embarked on a ship-building spree and it soon surpassed the U.S. Navy to be the world's biggest Naval force.
This is China's third carrier, the others being Liaoning and Shandong, which is also China's first domestically developed aircraft carrier. However, Type 003 will still have to undergo a lot of work even after its launch to become combat-ready. The U.S. expects the ship to enter service in 2024.
Unlike the first two carriers, Type 003 has catapults for launching aircraft that will increase the payloads of aircraft that can fly off the deck, and unlock new carrier-capable aircraft design possibilities.
According to analysts, Type 003 is just on par with the USS Kitty Hawk platform as a conventionally powered aircraft carrier with about 65,000 tonnes of displacement.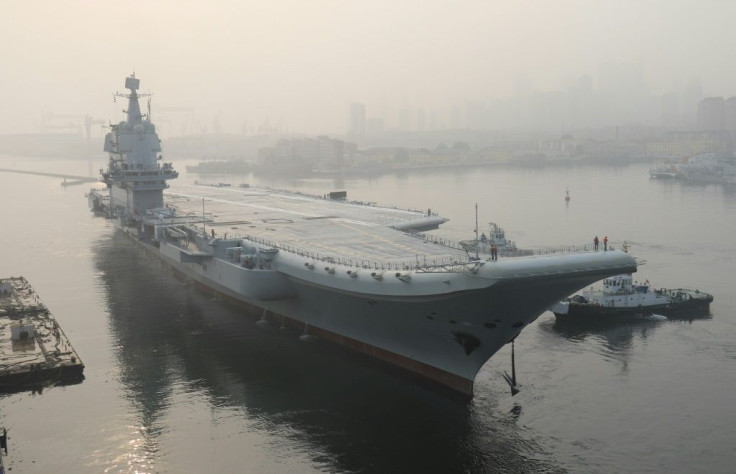 © Copyright IBTimes 2023. All rights reserved.