Duggar Miscarriage: Michelle Naming Dead Baby, Says Birth Control Ineffective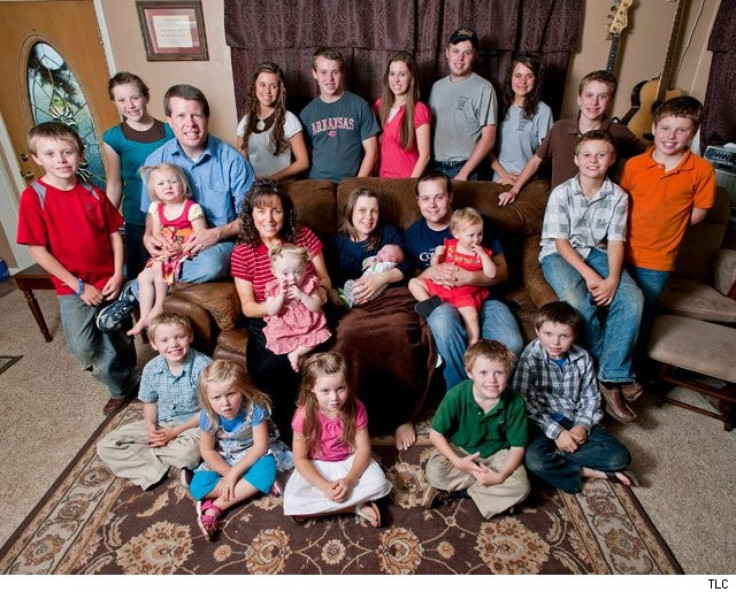 Michelle Duggar, reality star mom of TLC's 19 Kids and Counting, suffered a miscarriage on Dec. 8, her second with husband Jim Bob, but says she intends name the twentieth child.
During a routine check-up on Dec. 8, Jim Bob and Michelle Duggar were devastated by the news that their twentieth child no longer had a heartbeat. Our doctor said it was wise to let this miscarriage happen naturally, said Michelle, at home with her 19 children. So that is what we are going to do.
Michelle Duggar was 19 weeks and 1 day into her pregnancy, in the second trimester, when the miscarriage was diagnosed. But that hasn't stopped her from revealing the decision to name her unborn child, who was measured at 16 weeks when it died.
Miscarriages Reason Why Duggars Don't Use Birth Control
TLC's 19 Kids and Counting is already home to many children, few with more than a year between them: Joshua, 23 (who is married and has two children of his own); twins Jana and John-David, 21; Jill, 20; Jessa, 19; Jinger, 17; Joseph, 16; Josiah, 15; Joy-Anna, 14; twins Jedidiah and Jeremiah, 12; Jason, 11; James, 10; Justin, 8; Jackson, 7; Johanna, 6; Jennifer, 4; and Jordyn, 3, and Josie, 2, who was born prematurely.
What many fans of the Duggar family do not know, however, is that Michelle, 45, and Jim Bob, 46, have prepared for a twentieth child before; though, at the time, he was meant to be somewhere in the middle of their growing family.
In the 1980s, just after giving birth to eldest son Josh, Michelle and Jim Bob suffered their first miscarriage when Michelle got pregnant while taking oral birth control.
That tragedy, in fact, is what convinced Michelle Duggar that birth control was largely ineffective and morally unsound. After that, the choice of whether they had more children became a decision left up to God.
Realizing that, with our own lack of knowledge, [we were] allowing one of our own babies to be destroyed, Duggar said in an earlier interview. She claimed that being on birth control is what caused her first miscarriage.
Husband Jim Bob Duggar agreed. As we started studying the Bible, and the Bible says that children are a blessing and a gift from God, he said, we just really felt like we needed to give this area of our life to God.
'We will see those children in heaven.'
The failure of oral contraceptives to prevent Michelle Duggar's pregnancy and eventual miscarriage also convinced her that every child she has, regardless of whether it comes to term, is a part of their family and a gift from God.
For that reason, Michelle Duggar told People Magazine shortly after her miscarriage, she has decided to go ahead and name the baby the Duggar family lost. It was the same thing she did for her first miscarriage, as well.
We named that baby Caleb, even though we didn't know if it was a boy or girl, because that miscarriage was early, she says. We will name this child [from the most recent miscarriage] and will know that we will see those children again someday in heaven.
She also said that she was coming to terms with the miscarriage, though she felt heartbroken having to tell her 19 kids. The Lord is the giver of life and he can choose when that life is ready to go on and be with him.
© Copyright IBTimes 2023. All rights reserved.