Duke Basketball 2015: One-And-Dones Help Blue Devils Win National Championship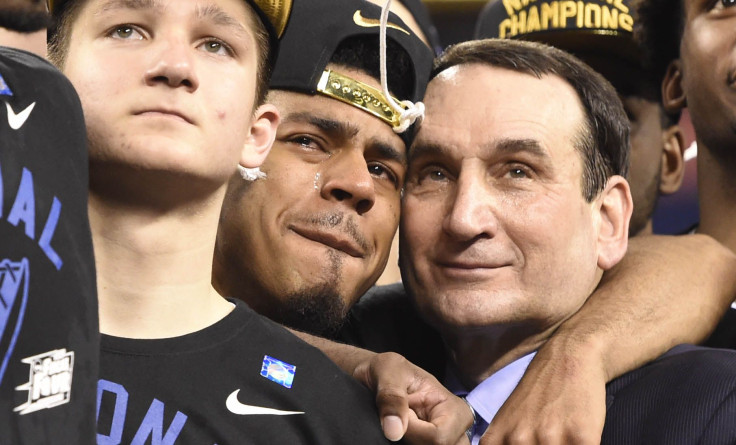 The Duke Blue Devils are riding high after defeating Wisconsin in the national championship game, but that euphoria may be short-lived. A few of the team's best players will likely end up being "one-and-done," as their college basketball careers appear to be over after their freshman season.
Jahlil Okafor, a freshman standout and AP Player of the Year runner-up, is almost certain to enter the 2015 NBA Draft, considering he has a chance to be the No.1 overall pick. Justise Winslow saw his draft stock rise during March Madness, and the possibility of being a top-five selection could force him to leave Duke after one year. Even freshman Tyus Jones, who was just fourth on the team in scoring this season, could be gone as a potential first-round pick. Jones received the most outstanding player award in Duke's title season, but had not been regarded as a potential lottery pick.
Duke has been considered college basketball's most-hated team for years, and now the program is gaining the reputation of recruiting superstar players who quickly develop NBA ambitions without fully refining their games. It's a reality that many elite programs have had to deal with, but many believed that Duke would remain an exception given the school's high academic standards and legendary head coach Mike Krzyzewski's strong emphasis on personal conduct.
"If we can find kids that fit our profile, we will deal with the consequences of whether they are there for one, two, three or four years," Krzyzewski said before the start of the Final Four. "I think to get the right kid is the most important. We need to respond accordingly if we lose them earlier."
Krzyzewski says he doesn't target recruits that will be gone after their freshman year, though he recognizes it's a possibility. In recent seasons, Duke has been led by players that went to the pros as soon as they were eligible. Jabari Parker was the No.2 pick in last year's draft, and he followed in the footsteps of others Duke players who made the early jump like Kyrie Irving and Austin Rivers.
The NBA instituted an age limit in 2006, requiring players to be 19 years old and a year out of high school, but Duke didn't have any one-and-done players at the outset. After Luol Deng left the Blue Devils in 2004, no Duke freshman was drafted for another seven years. But that's changed since Irving was the NBA's No.1 pick in 2011. There has also been a greater reliance on freshman productivity, as 65 percent of Duke's scoring in the national championship game could enter June's draft after just one year in school.
Wisconsin head coach Bo Ryan has never had a one-and-done player, and he took pride in that fact at Monday's postgame press conference. Recruiting players that stay in college has worked out well for the Badgers. Senior Frank Kaminsky won multiple national player of the year awards this season, and Wisconsin has reached the Final Four in each of the last two years.
"We don't do a rent-a-player. You know what I mean?" Ryan said after losing to Duke. "Try to take a fifth-year guy. That's OK. If other people do that, that's great. I like trying to build from within. It's just the way I am."
But recruiting freshmen that only play one season of college basketball hasn't hurt Duke. Not only were the Blue Devils able to win a title this season behind Okafor, Winslow and Jones, they are likely to be a strong contender next year with a new crop of freshmen.
Reinforcements are on the way in the form of Chase Jeter and Luke Kennard. ESPN ranks Jeter as the country's No.9 recruit, and the 6'10 center from Las Vegas is expected to fill the probable vacancy of Okafor. Kennard, a shooting guard from Ohio, ranks No.23 overall and could immediately be thrust into the starting lineup.
The Blue Devils success didn't solely fall on the shoulders of one-and-done players. Senior Quinn Cook was essential to the team's title run, ranking second on the team with 15.3 points per game. Grayson Allen, a freshman guard, scored 16 points against Wisconsin and seems certain to play through his senior year in Durham. When Duke reached the Elite Eight just two years ago, the team's top three scorers were seniors.
Duke recruits their share of star freshmen who can potentially leave after one year, but they are nowhere close to being the biggest offenders in college hoops. That title belongs to John Calipari and Kentucky, who have had seven freshmen drafted since 2012. Potential No.1 pick Karl-Anthony Towns will lead the way this year as a few more Kentucky freshmen are almost certain to enter this year's draft.
Duke played in their first national championship game under Krzyzewski in 1986, and they've been the nation's top program ever since, winning five titles. Even with talk that the NBA could change the age limit in the future, the Blue Devils shouldn't have much trouble adapting.
While Ryan and Calipari are on two opposite ends of the spectrum, Krzyzewski has managed to use both methods to his advantage. The perfect mix of experienced upper classmen and talented one-and-done freshmen has helped Duke remain on top of the sport in the ever-changing landscape of college basketball.
© Copyright IBTimes 2023. All rights reserved.