To Dull Economic Pain Of Paris Terror Attacks, France May Find Lessons In US Fed's 9/11 Response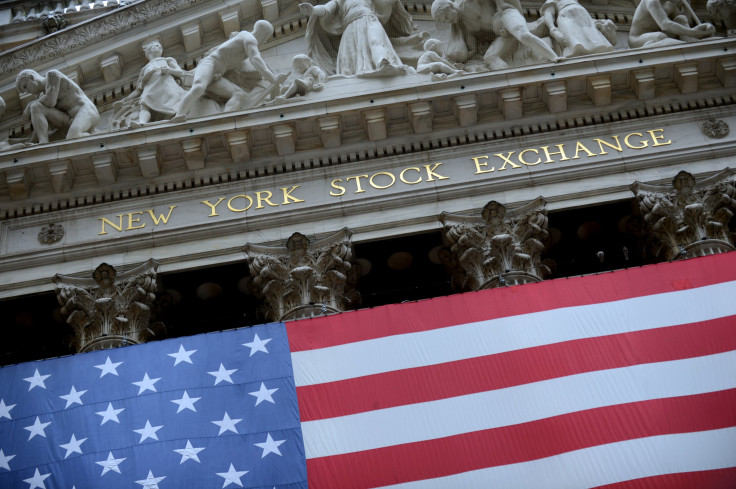 Beyond the cost in life and security, the attacks in Paris seemed perfectly timed to sabotage a newly resurgent French economy. Just hours before terror struck Friday, government officials announced that the world's fifth-largest economy had seen growth return this past summer, following three months of stagnation. The fresh data put France on pace to deliver its strongest annual performance since President Francois Hollande took power more than three years ago.
Now, that tenuous turnaround is under threat.
As the world pledges military and intelligence cooperation to aid France's response, economists and monetary policymakers anticipate that the combination of fear and a prolonged state of emergency will weaken the nation's growth rate.
France's GDP Growth | FindTheData
As French leaders seek to minimize the economic fallout, their most instructive lessons may come from the U.S. response to attacks of Sept. 11, 2001. The answer to that terrorist attack went well beyond then-President George Bush's advice to go forth and stimulate the economy by heading to the shopping malls and theme parks: The government spurred economic activity through aggressive spending, while the central bank dropped interest rates to encourage borrowing, investing and consuming.
"After 9/11, our resilience was high, but so was our fear, both of which had profound effects on the bottom line, though in opposite directions. Government policy in the form of Federal Reserve action and fiscal policy reduced the losses significantly," argue economists Adam Z. Rose and S. Brock Blomberg in a 2010 paper entitled "Total Economic Consequences of Terrorist Attacks: Insights from 9/11."
The authors conclude that strategic economic policy measures kept 9/11's immediate economic damage — $75 billion, or three-quarters of a percent of gross domestic product (GDP), according to IMF estimates — at a minimum.
Like the U.S. economy in 2001, teetering on the brink of recession, France is struggling. Before Friday's attacks, however, freshly buoyant French consumers — jazzed by rising wages, low inflation and depressed energy costs — were spending the country toward revival. According to Friday's release from the French National Institute of Statistics and Economic Studies, manufacturing activity and household consumption recovered in the recent quarter.
"This morning's figure confirms we have exited in 2015 the period of weak growth that France has known since the end of 2011," Finance Minister Michel Sapin said Friday in a statement. "These put us under good conditions for accelerating growth in 2016."
Sapin's projection wasn't just home-team boosterism. The Organization for Economic Co-operation and Development (OECD) had a similar outlook for France when it released its recent Economic Outlook report for 2016 and 2017 a week ago. The OECD forecast that French households were expected to power the country's quickened pace of economic growth for the next two years. The group's economists noted that one element of a standard recovery — still absent in France — would return soon: robust business investment.
But terror's price is typically high. France will absorb the immediate cost of lives ended and ruined, demolished property and wrecked infrastructure in the coming weeks. Officials will also try to minimize the effects of business interruption and reduced travel and tourism in the world's most-visited country. France welcomes some 83 million foreign tourists each year and a trend toward longer stays in hotels and other accommodations has led increased tourist spending in recent years. As a result, travel and tourism account for 7 percent of French GDP. There will also be indirect costs, including damage to the confidence of consumers, executives and investors.
Number of International Tourism Arrivals into France | FindTheData
As French policymakers search for a remedy, economists warn they must be mindful of the negative effect that higher insurance premiums, increased security and other counterterrorism measures have on productivity. None of this will be easy, but in the aftermath of the the Sept. 11 attacks, Alan Greenspan's Federal Reserve took active steps, large and small, to calm financial markets and prevent the U.S. economy from succumbing to chaos.
As an immediate attempt to stimulate the economy, the Fed lowered interest rates by 1.25 percentage points in the weeks following the attack. It also injected more than $100 billion of additional liquidity into the U.S. banking system from "extensive discount window lending and open market operations to waiving overdraft fees and decreasing the intended federal funds and discount rates," according to an IMF analysis by R. Barry Johnston and Oana M. Nedelescu.
At the same time, "other government agencies took the initiative to introduce fiscal stimulus to bail out industries affected by the attacks. The insurance and airline industries received direct government assistance in the immediate wake of the attacks," Johnston and Nedelescu write. U.S. lawmakers also moved quickly to pledge support as an insurer of last resort to cover claims that private insurance companies could not — or refused to — pay.
Effective Federal Funds Rate | FindTheData
European central bankers may ponder similar responses. At the same time, policymakers across the globe might also consider moves that ensure minimal economic contagion in a global economy still reeling from an unexpected slowdown in the rate of China's growth.
Johnson and Nedelescu's IMF analysis points to a "coordinated effort" among major central bankers after the 9/11 attacks "to support the global payments system, strengthen confidence, and shore up financial markets." Indeed, monetary policymakers from major economies such as Canada, the eurozone, Japan and the United Kingdom "directly injected large amounts of liquidity and made immediate interest rates cuts in response to the Federal Reserve's measures. These actions were subsequently followed by a number of other economies, including Denmark, Hong Kong SAR, Korea, New Zealand, and Sweden."
Though the U.S.'s economic reply to 9/11 may serve as a guide to France after the Paris attacks, the broader U.S. military and foreign policy reaction could be a cautionary tale. While economists Rose and Blomberg praise the U.S.'s post-9/11 resilience, they conclude that the Bush administration's "subsequent anti-terrorist initiatives at home and abroad were more costly than the direct damage caused by the attack."
© Copyright IBTimes 2023. All rights reserved.
FOLLOW MORE IBT NEWS ON THE BELOW CHANNELS