Duluth Flooding Drowns Lake Superior Zoo Animals, Evacuations Under Way In Fond du Lac And Thomson Township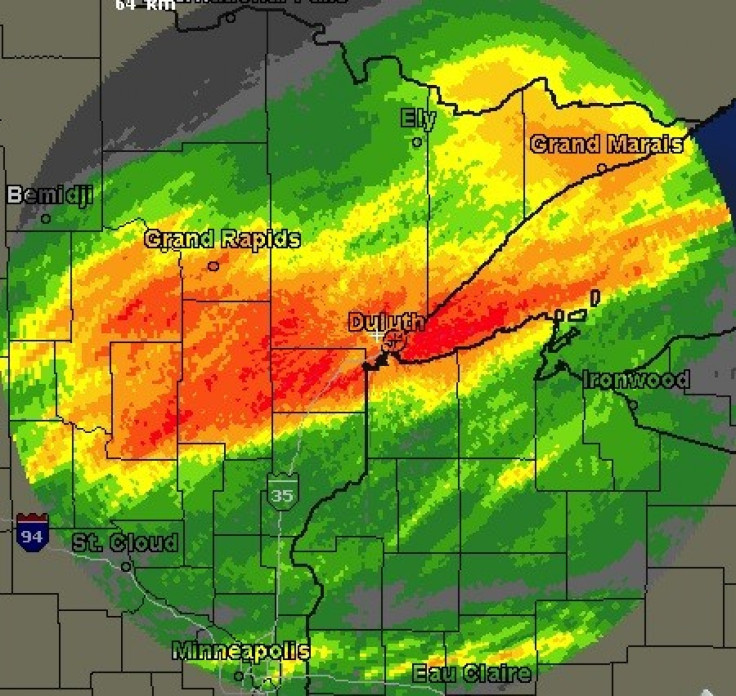 Serious flooding is taking place in Duluth, Minn. on Wednesday, June 20 as torrential rainfall is bombarding the North Shore of the city.
According to weather reports, a series of training thunderstorms, that all passed over the same region, has dumped 4 - 5 inches of rain over the large area of Northern Minnesota.
Evacuations are under way in the Fond du Lac neighborhood of Duluth and in Thomson Township, while Duluth fire and police crews are trying to take control of the situation.
With some reports indicating nearly eight inches of rainfall in the Denfeld area of western Duluth, the conditions have shut down Interstate 35 and downtown tunnels in Duluth.
Firefighters and police officers reported to the Lake Superior Zoo to help track down animals that were at one point reportedly unaccounted for.
Zoo spokeswoman Keely Johnson has told the Duluth News Tribune that although all of the animals in the exhibits are now accounted for, at one point the seal swam out of its exhibit and was found on Grand Avenue.
The Tribune goes on to report that at another point during the flood, the zoo's polar bear, Berlin, was able to exit its exhibit.
The female bear was darted by the zoo's veterinarian and is safe in quarantine. None of the zoo's dangerous animals got outside the perimeter fence, Johnson said.
In an unfortunate turn of events, the Lake Superior Zoo spokeswoman has said that many of the zoo's animals have drowned, including all but one of the zoo's barnyard animals.
In addition to those deaths, Johnsons said that it was possible that others have also drowned as flooding on the grounds have consumed some of the exhibits, such as the raven and vulture cages.
A flash flood warning from the Duluth National Weather Service was issued at 7 a.m. on the morning of June 20, which warned citizens that just because you might be able to travel to a destination now... does not mean you will make it in one to two hours. This is how fast this situation may deteriorate as more rainfall moves in from the west.
The flood is the city's worst since its previous record setting flood, which occurred on Aug. 20, 1972.
© Copyright IBTimes 2023. All rights reserved.