Dunkin Brands Group (DNKN) Earnings Preview: Dunkin' Donuts Will Expand In China, Adding To Growing Cafe Culture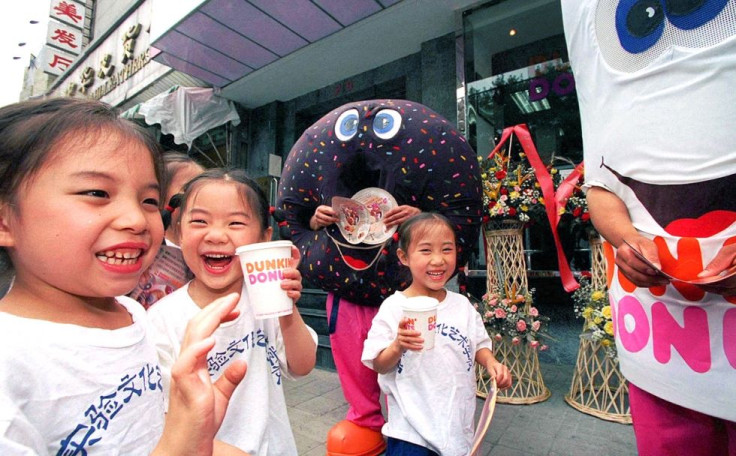 Dunkin Brands Group Inc. (NASDAQ:DNKN) wants a bigger bite of China's newfound appetite for coffee and doughnuts. The world's second-largest economy has a growing café culture that has already lured Starbucks Corporation to its larger cities, where the Seattle coffee roaster plans to open hundreds of stores in the next few years. Now, Dunkin wants to do the same.
The Canton, Massachusetts, owner of Dunkin' Donuts and Baskin-Robbins plans to grow its China business from just 19 stores to some 1,400 by 2035. The company will outline the effort in a conference call after its first-quarter earnings release April 23.
With such a small presence in China, Dunkin' Donuts needs help reaching its goal. In January, the 65-year-old chain recruited Jollibee Worldwide, the global fast-food company that operates Jollibee restaurants across Asia, to become the exclusive Chinese franchise operator.
Jollibee has strong experience in managing store operations in China and elsewhere, serving millions of Filipino overseas workers who flock to the chain's familiar bumblebee logo and menu items because it reminds them of home. Dunkin' Chairman and CEO Nigel Travis lauded Jollibee's "proven track record of success in the quick-service restaurant industry in China," when the deal was announced.
This won't be Dunkin Brands' first attempt at expansion in China. In 2008, the company said it would open 100 stores by 2018, but it scaled back that goal in 2013, company regulatory filings said. The tie-in with Jollibee could help speed the process.
Like Starbucks and other American restaurant chains, Dunkin' plans to create items that would appeal to Chinese palates, including doughnuts topped with finely shredded pork or made from glutinous rice and bagels topped with pineapple.
Dunkin will release its financial results for its first quarter before markets open April 23. Analysts polled by Thomson Reuters expect the chain to report a 50 percent jump in profit, to $34.4 million, on a 5.1 percent increase in revenue, to $180.8 million. Earnings per share are predicted to increase from 21 cents to 34 cents.
Analysts expect Dunkin Brands' expansion in Asia, Europe and the western United States to increase the company's revenue in the coming years, topping $1 billion for the first time as early as 2018.
"We expect total revenues to rise about 6 percent in 2015, following a 5 percent increase for 2014.We believe more than half of the increase in 2015 will come from a higher number of stores ... in the western part of the U.S. and in international markets, in particular the Asia-Pacific region," Standard & Poor's equity analyst Efraim Levy said in a research note last week.
© Copyright IBTimes 2023. All rights reserved.