Durant Explains Plan To Rectify 3-Point Shooting Form, Discusses Free Agency
Kevin Durant was happy with himself on Wednesday when he spoke to reporters ahead of the Golden State Warriors' game against the Oklahoma City Thunder the same night. The Warriors small forward sat down after a solo shoot-around for an in-depth Q&A session where he discussed his current lack of form from beyond the arc, his $25,000 fine for directing abusive language toward a fan and his upcoming free agency.
Durant has had a rough week after coming under the spotlight following an intense row with teammate Draymond Green and that has coincided with the Warriors' poor form, which has seen them lose five of their last six games, which includes Wednesday night's 123-95 loss to Thunder.
The two-time NBA Finals MVP seemed to get frustrated with a group of fans that were aiming insults at him during their game against the Dallas Mavericks. They were reportedly throwing insults like "Cupcake" which resulted in Durant telling them to: "watch the f---ing game and shut the f--- up."
The insult was caught on tape and Durant admitted that he knew instantly that a fine was coming his way. NBA penalized him $25,000 for inappropriate language toward a fan.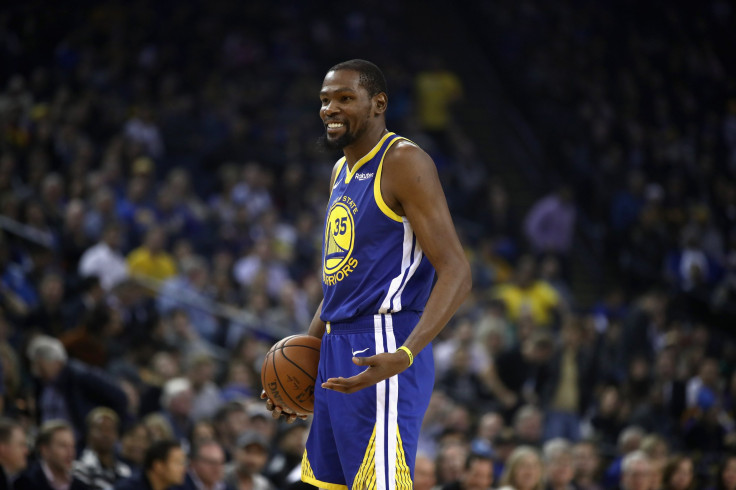 The Warriors forward admitted that he will accept the charge from the NBA and move on despite stating that the fan's actions toward him were wrong.
"I figure that guys will react the way that they want to react in that moment. But like I said, I knew if somebody caught the video, I knew it was going to be a fine. I just accept it and move on," Durant said, as quoted on the San Francisco Chronicle. "Yeah. But I mean, you've just got to play and move on. I'm not saying what that guy said was right, at all, but it's time to move on from it. I understand what that's about. The NBA's just trying to make sure everything's clean."
Prior to the game against Thunder, Durant had shot just 3-for-21 from beyond the arch in the last five games. It is a poor record for a player known to be a high percentage three-point shooter. He revealed that he has been struggling with his grip and balance. Durant plans to get back to basics and is hoping that his return to form from beyond the arc will inspire teammates Klay Thompson and Quinn Cook to get going.
"Man, just shoot it with confidence. Stick to the fundamentals. I think for myself, I haven't been making threes, man, but I don't think I've been getting a good grip on the ball or my balance hasn't been as good as I want it to be," the two-time NBA Finals MVP said.
"Just get back to the fundamentals, following through, trust the base of my shot and hopefully I'll start knocking them down, and hopefully me making some threes will give us some energy as a team. Hopefully, Klay (Thompson) gets it going, Quinn (Cook) gets it going, guys that knock down threes so we can get some energy," he added.
Amid talks about his loss of form and his row with Green, Durant's impending free agency in 2019 has been a constant topic of discussion. The question of whether he will stay or go has been asked and answered on numerous occasions by the player himself, former players, and NBA experts.
There are as many that believe he will stay as people who believe Durant will leave. The Warriors star, however, is keen to focus on the matters at hand and keep his attention on the happenings on-court rather than off it.
© Copyright IBTimes 2023. All rights reserved.