Duterte Calls Putin His 'Idol,' Philippine President Slams Western 'Bullying'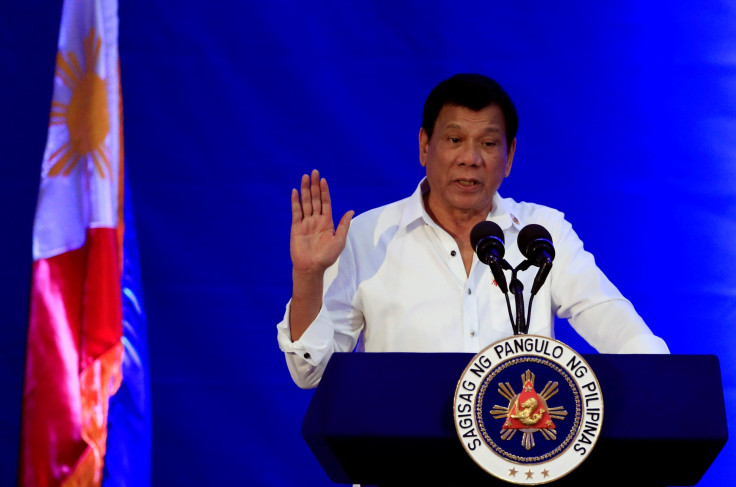 During his first meeting with Russian President Vladimir Putin on Saturday, Philippine President Rodrigo Duterte said the U.S. could not be trusted when it came to alliances. The new comments once again signal a shift in Manila's foreign policy, moving away from Washington.
Speaking to Putin during an Asia-Pacific summit in Lima, Peru, Duterte reportedly said, "Historically, I have been identified with the Western world. It was good until it lasted. And of late, I see a lot of these Western nations bullying small nations. And not only that, they are into so much hypocrisy."
Putin, who Duterte reportedly referred to as his "idol," congratulated the controversial 71-year-old leader on his win in the May election and commended him for his efforts in bringing Manila and Moscow closer.
"Mr. President, this year marks 40th anniversary since diplomatic ties between our countries established back in time. Historically, it's quite a short period of time," Putin said.
Duterte slammed the U.S. and its allies in the West for taking the lead in wars in which, he said, they ultimately lost.
"They seem to start a war but are afraid to go to war. That is what's wrong with America and the others. They were waging war in so many places, in Vietnam, in Afghanistan and in Iraq ... They insist if you are allied with them that they follow you," he said.
He also added that the Philippines had been "longing to be part of Europe especially in commerce and trade around the world."
Early Sunday, Putin also invited Duterte to Moscow for a visit. "Russian President Vladimir Putin has formally extended an invitation for President Duterte to go to Russia. This will be preceded by a trip that I would undertake there this December," Filipino Foreign Affairs Secretary Perfecto Yasay reportedly said.
Before leaving for the summit, Duterte signaled that the Philippines would follow in Russia's footsteps and exit the International Criminal Court.
Duterte's comments on the U.S. and his shift towards Russia and China have put the 65-year-old alliance between Washington and Manila in question. The Philippines received $236 million financial aid from the U.S. in 2015 and is to receive $188 million in 2017, according to U.S. data. However, Duterte's brutal war on drugs, which has claimed at least 2,300 lives since he came to power in June, has received criticism from world leaders and international institutions.
© Copyright IBTimes 2023. All rights reserved.
FOLLOW MORE IBT NEWS ON THE BELOW CHANNELS