Dwight Clark Death: Tom Brady Pays Tribute To 49ers Icon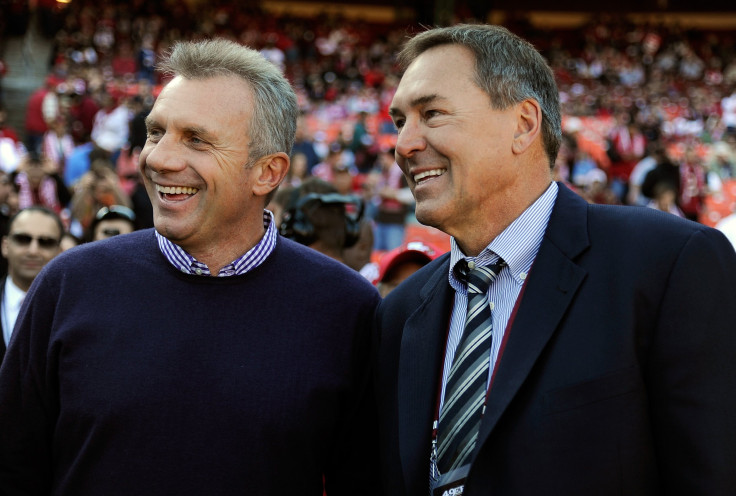 Former San Francisco 49ers wide receiver Dwight Clark died Monday after a battle with amyotrophic lateral sclerosis (ALS), also known as Lou Gehrig's disease.
The NFL legend was 61 years old and had only just over a year back revealed that he was diagnosed with ALS. Clark's wife Kelly announced the wide receiver's death via his official Twitter account Monday.
"I'm heartbroken to tell you that today I lost my best friend and husband. He passed peacefully surrounded by many of the people he loved most. I am thankful for all of Dwight's friends, teammates and 49ers fans who have sent their love during his battle with ALS," she wrote.
The two-time Super Bowl winner became part of history after being involved in one of the greatest NFL plays forever referred to as "The Catch." Clark caught the touchdown pass from Joe Montana in the 1981-82 NFC Playoffs, tying the game and taking the 49ers to a 28-27 win over the Dallas Cowboys in the final minute of the game.
Clark joined the 49ers in 1979 when he was drafted by the NFL franchise in the 10th round and spent his entire nine-year career with the same team. He made 134 regular season appearances and helped to two Super Bowl Championships (Super Bowl XVI & Super Bowl XIX).
"The San Francisco 49ers family has suffered a tremendous loss today with the passing of Dwight Clark. We extend our condolences and prayers to Dwight's wife, Kelly, his family, friends and fans, as we join together to mourn the death of one the most beloved figures in 49ers history," a statement from the 49ers read after Clark's death.
"The strength, perseverance and grace with which he battled ALS will long serve as an inspiration to so many. Dwight will always carry a special place in our hearts and his legacy will live on as we continue to battle this terrible disease," the statement added.
There has been an outpour of support from the NFL community after news of Clark's death was announced with many former and current players sending their thoughts and prayers to the wide receiver's family.
Tom Brady, who is now considered the greatest player in NFL history, sent out a touching tribute to his idol. The 40-year-old quarterback and his entire family were 49ers fans until Brady began wearing the New England Patriots helmet after being drafted to the franchise in 2000.
Brady, who still plays for the Patriots, was in the stands when Clark caught the game-tying touchdown pass from Montana. The American quarterback paid a touching tribute re-living some of his memories of meeting Clark as a young boy in San Mateo.
© Copyright IBTimes 2023. All rights reserved.