Dwight Howard Trade Rumors: The Bulls are a Longshot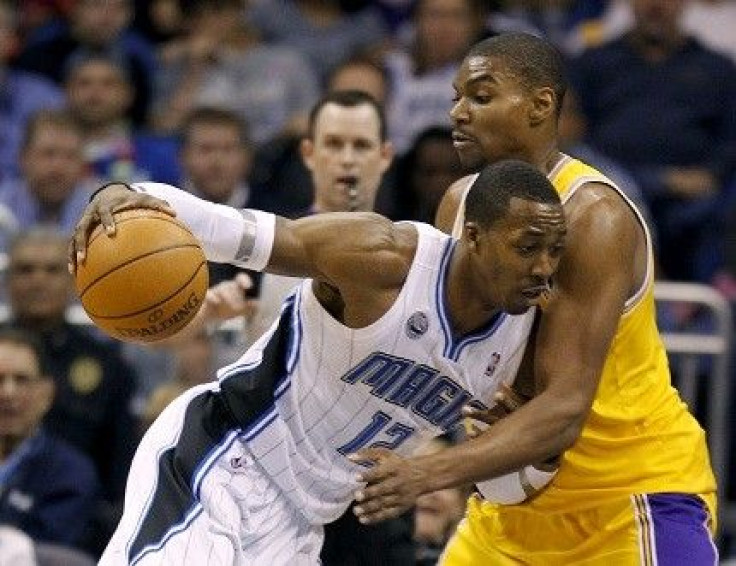 Orlando Magic center Dwight Howard, the epicenter of NBA trade talk, has expressed interest in playing for the New Jersey Nets, Dallas Mavericks, Los Angeles Lakers and Los Angeles Clippers.
Add the Chicago Bulls to that list now.
The Bulls have piqued the interest of Magic big man Dwight Howard.
Earlier this month, Howard was mum on his interest playing in the Windy City, and it was believed that he had reservations of sharing the spotlight with reigning MVP Derrick Rose. But, it took both a blowout loss to the now 4-16 New Orleans Hornets and criticism of his team's effort in that game for him to open up to the idea.
If I could play with Derrick right now and God wanted that to happen, it will happen, Howard told the Chicago Tribune. It has nothing to do with me not wanting to play with Derrick Rose. I love him. That's my brother.
Howard also told the Tribune that Adidas, which represents Rose and him, would actually welcome the idea of having its two signature players on the same squad, contrary to speculation.
It has nothing to do with Adidas, Howard said. In fact, Adidas would love that because me and Derrick have the same guy.
The Bulls and Magic are contenders in the Eastern Conference, but seem to be travelling different paths right now. While Chicago looks to be on the rise, having had the best record in the league last season and making it to the Eastern Conference finals, Orlando looks to be on the decline, two years removed from reaching the NBA Finals and having had its roster retooled since then.
Howard, who has been especially vocal this season about his team's play, might be keen on that very decline.
I look at guys and they don't look like they want to play, Howard said to reporters following the loss to the Hornets. I told them at halftime, 'If you don't want to play, just stay in the locker room, because it don't make sense for a team who we should beat to just demolish us.'
The 26-year-old Howard, who is averaging 20.2 points and 15.5 rebounds per game this season, can opt out of his current deal after this season and has listed the Lakers, Nets, Mavericks, and Clippers as preferred teams he could sign with in free agency. In terms of trade, something Howard has also been open to, all of those teams would have to pay a hefty price to acquire him in a packaged deal.
ESPNChicago.com reports that there is no indication the Bulls are actively pursuing Howard, and that Rose has said this season that he won't recruit Howard either. Therefore, by all estimation, the Bulls may be longshot, especially if defensive anchor and team motivator Joakim Noah must be part of a trade package.
© Copyright IBTimes 2023. All rights reserved.