E-Cigarettes Cause Cancer? Toxic Chemicals Emitted With Puffs, New Study Finds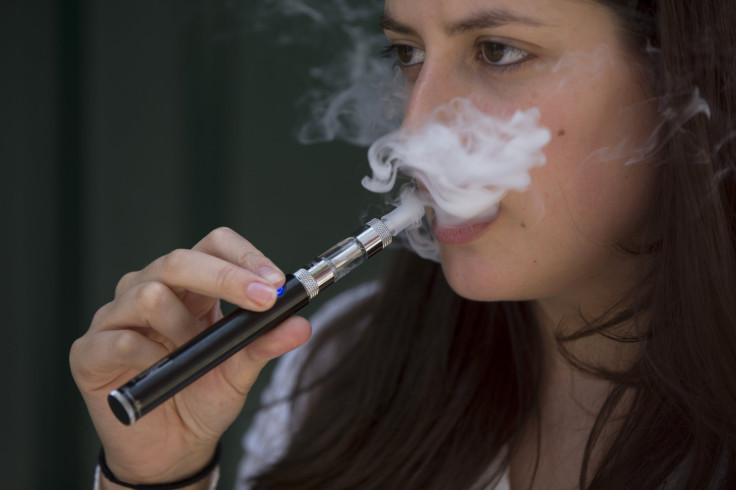 It's long been proven that smoking cigarettes can cause cancer, but now a new study has found their electronic cousins that were introduced and promoted to the masses as a safer alternative to their traditional counterparts may actually do more harm than previously believed. The seemingly ubiquitous battery powered, hand-held vaporizing machines actually emit two chemicals that cause cancer, according to research published by the Environmental Science & Technology online journal.
Propylene glycol and glycerin — each are eye and respiratory irritants, according to the federal agency Centers for Disease Control and Prevention — are the chemicals used to create the vapor, or smoke, from the e-cigarettes. Both are classified by federal health officials as "probable carcinogens," the Washington Post reported.
"Advocates of e-cigarettes say emissions are much lower than from conventional cigarettes, so you're better off using e-cigarettes," said Hugo Destaillats, author of the study named Emissions from Electronic Cigarettes: Key Parameters Affecting the Release of Harmful Chemicals. "I would say, that may be true for certain users — for example, long time smokers that cannot quit — but the problem is, it doesn't mean that they're healthy. Regular cigarettes are super unhealthy. E-cigarettes are just unhealthy."
Current E-Cigarette Use by Smoking Status | HealthGrove
A CDC survey conducted late last year found that about 3.7 percent of adults smoke e-cigarettes daily, although the findings varied when taking race into account. The survey also found that many cigarette smokers turned to e-cigarettes as both a way to try to quit their smoking habits as well as a way to feed their nicotine addictions without the accompanying additives that have proven perilous.
Across the pond, researchers seem to be much more optimistic about the benefits of e-cigarettes, which the British government says can help quit smoking altogether. "Fears that e-cigarettes have made smoking seem normal again or even led to people taking up tobacco smoking are not so far being realised based on the evidence assessed by this important independent review," said Linda Bauld, Cancer Research UK's expert in cancer prevention. "In fact, the overall evidence points to e-cigarettes actually helping people to give up smoking tobacco."
The U.S. Food and Drug Administration in 2009 announced it had detected "levels of toxic cancer-causing chemicals, including an ingredient used in anti-freeze, in two leading brands of e-cigarettes and 18 various cartridges," according to the American Lung Association (ALA). In addition, the ALA cited a 2014 study found that e-cigarettes with higher than average voltage level has "more formaldehyde, another carcinogen with the potential to cause cancer." But it wasn't until the new study was published that health officials were able to truly understand the extent of these cancer-causing chemicals.
© Copyright IBTimes 2023. All rights reserved.