Eagle Ford Shale Drilling Permits Soar 150 Percent From a Year Ago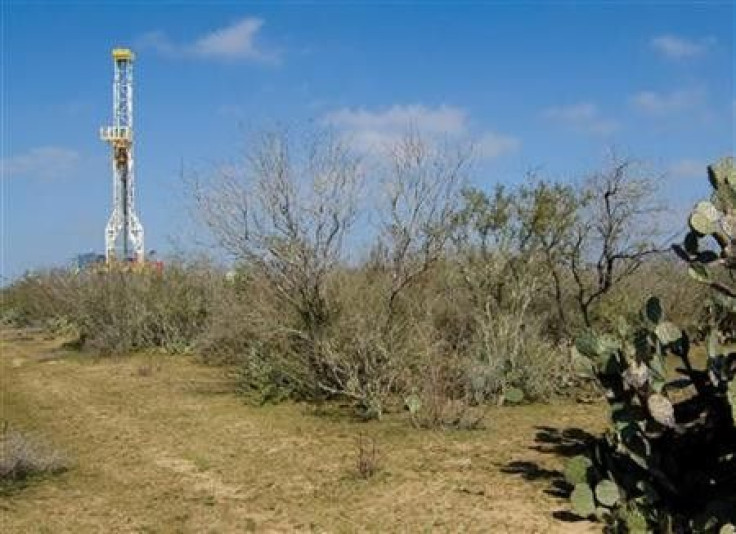 In little more than a three-year period, the number of drilling permits issued to oil and natural gas companies in South Texas' Eagle Ford Shale rock formation has skyrocketed.
Permit numbers increased by roughly 150 percent, totalling 2,522 permitted wells. That number is up from 1,010 drilling permits issued last year, and up more than 9,000 percent since 2008.
More than 60 prospecting companies, including Royal Dutch Shell Plc., BP Plc., ConocoPhillips Co. and Chesapeake Energy are activley drilling, the latter of which leases more than 600,000 acres, according to EagleFordShale.com, an education website for industry and local South Texas stakeholders.
As of Sept. 1, 300 oil and 470 natural gas wells are operating in the 16-county shale rock play, according to the Texas Rail Road Commission, which is responsible for the regulation and the exploration and production of oil and natural gas in Texas, according it its website.
The increasing drilling and production activity in the Eagle Ford shale is a reflection of the industry's interest in this play, commission spokeswoman Ramona Nye told the International Business Times. While the interest is likely to continue, the number of companies with pending drilling permit applications was not available at press time.
Ken Kramer, director of the Texas chapter of The Sierra Club, said he suspects oil and natural gas companies will rush to the region before Texas' hydraulic fracturing disclosure law, passed in July, takes effect next summer.
He said his immediate concern is making sure prospecting companies don't overstress ground water levels. Although he recognizes the amount of water used for hydraulic fracturing is a very small percentage of water-use in Texas, Kramer said fracturing shale deposits does require a considerable amount of water.
And in times of severe drought, he said ranchers, farmers, and those living in rural areas are increasingly concerned.
But their concern is not shared everywhere, and in South Texas, where towns have had little growth, the shale play has been welcomed with open arms.
Obviously the dollar signs can blind people to the less positive aspects of all this, Kramer said, who added the shale play is stressing local infrastructure. It's a close relationship Kramer said he suspects will slowly erode over time.
The negative press and public scrutiny associated with hydraulic fracturing, or fracking, may not be unfounded.
This past summer, the fracking of a well in England caused two minor earthquakes near Blackpool that drew significant criticism. It added to negative attention already brought on by a 2010 documentary titled Gas Land that shocked viewers with images of igniting tap water allegedly resulting from fracking activities. Just last week, The New York Times reported that potential leasing rights for natural gas extraction caused townspeople in Cooperstown, N.Y to turn against one another.
There is also continued suspicion surrounding the alleged toxicity and the function of industry-protected chemicals used in fracturing shale rock formations.
Still, some people believe the benefits outweigh any supposed risks.
Larry Pippin, the city administrator of Karnes City in South Texas, which houses ConocoPhillips, said sales tax in his town has doubled since the shale play opened up in 2009. Townspeople are receiving royalties while the town itself has sold its mineral rights for $1.4 million and will also receive 25 percent in royalty checks by 2012.
The town's sales tax revenue has also ballooned by 200 percent, Karnes said. Hotels are fully booked and apartments have six to eight months waiting lists even before they are built.
That's an indication that we have a lot more to look forward to in the future, Pippin said. No one [pre-boom] had any impression that would even happen. It just went wild.
But it's not all rosy either. Drawn to better salaries, many people in Karnes City have left their jobs to work for the prospecting companies as drivers, and some local businesses can't find employees to replace those that left, Pippin said.
And Pippin said his town's story is being repeated elsewhere with shale deposits. His concern now, is to make sure not to overspend in anticipation of when the shale play will taper off.
It's an entirely different world now, he said.
© Copyright IBTimes 2022. All rights reserved.
FOLLOW MORE IBT NEWS ON THE BELOW CHANNELS