Easter Delivery At The International Space Station: SpaceX Dragon Brings 2.5 Tons Of Cargo To The ISS [VIDEO]
The SpaceX Dragon spacecraft arrived at the International Space Station early Easter morning. NASA astronaut Rick Mastracchio and ISS Expedition 39 Commander Koichi Wakata, from the Japan Aerospace Exploration Agency, grappled the spacecraft and attached it to the Harmony node of the space station.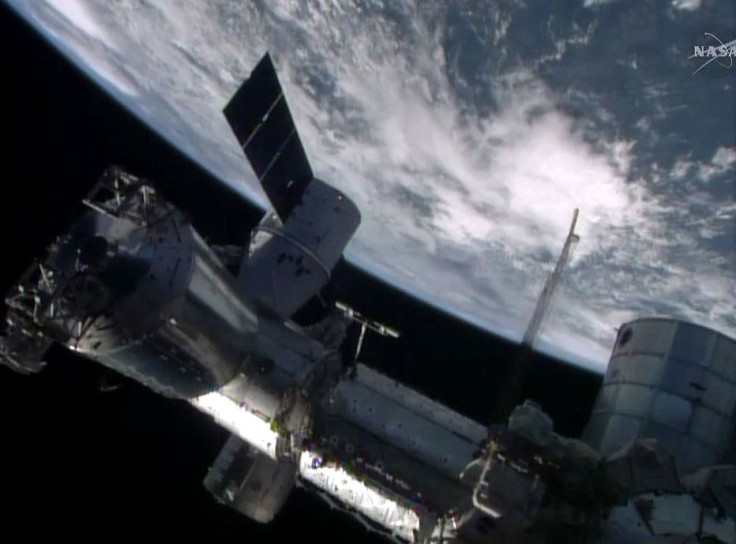 SpaceX's ISS commercial resupply (CRS-3) mission launched on Friday from Cape Canaveral at 3:25 p.m. EDT, and the Dragon spacecraft was loaded with close to 2.5 tons of supplies, equipment and science experiments, which will be used by the Expedition 39 and Expedition 40 crews. The CRS-3 launch was delayed three times, most recently on April 14 due to a helium leak, prior to Friday's successful launch.
The Dragon spacecraft was grappled using the space station's robotic arm, Canadarm2, at 7:14 a.m. EDT, reports NASA. Wakata controlled the Canadarm2 and Mastracchio provided support for the docking operation. Mastracchio operated the Common Berthing Mechanism and the docking mission was completed at 9:06 a.m. EDT and the spacecraft was attached to the ISS at 10:06 a.m. EDT. With the Dragon spacecraft attached to the space station, the Expedition 39 crew will pressurize the spacecraft and will unload the cargo on Monday.
For the Expedition 39 crew, the Easter delivery is the first of two missions, with a spacewalk set for Wednesday. Mastracchio and NASA astronaut Steve Swanson will replace an unresponsive backup multiplexer-demultiplexer (MDM) during the spacewalk.
After removing the cargo from the Dragon spacecraft, the ISS crew will restock the capsule with 3,600 pounds of completed science experiments, hardware and other supplies. The spacecraft will detach from the space station on May 18 and return to Earth via a parachute-assisted splashdown in the Pacific Ocean.
The next delivery to the ISS will occur on May 6. Orbital Sciences will launch its second commercial resupply mission (Orbital 2) from NASA's Wallops Flight Facility.
A video of the Dragon spacecraft's rendezvous with the ISS can be viewed below.
© Copyright IBTimes 2023. All rights reserved.