Ebola Exposure: Risks Of Contracting The Virus From Craig Spencer In New York Low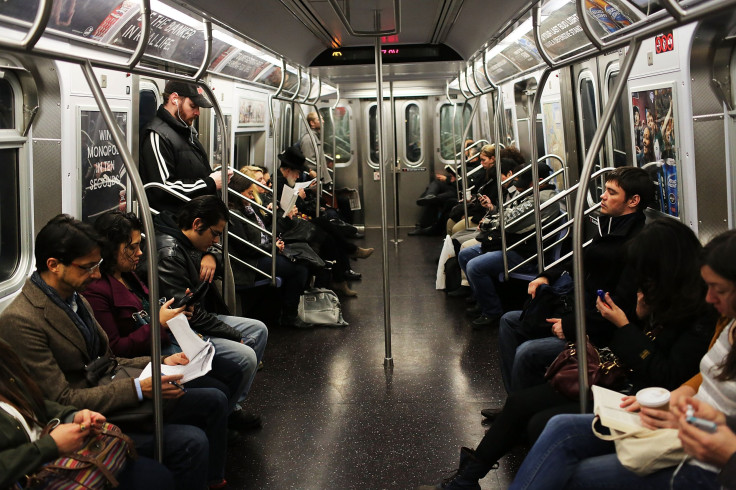 The news that New York doctor Craig Spencer has tested positive for the Ebola virus has brought about much concern in the city.
Spencer was diagnosed in a preliminary test on Thursday, and in the days leading up to his diagnosis, he had ridden the A, 1 and L New York subway lines. The doctor had also taken an Uber car from Brooklyn to his home in Harlem, after he reportedly was at two venues in Williamsburg Wednesday night: a bowling alley and concert.
News of Spencer's public activities has raised concerns on social media and beyond that people who may have come into contact with the doctor, or shared public spaces with him, are at risk of contracting the virus. New York City officials and experts however, have been at pains to point out that the risk of such a transmission is low, for a number of reasons.
Ebola is spread through direct contact with bodily fluids, and the disease is not airborne. In order to contract the virus a symptomatic person's bodily fluid would have to come in contact with your eyes, nose, mouth or broken skin like a cut.
At a press conference Thursday, New York City Mayor Bill de Blasio said, "Being on same subway car or living near someone with Ebola does not necessarily put someone at risk."
In addition, a person infected with the virus only becomes contagious once they become symptomatic. At the same press conference Thursday, New York City Health Commissioner Dr. Mary Travis Bassett reported that the "first actual symptoms that the patient displayed were today [Thursday]," so transmission from sharing a venue or subway car seems unlikely.
Contrary to the impression that media coverage might give, according to ABC News chief health and medical editor Dr. Richard Besser, Ebola is not an easy disease to contract. "We also know from the studies in Africa that it's a hard disease to get," Besser said. "If this disease was spread through the air or was spread easily -- that you could get it from someone you're standing next to in the market or sitting next to on a plane -- this outbreak would be far larger than it is today."
In the New York Times, Donald McNeil writes the virus is "extremely unlikely to spread through public transit," as not all viruses build up to infectious doses in all bodily fluids. A recent WHO statement points out that high levels of the Ebola virus in saliva are rare except in the sickest victims, and whole virus has never been found in sweat. The fluids known to build up high viral loads are blood, feces and vomit -- which riders wouldn't likely be exposed to in the course of a normal journey.
But what about the cramped conditions of a taxi -- is there more chance of contracting the virus there? Unlikely, say the New York authorities. Health Commissioner Bassett told reporters Thursday that the driver of the Uber car that Spencer took Wednesday was not considered to be a risk, as the two had no physical contact.
In a statement to International Business Times, a spokesperson for Uber said: "We reviewed our records and were able to confirm that one of our driver partners in New York provided a ride to the patient yesterday evening. We immediately contacted the CDC and NYC Department of Health and Mental Hygiene, which stated that neither our driver partner nor any of his subsequent passengers are at risk. We have communicated this to the driver, and the NYC DOHMH medical team met with the driver in person, assuring him that he is not at risk. Our thoughts are with the patient and his loved ones."
To put the risk of an American contracting Ebola in context, NPR has created a useful chart that, using a model of 12 imported cases a year (Spencer's is the fifth U.S. case and the second imported case), puts the risk of an American contracting the virus at 1 in 13.3 million. For context, Americans are more than twice as likely to be killed by a bee sting (1 in 5.2 million), or significantly more likely to be killed by a lightening strike (1 in 9.6 million)
CDC officials said that those most at risk in New York now are the health workers who are treating Spencer at Bellevue. The same officials reported, however, that the hospital has been preparing for an Ebola case, and has firm protocols in place to contain the risk of exposure.
© Copyright IBTimes 2023. All rights reserved.