Ebola Outbreak 2014: Nurses, Health Care Workers Most At Risk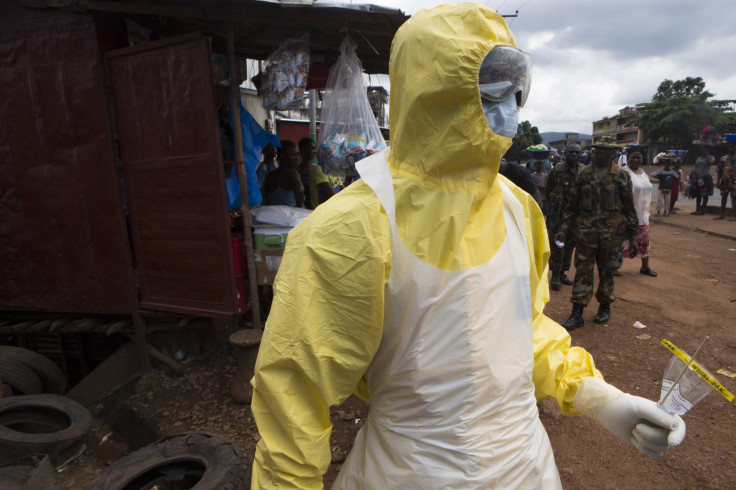 They work long hours on their feet and risk their lives at work each day in return for a modest salary. And now America's nurses are at the front lines as the deadliest Ebola outbreak in history threatens to spread across the United States.
With more than four times as many registered nurses as physicians in the United States, nurses make up the bulk of hospital staff and serve as the primary providers for direct patient care, according to the American Association of Colleges of Nursing. Terry Jones, assistant professor of nursing at the University of Texas at Austin, said treating infectious diseases like Ebola is merely part of the job.
"On the other side of the disease is a real human being that is who we are there for. The virus is part of the package," Jones said. "You have to accept that as part of the package and make your peace with it. Risk cannot be eliminated."
At least two health care workers who cared for an Ebola patient in Texas have contracted the deadly virus in recent days. Amber Joy Vinson, 26, and Nina Pham, 26, both contracted Ebola while treating Thomas Eric Duncan at the Texas Health Presbyterian Hospital in Dallas before he died last week.
Vinson reported a fever on Tuesday and was isolated "within 90 minutes" of her temperature being taken, health officials said. Pham was upgraded to "good condition" Tuesday, after being in isolation since Friday. She is the first person to contract Ebola in the U.S., and the case has triggered a CDC investigation to identify the cause of the infection.
The deadly virus is transmitted via contact with infected bodily fluids, according to Jones. "That really is our job, and those bodily functions are part of the nursing care that we provide," said Jones, who has been a nurse for over 25 years.
CDC Director Dr. Thomas Frieden has said he's unsure how Pham was infected. "What we need to do, is all take responsibility for improving the safety of those on the front lines. I feel awful that a health care worker became infected in the care of an Ebola patient. She was there trying to help the first patient survive," Frieden said during a press conference Monday.
Nursing is the nation's largest health care profession and represents one of the largest sectors of the American workforce, according to the American Association of Colleges of Nursing. They spend, on average, 72 percent of their time performing patient care and keeping patient care records, according to findings from the 2008 National Sample Survey of Registered Nurses.
On average, full-time registered nurses work over 40 hours per week, often working 12-hour shifts at a time and usually standing on their feet, Jones said. Nurses paid on an hourly wage basis are typically paid for overtime work, while salaried nurses do not receive overtime pay. The majority of registered nurses do not report working overtime, the national survey showed.
Nearly 85 percent of nurses working in hospitals are under the age of 30, and over 88 percent of staff nurses have five or fewer years of post-graduate experience, according to the survey published by the U.S. Department of Health and Human Services. According to Jones, a nurse's age isn't necessarily relevant to his or her level of experience. Many recent graduates are arguably most readily equipped and trained, she said.
"The age of (Phram and Vinson) probably has nothing to do with the fact that they're the ones (who contracted Ebola)," Jones said. "The ICU is an area of great interest to a lot of new graduates. Those are the primo jobs that people like to get, and they have the energy and the most recent knowledge of all."
Registered nurses working in hospitals earn an average annual salary of $66,700, which makes nursing one of the highest- paying large occupations in the U.S, according to the American Association of Colleges of Nursing. But in comparison with the salaries of other health professions, Jones said it's not much. "No amount of money is really worth doing this when there are many other ways to earn a living that aren't as physically, emotionally and intellectually challenging," she said. "It has to be a genuine care for mankind. That's the only way you can do this over the long-haul."
A significant majority of nurses are female and white, non-Hispanic, Jones said, though the profession is slowly growing in its diversity. A professional career in nursing requires a four-year Bachelor of Science in Nursing degree, a three-year associate degree in nursing, or a three-year hospital training program. All must pass the same state licensing exam, according to the American Association of Colleges of Nursing.
Health care workers are required to wear protective gear and follow CDC safety standards when caring for an Ebola patient. But ultimately, no safety protocol is foolproof, Jones said, and these men and women are willing to put their lives on the line every day to save the lives of others.
"Of all the providers, we do spend the most time with (patients) when they are in the hospital," Jones said.
In just two months, the Ebola outbreak has claimed 4,447 lives out of 8,914 cases. New Ebola cases could potentially reach more than 10,000 per week by mid-November, according to the World Health Organization's estimates.
FOR FREE to continue reading
✔️ Unlock the full content of International Business Times UK for free
offer available for a limited time only
✔️ Easily manage your Newsletters subscriptions and save your favourite articles
✔️ No payment method required
Already have an account? Log in
© Copyright IBTimes 2023. All rights reserved.