Ecuador Election Results 2017 Update: Lenín Moreno Must Wait To Discover If He'll Face Second Round Runoff Vote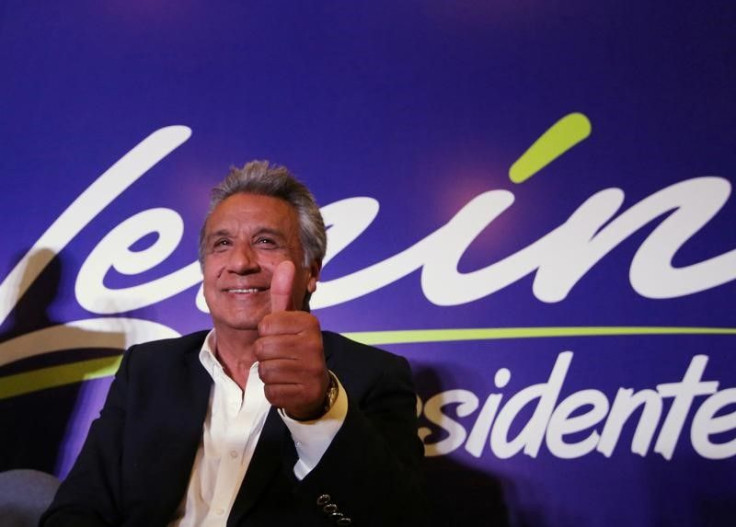 Front-runner candidate Lenín Moreno could be forced to a wait three days to discover whether he will have to face a second round runoff in his efforts to succeed Rafael Correa as Ecuador's president. As the results of Sunday's vote continued to trickle in Monday, Moreno was edging agonizingly close to the 40 percent threshold he would need to win outright in the first round, provided he maintained at least a 10-point advantage over his nearest rival.
With 88.4 percent of votes counted, Moreno had 39.11 percent. Guillermo Lasso, of the right-wing Creo-Suma Alliance, was at 28.33 percent.
Moreno, of the PAIS Alliance Party, formerly served as vice president under socialist president Correa, who was ineligible for this year's election after serving three terms in office. Moreno had maintained a steady lead in the polls since the campaign began last October. However, his prospects of securing a first-round victory has long been in the balance.
It could remain that way for some time to come.
The president of Ecuador's National Electoral Council (CNE), Juan Pablo Pozo, announced Monday that the country should prepare to wait until Wednesday for the final result. Pozo blamed "inconsistencies" in certain ballots, delays in votes from abroad and rural areas being counted and bureaucratic issues for the delays, reports Ecuadorian newspaper El Universo.
Opposition supporters began to gather outside the CNE's headquarters in Quito Monday morning, accusing the council of fraud.
Moreno, who would become the first paraplegic head of state if he claimed victory, was hoping to capitalize on the social programs of Correa, which have succeeded in greatly reducing inequality and poverty in the country.
But in recent weeks he has been hit by a corruption scandal involving his running mate. Meanwhile, Lasso has vowed to lower taxes and boost jobs in the midst of a constricting of the economy following the decline in the price of oil, Ecuador's number one export.
A runoff vote would be far from comfortable for Moreno. The candidate in third place in the voting, conservative Cynthia Viteri, has already announced that she will support Lasso if the vote goes to a second round. Viteri had 16.3 percent of the vote as of Monday morning.
© Copyright IBTimes 2022. All rights reserved.
FOLLOW MORE IBT NEWS ON THE BELOW CHANNELS