Before Ecuador National Strike, President Correa Accuses Opposition Groups Of 'Undermining' Government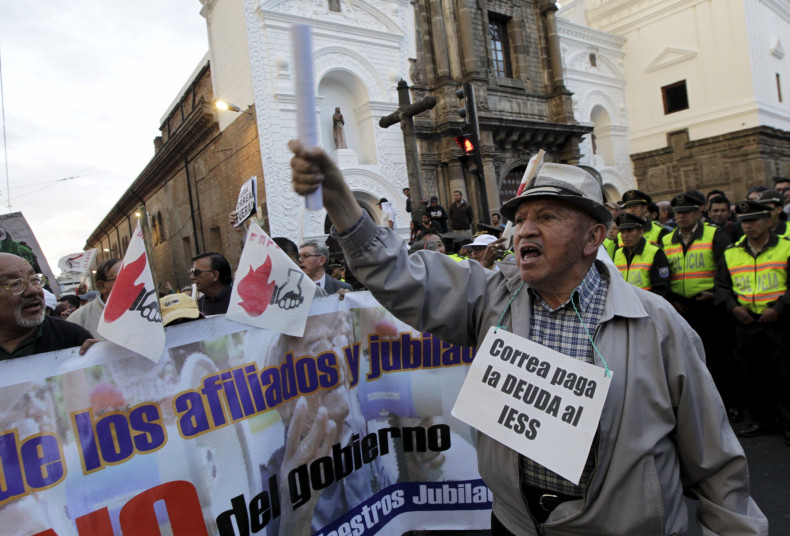 Ecuador's right-wing opposition groups have staged protests and worker strikes to weaken the existing government, Ecuadorian President Rafael Correa said last weekend. Correa's comments came amid months of unrest in the South American country related to his government's bid to overhaul Ecuador's tax system.
Correa said a strike being organized for next month by several Ecuadorian trade union activist groups was an attempt to destabilize his regime, teleSur reported Sunday. The president asked for Ecuadorian citizens to show their support for the government ahead of the planned strike. "The right, just as well as left-wing opposition groups, use political demonstrations to antagonize the government with the aim of undermining it," Correa said.
Opposition groups have staged anti-government protests for months in Ecuador in response to measures taken by Correa's regime. Recent disputes have centered on Correa's attempts earlier this year to increase tax rates for the country's wealthier residents, with an emphasis on capital gains and inheritance taxes. Correa's government tabled the planned tax reforms in the face of the widespread protests.
Dubbed the "people's national strike," activists scheduled next month's planned demonstration to occur Aug. 13. Demonstrators also will demand the reversal of a law passed in April that changed the country's policy on pension programs. Earlier this year, demonstrators amassed in Quito, Ecuador's capital, to protest a proposed end to term limits for the country's elected officials.
When a bomb exploded earlier this month at the headquarters of Ecuador's PAIS Alliance Party, a Correa supporter said the device had been "strategically placed" to send a "message of terror" to the president's supporters. No injuries were reported. Previously, Correa accused demonstrators and strike organizers of planning a coup.
Despite the protests, polls show Correa has remained popular among most Ecuadorians. The president's approval rating has remained between 60 and 85 percent, the Washington Post reported in March.
© Copyright IBTimes 2022. All rights reserved.