Eddie Redmayne Wins Best Actor At 87th Academy Awards, Beats Michael Keaton And Bradley Cooper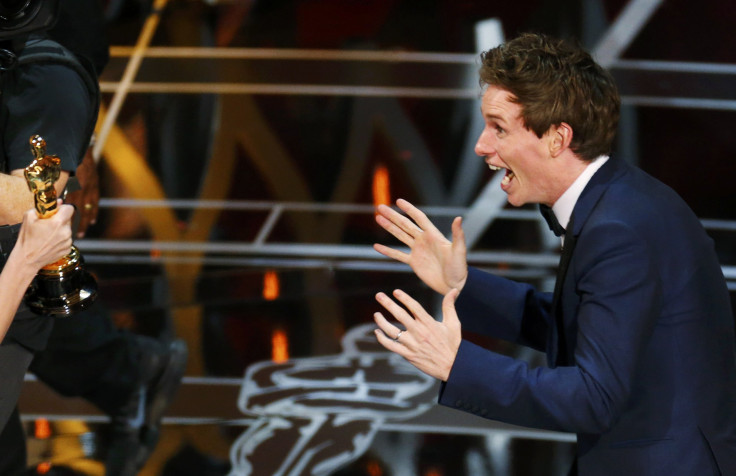 There were many locks going into Sunday's Oscars ceremony -- Julianne Moore ("Still Alive") for best actress, J.K. Simmons ("Whiplash") for best supporting actor -- but the race for best actor was still very much an unknown. Eddie Redmayne went into the night the slight favorite for "The Theory of Everything," but Michael Keaton ("Birdman") was waiting in the wings. When Cate Blanchette finally announced the winner, it was Eddie Redmayne who took home the big award.
Redmayne won for his portrayal of physicist Stephen Hawking in the movie "The Theory of Everything," which tells the story of the scientist's relationship with his wife, Jane, played by Oscar nominee Felicity Jones.
In his acceptance speech Redmayne said, "I am fully aware that I am a lucky, lucky man...Wow!" After taking a pause to take in the moment, the actor then dedicated his win to everyone suffering from ALS, the disease that affects Stephen Hawking. He of course ended his speech by thanking his wife, even making a special announcement -- "We have a new fella coming to share our apartment."
Michael Keaton ("Birdman"), Benedict Cumberbatch ("The Imitation Game"), Bradley Cooper ("American Sniper") and Steve Carell ("Foxcatcher") were the other nominees in the category.
This was the first Oscar win for Redmayne, but the actor, who is 33, will have plenty of time to win more. Redmayne can currently be seen in movie theaters in the blockbuster "Jupiter Ascending."
© Copyright IBTimes 2022. All rights reserved.
FOLLOW MORE IBT NEWS ON THE BELOW CHANNELS