Edmonton, Canada, Man Commits Area's Worst 'Mass Murder' In More Than A Century Before Killing Self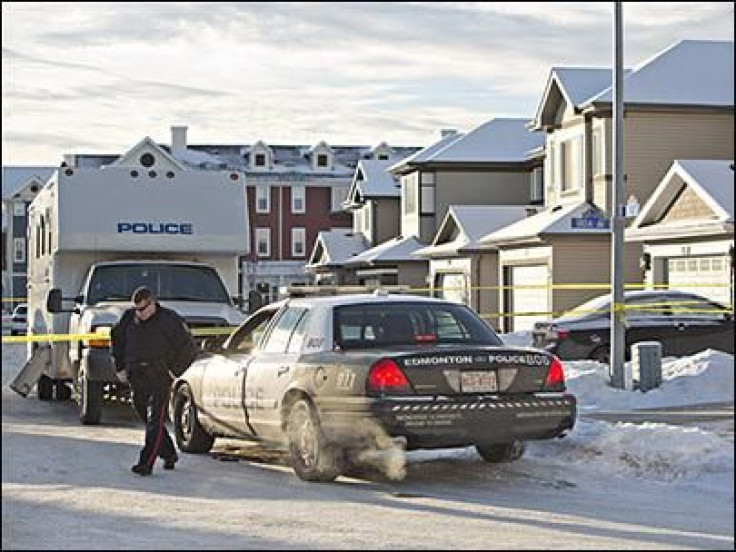 Police in Edmonton, Canada, said a depressed man killed eight people before taking his own life Tuesday in what is being described as the region's worst mass slaying in more than a century. Edmonton Police Chief Rod Knecht told a news conference, the first body was found at 6:51 p.m., local time, Monday in southwest Edmonton. Witnesses reported having heard a gun discharge.
"It is a tragic day for Edmonton … as we come to terms with this senseless mass murder," Knecht said.
Knecht said police received a call from a family about a relative who was "depressed and overly emotional," and possibly suicidal. At 12:23 a.m. Tuesday, police performing a welfare check on the man entered his residence on the north side of town and found the bodies of three women, two men and two children, Knecht told a news conference.
The man's car was later found outside a Vietamese restaurant, VN Express, in Fort Saskatchewan and authorities found his body inside the vehicle. He apparently had committed suicide, Knecht said.
The identities of the victims were not immediately released, nor were the causes of death, the Edmonton Journal reported. Knecht said the killings appeared to be the result of "tragic incidents of domestic violence."
The Journal quoted witness Thanh Nguyen as saying the house where the seven bodies were found is owned by Phu Lam, whose ex-wife owns a Fort Saskatchewan restaurant. Lam is described as retired and in his 60s. Neighbors told the newspaper a boy around 8 and an infant lived in the home along with an elderly woman.
A woman who works across the street from VN Express said she heard police yell through a megaphone about 6:30 a.m. for those inside the restaurant to come out with their hands up. She said they then rammed the door when there was no response.
BNO News reported the killings were the worst since the winter of 1878-79 in Alberta province when Swift Runner killed his wife, their six children, his mother and brother before cannibalizing the bodies. Runner allegedly confessed to the murders and claimed he was possessed by a Windigo, a large creature with a lipless mouth and jagged teeth that eats the people it encounters, according to Ojibwa folklore. He was hanged in December 1879.
© Copyright IBTimes 2023. All rights reserved.