Eduardo Campos, Brazilian Presidential Candidate, Killed In Plane Crash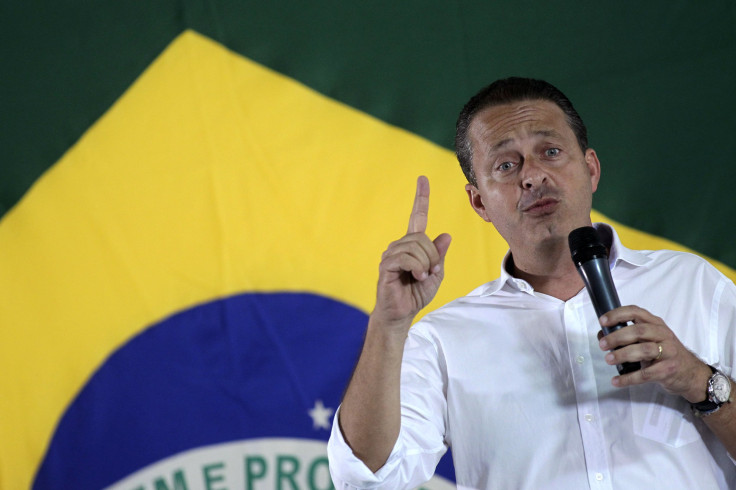 Brazilian presidential candidate Eduardo Campos was killed when a private plane crashed Wednesday in the city of Santos, local television station GloboNews reported. Campos, 49, was running third in recent polls with under 10 percent of voters.
The private jet, a Cessna 560XL, carrying Campos and an unknown number of people crashed in Santos, a port city in São Paulo state, the BBC reported. It had taken off from Santos Dumont airport in Rio de Janeiro.
The exact number of people killed in the crash wasn't immediately known, but there were no survivors, Agencia Brasil reported, via CNN.
According to Brazilian authorities, there are six victims in total, but the plane carried seven: Besides the captain and first officer and Campos, there were two advisors, a videographer, and the campaign's official photographer.
Campos, the former governor of Pernambuco state in northeastern Brazil, was the leader of the Brazilian Socialist Party and was attempting to win Brazil's presidential election scheduled for October. President Dilma Rousseff is seeking a second term.
Rousseff issued a statement saying "all of Brazil is in mourning. We lost a great Brazilian today...We lost a great comrade," according to the newspaper Folha de Sao Paulo. She also declared three days of national mourning and suspended her re-election campaign for the same period. Aécio Neves, who is second place in the polls, did the same.
At the crash site, the victim's bodies were so badly damaged that "no bodies have been recognized so far," an official told Folha. A Brazilian photographer had posted on Flickr one year ago an image of the flight deck of the exact same airplane that crashed on Wednesday. According to aircraft fleet site Rzjets.net the plane had been built in 2011.
© Copyright IBTimes 2023. All rights reserved.