Edward Snowden Says He Has "Already Won" and Achieved His Mission With NSA Leaks In An Interview With The Washington Post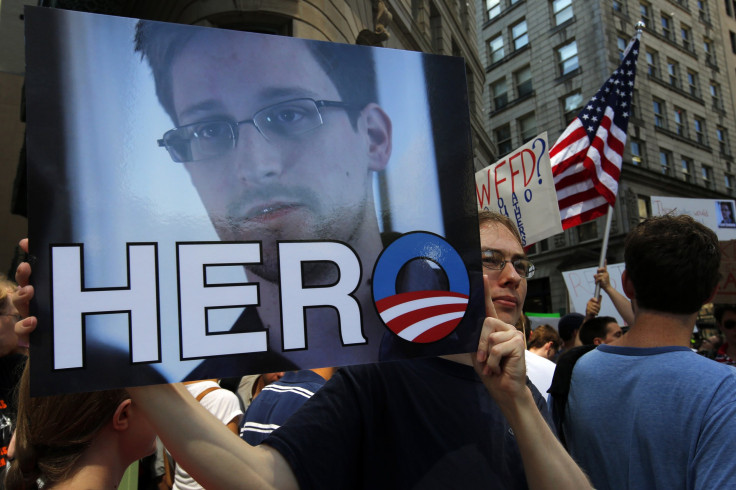 Edward Snowden, the former defense contractor and whistleblower who leaked secret intelligence documents that exposed a massive spying mechanism built and operated by the U.S. National Security Agency, and forced the U.S. government to look into the workings of the NSA, has said that he has accomplished his mission.
Snowden, in his first face-to-face interview after being exiled in Moscow, with The Washington Post, reflected on his life as a fugitive and as an "indoor cat" in Russia, and his views on the impact of his controversial disclosures. Snowden's revelations, based on more than 1,000 pages of classified NSA documents, which he obtained during his tenure as a contractor with the NSA, triggered international outrage against the controversial surveillance practices employed by the U.S. and the NSA to spy on Americans, foreigners and their governments, friendly or otherwise.
"For me, in terms of personal satisfaction, the mission's already accomplished," Snowden told Barton Gellman of the Post, in their nearly two-day long conversation in Moscow. "I already won. As soon as the journalists were able to work, everything that I had been trying to do was validated. Because, remember, I didn't want to change society. I wanted to give society a chance to determine if it should change itself," Snowden said.
"All I wanted was for the public to be able to have a say in how they are governed," he added. "That is a milestone we left a long time ago. Right now, all we are looking at are stretch goals."
Embarrassed by Snowden's revelations, the Obama administration was forced to consider an overhaul of the workings of the NSA, and its surveillance programs. Last week, a White House-appointed panel proposed key changes to the agency's operations, which seeks to limit its ability to collect records of billions of telephone calls, and also curb its spying on foreign leaders.
According to media reports, NSA chief Keith Alexander offered to step down in the wake of Snowden's revelations, and the White House is considering a proposal to appoint a civilian head to the NSA, which so far has only been led by top military officers.
Snowden's disclosures have also led to lawsuits in the U.S., challenging the constitutional validity of spying practices employed by the NSA, and seeking more transparency in its snooping activities. Last month, the government agreed to declassify several records pertaining to the NSA's operations and rulings of the Foreign Intelligence Surveillance Court, which the administration had sought to keep away from public scrutiny.
I'm Working For NSA
About the allegations that he betrayed the trust and oath of secrecy taken by him as an NSA contractor, Snowden said that he did it to uphold the rights of the people who were the real "overseers" and that his intention was not to harm the NSA.
"I am not trying to bring down the NSA, I am working to improve the NSA. I am still working for the NSA right now. They are the only ones who don't realize it," he told Gellman.
Snowden said that he had tried to raise an alarm about indiscriminate spying and collection of data from unsuspecting Americans and others within the NSA, and among his superiors and colleagues for three years, before he decided to go public with his findings. He reportedly even used a heat map called BOUNDLESSINFORMANT to demonstrate the massive volumes of data collected by the NSA to his colleagues at the agency.
Indoor Cat
In the interview, Snowden called himself an "ascetic" with limited needs, and described his life in Russia as that of an "indoor cat" and mentioned that he rarely ventured out. He said he has had access to the Internet, a library and to his lawyers during the entire duration of his stay in Moscow.
"It has always been really difficult to get me to leave the house," he said. "I just don't have a lot of needs. . . . Occasionally there's things to go do, things to go see, people to meet, tasks to accomplish. But it's really got to be goal-oriented, you know. Otherwise, as long as I can sit down and think and write and talk to somebody, that's more meaningful to me than going out and looking at landmarks."
In the interview, published in the Post on Tuesday, Snowden also denied allegations that he is loyal to Russia and China.
"There is no evidence at all for the claim that I have loyalties to Russia or China or any country other than the United States," he said. "I have no relationship with the Russian government. I have not entered into any agreements with them."
"If I defected at all," Snowden said, "I defected from the government to the public."
© Copyright IBTimes 2023. All rights reserved.
FOLLOW MORE IBT NEWS ON THE BELOW CHANNELS