EgyptAir Flight 804 Investigation: Airbus A320 Made Emergency Landing In 2013 Due To Overheated Engine, Report Says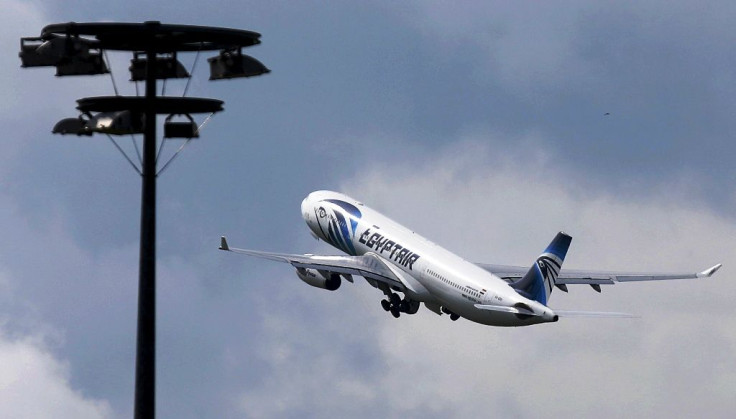 UPDATE: 7:35 a.m. EDT — Egypt's head of forensics dismissed earlier reports that said human remains of victims of the crashed EgyptAir plane indicated a blast on the Flight 804, Reuters reported Tuesday citing state news agency MENA.
"Everything published about this matter is completely false, and mere assumptions that did not come from the Forensics Authority," Hesham Abdelhamid reportedly said.
UPDATE: 5:06 a.m. EDT — Egyptian forensic officials said that body parts recovered from EgyptAir Flight 804 crash site in the Mediterranean Sea indicate an explosion on board, the Associated Press reported Tuesday. Investigators had earlier said they were not excluding any possibilities about what led to the crash of Airbus A320 carrying 66 people aboard.
Original story:
The EgyptAir Airbus A320 that crashed into the Mediterranean Sea last week had an emergency landing in 2013 after one of its engines overheated, the Associated Press (AP) reported Monday, citing a report published by an organization affiliated with Egypt's Ministry of Civil Aviation. Investigators are looking into all possibilities behind the downing of Cairo-bound EgyptAir Flight 804 with 66 people on board.
The emergency landing happened in 2013 after pilots received a warning message about the overheated engine shortly after takeoff from Cairo and made an emergency landing back at the airport, the AP reported. Following this, the engine was sent for repairs.
David Learmount, editor of Flightglobal magazine, reportedly said "engine overheat is rare but it happens." He noted "an engine fire could cause a crash but has not done so in the modern aviation era."
However, AP, citing aviation experts, reported that a crash is unlikely to occur due to an overheated engine.
Meanwhile, Ehab Azmy, head of the National Air Navigation Services Company, told the news agency that Flight 804 did not swerve before it went off radar. This is in contrast to the comments made by Greek Defense Minister Panos Kammenos, who said the plane made "sudden swerves" at 37,000 feet.
Azmy, citing the radar reading, told AP that the ill-fated plane flew at its normal altitude of 37,000 feet prior to its disappearance. He said "that fact degrades what the Greeks are saying about aircraft suddenly losing altitude before it vanished from radar."
"There was no turning to right or left, and it was fine when it entered Egypt's FIR, which took nearly a minute or two before it disappeared," Azmy added.
The aircraft, which took off from Charles de Gaulle Airport in Paris on May 19, disappeared from radar shortly after entering Egyptian airspace. It was carrying 56 passengers and 10 crew members. Thirty of the passengers were Egyptian, 15 were French and the remaining were citizens from across the world.
Although it has yet to be established why the Airbus A320 crashed into the Mediterranean Sea, French investigators confirmed Saturday that smoke was detected in multiple places on MS804. French Foreign Minister Jean-Marc Ayrault said "all the hypotheses are being examined."
© Copyright IBTimes 2023. All rights reserved.