EgyptAir Flight 804 Live Updates: Body Parts Found Amid Terror Suspicions As Investigators Search For Black Boxes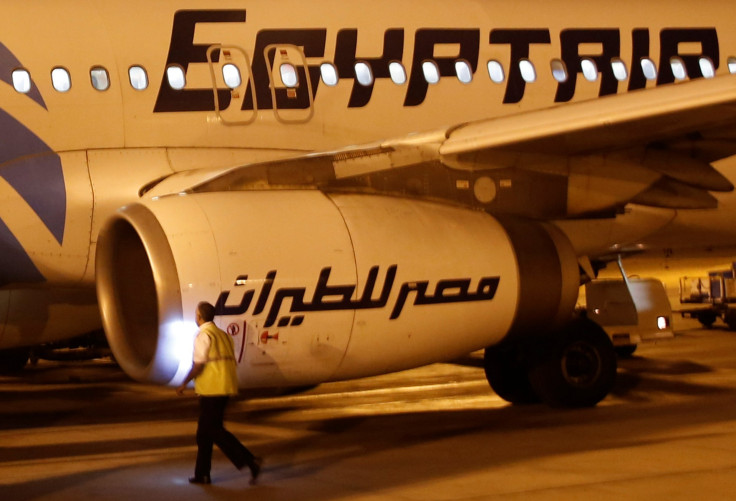 UPDATE: 7:33 p.m. EDT -- U.S. intelligence officials told NBC News they had no reason to doubt a report by the Aviation Herald, regarding a possible fire aboard EgyptAir Flight 804.
Messages from the plane, just minutes before its disappearance off radar, suggest a smoke condition in a lavatory aboard the jet.
"It's a clear indication that something was terribly wrong on Flight 804," John Cox, a former Airbus A320 pilot, told NBC News.
UPDATE: 5:10 p.m. EDT -- Data gathered from EgyptAir indicates a fire may have ignited in a restroom located near the plane's cockpit, the Aviation Herald reported.
UPDATE: 2:41 p.m. EDT — As investigators search for the reason behind the apparent crash of EgyptAir Flight 804, more details emerged Friday about the 66 people aboard the flight en route from Paris to Egypt. The flight had 56 passengers and 10 crewmembers.
The passengers on the flight were from 12 countries. There were 30 Egyptians onboard, 15 French citizens, two Iraqis and one person each from Britain, Canada, Belgium, Kuwait, Saudi Arabia, Algeria, Sudan, Chad and Portugal. Portraits of the passengers have started to emerge.
Among them: Richard Osman was a geologist, Marwa Hamdy was an executive at IBM, Ahmed Helal worked for Procter & Gamble, and Abdelrahman El Suhail was an economics professor.
The United Nations issued a statement Friday regarding the apparent crash. Secretary-General Ban Ki-moon sent "heartfelt condolences" to the families of the victims.
UPDATE: 12:45 p.m. EDT — While investigators have found debris believed to be from EgyptAir Flight 804, no large-scale wreckage has been found, and investigators have yet to detect a location signal for the aircraft's black boxes, Reuters reported.
"The Egyptian navy was able to retrieve more debris from the plane, some of the passengers' belongings, human remains and plane seats," Egypt's Civil Aviation Ministry said in a statement.
Terrorism remains a possibility in the plane's apparent crash, but no militant groups have claimed responsibility. Flight 804 never issued a distress signal, either.
UPDATE: 11:40 a.m. EDT — EgyptAir said more body parts, debris, passenger belongings, aircraft seats and luggage were discovered by Egypt's military during their search into the apparent crash of EgyptAir Flight 804 Friday.
The aircraft went down Thursday en route from Paris to Cairo approximately 180 miles from the Egyptian city of Alexandria. EgyptAir Chairman Safwat Moslem said the search area was approximately 40 miles but could be further expanded as necessary, Reuters reported.
UPDATE: 10:48 a.m. EDT — The recovery of EgyptAir Flight 804's black boxes is chief among concerns for officials, who continue to search for clues as to what could have brought the plane down.
The plane's crash location — approximately 180 miles from the Egyptian city of Alexandria — could be a difficult area to search, with ocean depths in the region reaching as far as 14,000 feet. The search for missing Malaysia Airlines flight MH370 has gone even deeper, to 15,000 feet.
Recovering the plane's voice recorder would allow investigators to determine sounds coming from the plane's cockpit, while the data recorder would offer a rundown of the aircraft's speed, direction and altitude.
EgyptAir's crash has again raised many questions about why commercial airplanes are not outfitted with deployable recorders, similar to ones used by military aircraft, or some kind of streaming data service.
UPDATE: 9:30 a.m. EDT — The European Space Agency released a satellite image Friday that officials said could be a long oil slick in the eastern Mediterranean Sea produced by EgyptAir Flight 804, which disappeared en route from Paris to Cairo on Thursday. There has not yet been confirmation that what the image shows is, indeed, an oil slick from the aircraft.
Officials have found debris from the aircraft's apparent crash, but they have not yet determined whether it was the result of human or mechanical error, or a terrorist attack.
UPDATE: 8:13 a.m. EDT — Airports around the world have reacted to Thursday's apparent crash of EgyptAir Flight 804 by tightening security across the board. That cautious approach is in response to what could turn out to be a terror attack, but it also resulted in the Friday evacuation of a terminal at Charles de Gaulle Airport in Paris, from which Flight 804 originated.
A reporter on the scene there tweeted that a suspicious package was to blame for the evacuation. It eventually turned out to be a false alarm. It was immediately unclear how much of a delay, if any, it caused for passengers there.
The main airport in Liverpool, England's experienced delays for a separate yet related reason: human error. The entire Liverpool John Lennon Airport was evacuated because the screening equipment was not activated, meaning all of the passengers who had gone through security had to go through it once again after the problem was discovered, the Telegraph reported.
"Due to a technical problem with one of the airport's passenger-scanning machines, all passengers have been removed from the departure lounge and are currently in the process of being rescreened," an airport statement said. "There is no threat to passenger safety with this rescreening process necessary in order to ensure security compliance."
More than 2,000 travelers were affected, but the airport extended a special courtesy to numb the pain from the delay, according to a tweet from a person who identified himself as a traveler.
Original story:
Investigators were combing the waters of the Mediterranean Sea on Friday in the hope of finding the black boxes from EgyptAir Flight 804. It was still unclear if a terrorist attack was behind the apparent crash of the aircraft or whether human or mechanical error was involved.
The Egyptian military found debris and body parts from the downed aircraft early Friday morning approximately 180 miles north of the Egyptian city of Alexandria, Greek's defense minister and Egypt's military reported. Two seats and suitcases were found among the debris.
The aircraft had 66 people on board en route from Paris' Charles de Gaulle Airport to Cairo when it quickly lost altitude from 38,000 feet down to 15,000 feet and swerved off course.
"The most important thing is that the plane's two black boxes are found," said Athanasios Binis, Greece's lead investigator, speaking to the Guardian. "If the cockpit flight recorder and flight data recorder are found, along with wreckage, then a real investigation can begin."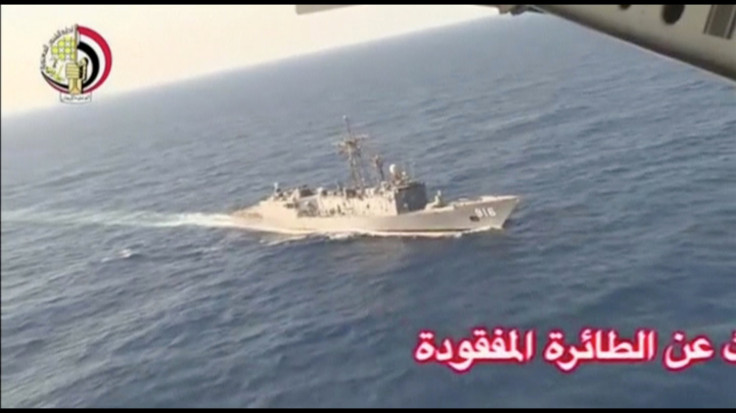 Investigators have so far ruled out weather conditions as a cause of the crash, leaving human error, technical errors or terrorism as possible reasons. U.S., Egyptian and Russian officials all said Thursday that terrorism was a possible factor in the case. The downing of Russian Metrojet Flight 9268 in October 2015 in Egypt was caused by a bomb onboard planted by militants affiliated with the Islamic State group. French Foreign Minister Jean-Marc Ayrault cautioned there was "absolutely no indication" yet on the cause of the plane's crash.
There have been no claims of responsibility from militant groups for the crash of the EgyptAir flight. The A320 aircraft was built in 2003, and Capt. Mohamed Said Shoukair had over 6,000 hours of flying experience. He did not issue a distress call at any point during the flight.
Egypt has been leading the search effort in the Mediterranean with support from Greece, France, Turkey and the U.S.
© Copyright IBTimes 2023. All rights reserved.