Egyptian Satirist Bassem Youssef's Television Show Suspended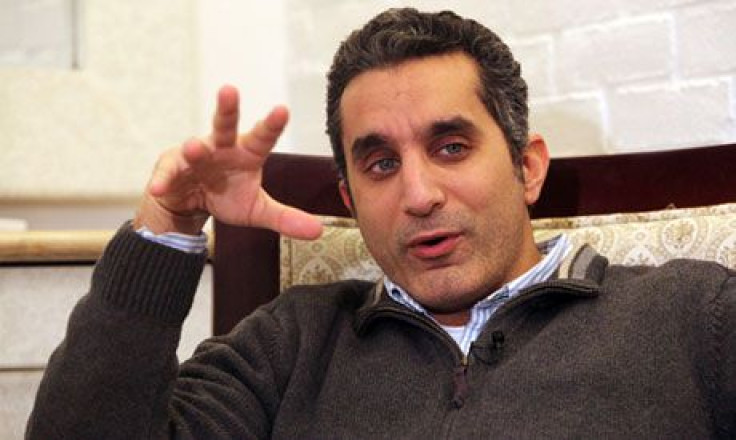 Popular Egyptian satirist Bassem Youssef's television show was suspended moments before it was scheduled to be broadcast on Friday, after the show garnered criticism for mocking the sudden popularity of Egypt's military, which backs the country's interim government following Islamist President Mohamed Morsi's ouster in July.
Egypt's CBC, which broadcasts the show, said "El-Bernameg" was dropped after a review of the third season's second episode found that Youssef and his producer had "violated what has been agreed upon" with CBC as well as its "editorial policies," Ahram Online reported.
The channel said the show will remain suspended until disagreements with Youssef are resolved.
Youssef, whose show is likened to Jon Stewart's "The Daily Show," shot to fame with his amateur videos posted on the Internet following the uprising that ousted former Egyptian president Hosni Mubarak.
On his show, Youssef pokes fun at public figures ranging from fellow television presenters to well-known Muslim scholars and top politicians.
Youssef returned to hosting the show only last week, after a three-month long hiatus, according to Ahram Online.
In the first episode broadcast after his return Youssef mocked the Egyptian people's and the media's adulation of army chief Abdel-Fattah el-Sissi, whose popularity shot up after Morsi's ouster following days of protests against Islamist rule.
"El-Sissi has turned into ... chocolate!" Youssef said on the show, referring to chocolate bars bearing the army chief's face that were recently introduced in the market.
"I am not with the [Islamists], who attacked us and declared us apostates ... and publicly called for our imprisonment," Youssef said on a serious note, according to Ahram Online.
"At the same time, I am not with hypocrisy, deification of individuals and creation of pharaohs," he said. "We are afraid that fascism in the name of religion will be replaced with fascism in the name of nationalism."
CBC had said it disapproved Youssef's mockery in the first episode, but according to Bassem Sabry, a blogger quoted by Ahram Online, the suspended episode did not make fun of el-Sissi, and was directed against the media and host channel CBC.
In 2012, CBC had scrapped one of the episodes of the show, in which Youssef targeted CBC presenters as well as then-president Morsi. Youssef later uploaded the episode on his YouTube channel.
© Copyright IBTimes 2023. All rights reserved.
FOLLOW MORE IBT NEWS ON THE BELOW CHANNELS