Egyptian Women's Revolution, Interrupted: Sexual Violence Against Women Accompanies Political Upheaval In Cairo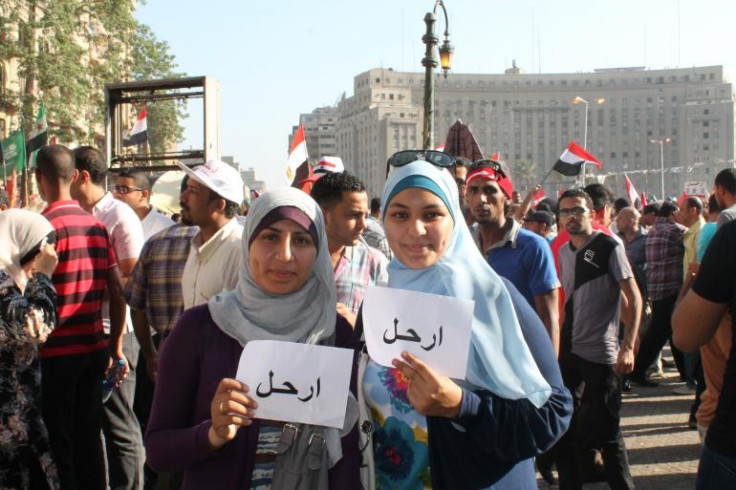 On June 30, a young woman, a British reporter, was violently assaulted near Mohamed Mahmoud Street in downtown Cairo by a gang of more than 15 men armed with knives. Two volunteers from Tahrir Bodyguard, a grassroots initiative, managed to get her to a safe house in the area, but the assailants kept trying to break down the door. Eventually, an ambulance took her to a public hospital nearby, where she required immediate surgery. She barely survived.
"I've never witnessed something like this in my life," says Tarek Najara, a volunteer with Tahrir Bodyguard, which has been patrolling mass protests since November 2012. "All my clothes were full of blood and I thought it was my blood, but then I realized it was her blood. She was bleeding heavily, it was too much."
Egypt's latest wave of protests that ousted the Islamist president Mohamed Morsi brought increased violence against women. And it doesn't matter if the women are young or old, foreigners or Egyptian, veiled or not. A female protester, a veiled young Egyptian woman, was surrounded by a circle of attackers on the same day as the British reporter and stripped naked before volunteers intervened and took her to a safe house near Tahrir Square. Since June 28, 186 attacks on women have been reported, according to grassroots groups patrolling Tahrir Square. The attacks include sexual harassment, violent assaults and gang rapes.
"What I am sure about is that the number [of attacks] is increasing," Najara says with a sigh. "And I don't know how we're going to stop it."
Human Rights Watch has called the latest outbreak of sexual violence "an epidemic."
"The rampant sexual attacks during the Tahrir Square protests highlight the failure of the government and all political parties to face up to the violence that women in Egypt experience on a daily basis in public spaces," said Joe Stork, the deputy director for Middle East at Human Rights Watch, in a statement. "These are serious crimes that are holding women back from participating fully in public life."
Women and minorities, who have been increasingly vulnerable since the January 2011 uprising, face new risks and threats of violence, including sexual assaults by extremely large groups of men.
"There are now organized sexual attacks in the square, they use weapons, raping old women over 60 years old," says Yasmine el-Baramawy, an activist and survivor of sexual assault. "This never happened before."
Other grassroots groups fighting sexual harassment in Tahrir and outside the presidential palace also struggle to keep up.
"This is organized violence," says Azza Kamel, the founder of the "I Saw Harassment" initiative, which relies upon hundreds of volunteers. "We don't know exactly who's organizing it, but there is a political aspect."
In fact, even the political aspect is up for debate. Though all such attacks have a political cast -- and each is seized upon as a means of discrediting the party that organized the protest during which the crime occurred, the perpetrators span religious and social lines.
Also up for debate is the question of why the attacks on women are happening with increasing frequency, with the bulk of them in Tahrir Square. The best answer is essentially a composite: Tahrir Square is in the international spotlight and is an iconic space where protesters (including many women) congregate on a large scale for extended periods, and the once-clear identity of the Egyptian revolution, meanwhile, has fractured.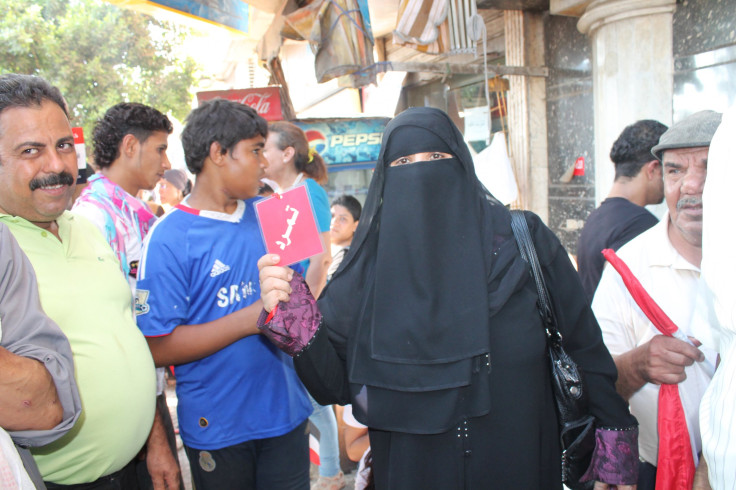 This much is clear: As the political standoff continues and the security void widens, women's groups are reporting a higher incidence of organized attacks against women, perpetuated by groups of men armed with knives around the perimeter of mass protests. The situation is worsened by the fact that there are few legal protections available to women, and most opposition groups have shown greater interest in political infighting and placing blame than in determining how to end the attacks and harassment.
"It's a powerful weapon to discredit any political opponent, to get them out of the political sphere," says Shereen El Feki, author of "Sex and the Citadel: Intimate Life in a Changing Arab World," who spent five years researching sexuality in the Middle East. "There is a lot of unease about sex."
Yet the increase in violence has not deterred women or men from going out in the streets. In fact, it has helped galvanize them. "We are fighting for our existence. It's not detached from what's happening in daily life, decades of impunity," says Hania Moheeb, an Egyptian journalist who is a survivor of sexual assault. "It's so easy to insult, sexually attack a woman. Now it's normalized. We'll go and keep on fighting."
The blame games
Since the January 2011 uprising, women's groups have held the government responsible for failing to protect female protesters from violence.
A study on sexual violence published in February 2013 by the women's group Nazra for Feminist Studies said the rape and abuse of women was an "inevitable consequence of the deterioration of the security situation" with women paying a greater price than men. Nazra, which also provides psychological counseling and support to survivors of assault, called for taking security measures to ensure women's safety during demonstrations as well as making sure women's equality is part of the political agenda.
Over the past year the Islamist government, increasingly on the defensive, has not always been receptive to the issues of sexual violence against women. The snubbing of the female delegates in drafting the new constitution in late 2012 further mobilized many women to take to the streets for the first time.
At the end of 2012, Egypt's government said it was drafting an anti-sexual harassment law with the National Council for Women, a beacon of the so-called "state-sponsored feminism" formerly managed by the wife of ousted president Hosni Mubarak, Suzanne Mubarak.
In February 2013, members of the Shura Council blamed women for the violence in Tahrir; one member, General Adel Afifi, suggested that women "put themselves in such circumstances."
In March, the Muslim Brotherhood issued a strongly worded response to a U.N. declaration calling for an end to violence against women, arguing that it was un-Islamic and would lead to a "disintegration of society."
According to Hania Sholkamy, an anthropologist at the American University in Cairo, the Muslim Brotherhood's backlash against the U.N. declaration demonstrated an "amazing disdain for the rest of the world."
"The Islamists forgot they are in charge," says el-Baramawy. "Even if they are not involved [in organizing attacks], they are responsible for their silence, for ignoring it."
Some grassroots groups are critical of what they see as the opposition's lack of emphasis on ensuring women's safety.
"Opposition tends to call for protests without making sure that it is actually secure for both men and women," says Mariam Kirollos, a founding member of Operation Anti-Sexual Harassment. "They don't want to admit there are sexual crimes; there is a denial of a much bigger problem as a whole."
Tamarod, a popular opposition movement that united splintered opposition groups, mobilized millions of Egyptians to the streets on June 30.
Eman El Mahdy, a spokeswoman for Tamarod, says the movement tries to ensure safety through a Committee for Security, a joint effort by the opposition groups to provide security for the protesters. The committee mainly works through male volunteers who escort women throughout the square and create human circles or "rows" with women safe in their midst. "Nobody can guarantee security, but we're calling for peace," she says. "Tamarod is trying to make sure to protect the square, to give instructions before demonstrations so no woman moves alone."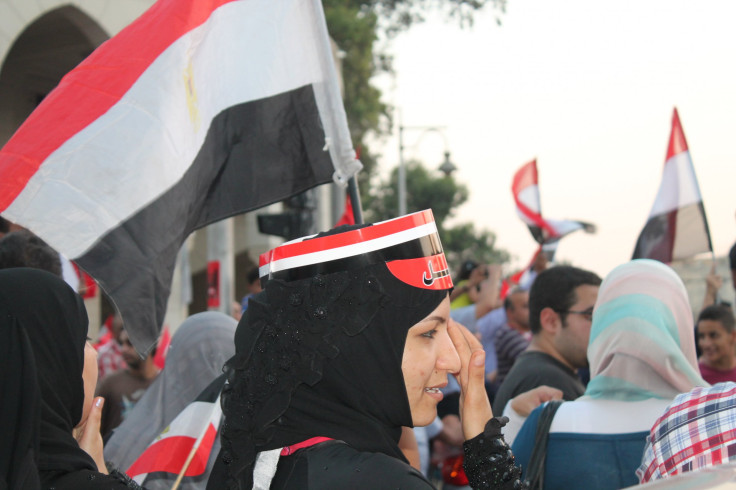 Young women who work for Tamarod have to take special precautions as they report attacks and intimidation from the members of Muslim Brotherhood.
"Most of the girls left their homes and live in a secret location because we had so many attacks on from them," says El Mahdy, who is herself one of the Tamarod women. Traditionally, young Egyptian women live with their families before marriage.
But El Mahdy has a hard time staying on the subject of sexual violence, resorting to a wider list of complaints against the Muslim Brotherhood.
"It's the task for the army and the police to investigate who is responsible and to punish them," she says. "Muslim Brotherhood has a responsibility too. They think they defend their rights, but it's not their right to kill hundreds of people every day."
The Muslim Brotherhood officials have routinely disavowed any responsibility for violence in Tahrir Square or attempts to discredit the opposition as thugs. "We've nothing to do with Tahrir clashes, our protests are peaceful, and we don't go anywhere near Tahrir," according to the Muslim Brotherhood's official Twitter account, posted on July 22.
The Freedom and Justice Party, the political arm of the Muslim Brotherhood, has also condemned all violence. "We strongly denounce all acts and all forms of violence," said Essam El-Erian, the vice chairman for the Freedom and Justice Party in a statement on Wednesday. "Our revolution is peaceful, and all its activities are peaceful."
El-Baramawy, Moheeb and five other women filed a joint sexual assault complain in March 2013, yet the case is still pending, and no government-level investigations into cases of sexual violence have been launched so far.
In the absence of a legal investigation, each party continues to blame the other for violence in general and sexual crimes in particular.
Part of a bigger problem
For the grassroots volunteers, the latest attacks are a part of broader, much longer fight.
"Violence against women is a result of women's inequality," says Kirollos. "Step one is ending exclusion and marginalization of women."
The trouble is, for many political groups and actors in Egypt since the January revolution, tackling sexual violence is far from being "step one" on the political agenda.
As the economy has slowed and the government has shed jobs in the public sector (which has traditionally employed women), competition for jobs in the private sector has intensified. The unemployment rate for women is much higher, at 25 percent, compared with 9.7 percent for men. That leaves Egypt's women severely underemployed. According to a study by Booz Allen, the consulting firm, raising the level of female employment to male levels could boost Egypt's GDP by 34 percent or more.
"This is not just about sexual violence," says El Feki. "It's about how you see women, when a woman is discriminated every day in the streets." In her research, she noted a correlation between economic hardship and violence against women. "Economically, if we can get the economy in recovery, then it might improve men's behavior," she says. "This is the critical period."
The main challenge is for the political parties to see the issue as a priority. "They are fighting for political rights, Egypt's identity, their children's future," Moheeb says. "They can't see [how] controlling women's safety affects Egypt's economy, tourism, image of the entire country."
In a speech in Alexandria on Wednesday, general Abdel-Fattah el-Sissi spoke out against "violence and terrorism", although he did not specifically address sexual crimes. El-Sissi called for more protests on Friday, vowing the army and police will safeguard the rallies.
With Morsi's ouster, many women are hopeful about the new transitional government, even as the standoff between the military-backed opposition and pro-Morsi supporters shows no signs of abating.
"I have confidence in [Mohamed] ElBaradei and many members of this cabinet; I think women's rights and issues will be a priority," Moheeb says. "Women's rights are not an isolated island -- women's empowerment is an integral part of any modern society."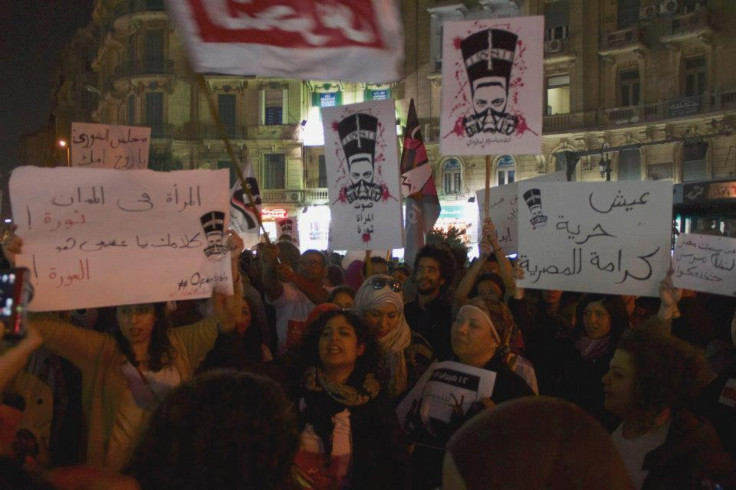 Update: On Sunday, July 28, 2013, 16 women's groups issued a statement calling on the transitional government to include women's rights in the new constitution. Also, in a separate statement on Sunday, National Council for Women called the year of Muslim Brotherhood rule the "worst and most cruel for Egyptian women."
© Copyright IBTimes 2022. All rights reserved.
FOLLOW MORE IBT NEWS ON THE BELOW CHANNELS