Egypt's Sinai Militants Strain President Sisi's Position In US, Israel With Deadliest Attack In A Decade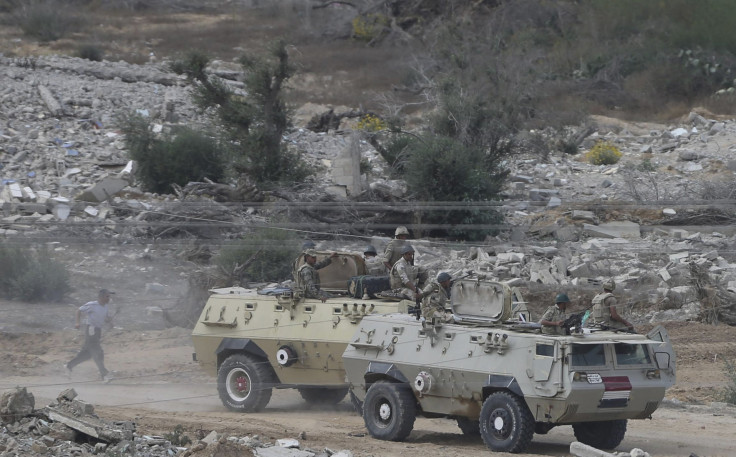 CAIRO -- Egypt's autocratic President Abdel Fattah el-Sisi enjoys strong U.S. and Israeli support despite accusations of human-rights abuses. But with that backing built on Sisi's ability to keep extremist militants in the Sinai peninsula at bay, the deadliest attack there in almost a decade has officials and analysts asking whether the leader's allies will tolerate failure to stop the radical Islamists, who may be allied with the Islamic State group.
Militants detonated explosives at the Karm al-Qawadees military checkpoint Oct. 24, killing 30 military personnel and wounding 27, near northern Sinai's biggest town, el-Arish, and not far from Egypt's border with the Gaza Strip. Another three soldiers were killed in a firefight hours after the initial explosion.
The attack led Sisi to call an emergency meeting of the National Defense Council, a high-level security body consisting of the most senior political, military and intelligence officers. The attack clearly rattled Egypt's leadership, and the president's official representative, Ambassador Alaa Youssef, said the military's entire strategy in the Sinai was discussed at the NDC meeting.
Sisi currently enjoys strong support in Washington and Tel Aviv despite the numerous human-rights violations of which his regime is accused, including the killing of at least 817 demonstrators in a single day in the Rabaa massacre last August.
However, that support rests partly on Sisi controlling the Sinai, where the military has been fighting a deadly insurgency that significantly grew in the security vacuum that followed the deposition of President Hosni Mubarak in February 2011.
"The U.S. sees maintaining security in the Sinai as a key part of its relationship with Egypt," said H.A. Hellyer, a nonresident fellow at the Center for Middle East Policy at the Brookings Institution. "This comes first from Sinai's proximity to Israel, and also out of a broader interest in stopping the proliferation of militant groups that can threaten U.S. interests elsewhere in the region," he said.
Sisi's reputation is firmly tied to the military's campaign in the Sinai: He was responsible for expanding it first in August 2012 and then in September 2013, after a period when his predecessor as head of the armed forces, Field Marshal Mohamed Tantawi, opted for a containment strategy. But Sisi's efforts to eradicate the militant groups have not managed to stop or stem the attacks.
After the NDC meeting, Sisi convened another emergency meeting, this time of the Supreme Council of the Armed Forces, or SCAF, the military body that deposed President Mohammed Morsi last year.
When the SCAF came out of session, a three-month state of emergency and a daily curfew beginning at 5 p.m. were declared in the regions where the insurgency is at its most active. A presidential decree also authorized military trials for civilians involved in crimes against state facilities, as well as for other infractions, such as blocking roads.
The following day, the military responded by launching an Apache helicopter raid on northern Sinai, resulting in the deaths of eight people that the armed forces official representative, Mohamed Samir, claimed in a statement were takfiri militants, a religious term that describes believers who accuse others of apostasy and is often used to refer to armed extremists.
The government has also sent extensive reinforcements to the Sinai peninsula, with tanks, armored personnel carriers and special forces flown in to bolster the forces permanently stationed there.
Northern Sinai residents in the immediate area of the Rafah crossing with Gaza are also being forced to evacuate their homes, which are to be demolished to create a buffer zone at the border.
According to government figures, more than 500 people, most of them military and security forces personnel, have been killed across Egypt in militant attacks in the past year. The extreme Islamist group Ansar Bayt al Maqdes has claimed responsibility for many of these attacks.
Egypt's military announced last December it had killed the group's leader, Abu Suhaib. However, Ansar did not confirm Suhaib's death. This month, the military has claimed the deaths of two alleged senior Ansar commanders -- Shehata Farhan and Mohamed Abu Shatiya -- but again there has been no corroborating evidence. And the attacks have not diminished.
"Ansar intentionally keeps things murky because it doesn't want anyone to know who its leadership are, but these reported killings of leaders don't seem to have changed the dynamic," said Zack Gold, an adjunct fellow at the American Security Project who specializes in Sinai security. "The military under Sisi have stressed all these operations, but the response to Sinai terror needs to be measures that actually work, and we're not seeing any correlation between the operations and the rate of attacks," he said.
According to Jane's Intelligence Review, improvised explosive devices remotely detonated by Ansar alone inflicted "around 85 casualties" on Egyptian security forces between July and October. And the attacks are not limited to Sinai. The group has also attacked what it refers to as al-wadi (i.e., the valley), meaning Egypt's Nile Delta, including Cairo and the city of Ismailia.
What's more, in multiple cases when Ansar members have appeared in courts of law, they have reported traveling to Syria to fight with Islamist militant groups such as the Islamic State, formerly known as ISIS. However, it has not been possible to establish that these confessions were made free of duress. Torture is common in Egyptian prisons -- and particularly common in the military facilities where many Ansar detainees are held.
Two days after the Sinai attack, Ansar released a video in which men accused of collaborating with Egyptian security forces and Israel's intelligence agency Mossad were interrogated and summarily beheaded. The video is the second since August that features Ansar beheadings reminiscent of those carried out by ISIS.
"You need more than military power in Sinai because this is a guerrilla war, and there's no point in sending in tanks in a guerrilla war," said Mohannad Sabry, an Egyptian Sinai specialist and author of a forthcoming book about the peninsula. "Even if the military were to totally clean up the Sinai of all terrorists tomorrow, if they were then to leave without fixing the socioeconomic problems, terrorism would return within a year or two," he said.
Although the insurgency in Sinai has regional links, including to Palestinian militant groups, there are also local grievances. Economic and infrastructural development has been poor in northern Sinai, unemployment is high, and much of the population feels betrayed by the government, an environment of disillusionment Sabry described as an "incubator" for terrorism.
© Copyright IBTimes 2023. All rights reserved.