Environmental Groups Celebrate Keystone XL Pipeline Success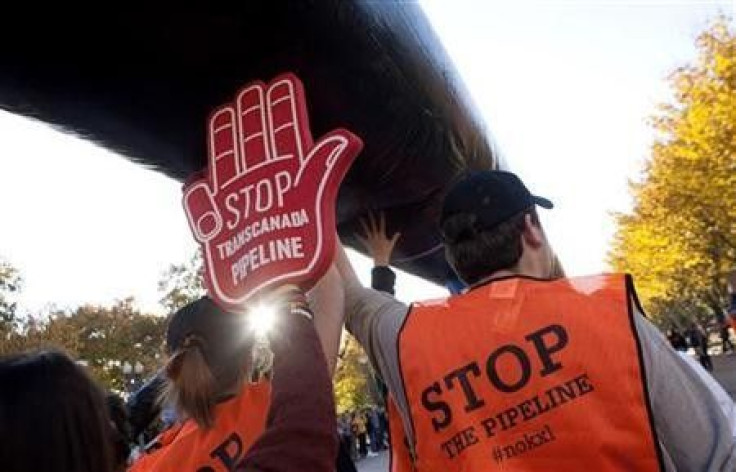 The U.S. Department of State announced it would delay its final decision regarding the Keystone XL pipeline on Thursday, a move backed by President Obama that has been hailed as a significant victory for environmentalists who launched massive demonstrations to protest the pipeline's construction.
In a statement, the State Department said it would extend its review of the Keystone XL pipeline, a proposed 1,700-mile pipeline that would transfer about 700,000 barrels of crude tar sands oil from Alberta, Canada to refineries on the U.S. Gulf Coast each day. While supporters claim the project would reduce the nation's dependence on foreign oil and potentially create much-needed American jobs, opponents point out the project would increase greenhouse emissions and reinforce U.S. reliance on harmful fossil fuels.
Now, the Obama administration said it will delay its decision to either approve or reject the controversial pipeline until after the 2012 presidential election.
Because this permit decision could affect the health and safety of the American people as well as the environment, and because a number of concerns have been raised through a public process, we should take the time to ensure that all questions are properly addressed, Obama said in a statement.
Environmentalists: Climate Issue Important to Americans
While it is not a commitment to toss the project, environmentalists are still celebrating the result of their organized civil disobedience.
I think people assume climate change isn't an important issue to the general public, Jamie Henn, a spokesperson for Tar Sands Action, told the International Business Times. But, these protests showed that climate change is actually an issue motivating thousands of Americans and people want to have a serious discussion about it.
Tar Sands Action, an organization advocating sustained civil disobedience to combat the Keystone XL expansion, had a crucial role in organizing the large-scale protests in front of the White House that brought hoards of media attention to the issue. Henn said the State Department decision to delay approval was a particular success since most Americans had never even heard of the pipeline before August.
Tar Sands Action, along with a coalition of environmental groups, organized two large-scale protests in front of the White House with the goal of calling attention to the issue -- and they certainly succeeded.
The first event, a two-week sit-in held between Aug. 20 and Sept. 3, led to the arrest of more than 1,200 activists, including high-profile personalities such as actress Daryl Hannah and well-known climate scientist James Hansen. More than 100 people were arrested at a pipeline protest held in Ottawa, Canada in late September.
Diverse Activist Group
On Nov. 6, thousands of protesters gathered at the White House and formed a human chain around the building to object to the pipeline project.
These were not your everyday tree-huggers, Henn said, describing how a diverse group of ranchers, indigenous Canadians and Tea Partiers stood side-by-side with environmental activists to bring attention to potential consequences of the pipeline.
Indigenous Canadians, who Henn said were the first to protest, initially objected to the pipeline because its route encroaches into their traditional and treaty territories in Alberta and British Columbia. Meanwhile, ranchers -- a group most people would hardly associate with the green movement -- are also concerned since the initial pipeline route would have been close to Nebraska's Ogallala aquifer, which provides irrigation and drinking water for about 80 percent of the state.
In addition, some critics have pointed out that a rupture in the Keystone XL could potentially cause a BP-style oil spill in America's heartland. The concern was compounded by the fact that TransCanada, the developer of the pipeline, had predicted the initial Keystone I pipeline would only see one spill in seven years. However, there were reportedly 12 spills in one-year period, while the company was also ordered to dig up 10 sections of the pipe after tests indicated defective steel -- the same that will reportedly be used in the Keystone XL -- may have been used.
The future of the pipeline is questionable. On Thursday, Canadian Finance Minister Jim Flaherty told Bloomberg News that Canada may be forced to export its tar sands oil to Asia through British Columbia, instead of sending it to the U.S.
The decision to delay it that long is actually quite a crucial decision. I'm not sure this project would survive that kind of delay, Flaherty.
While the Canadian government may be disappointed, environmentalists are simply ecstatic. Henn, who said Tar Sands Action plans to follow the Keystone XL approval process and launch more demonstrations if the U.S. ultimately approves the project, said he only wished people would have objected to pipeline sooner.
We were late to the game. It would have been great to see a fighting progressive environmental movement 2 or 3 years ago before the permit process went so far, he said.
© Copyright IBTimes 2023. All rights reserved.
FOLLOW MORE IBT NEWS ON THE BELOW CHANNELS