Episcopal Church Installs Michael Curry, First Presiding African-American Bishop Of The National Christian Denomination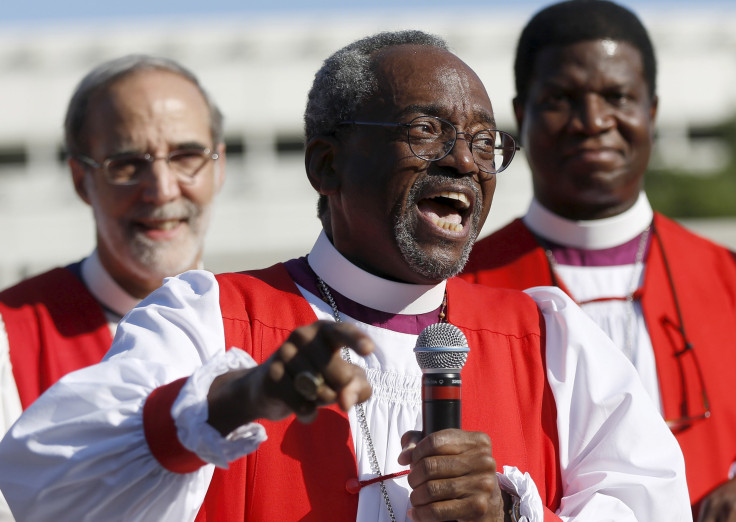 Michael Curry, presiding bishop of the U.S. Episcopal Church, was officially installed Sunday as the 27th leader, in a ceremony at the National Cathedral in Washington. Curry, 62, who is the first African-American to lead the Christian denomination, told Episcopalians effective evangelism happens regardless of race, education and wealth.
His mother was given communion in a white Episcopal parish before desegregation, he said, noting the significance given the church's prior complicity in American slavery and racism. Curry's father was also a priest in the church.
"God has not given up on the world and God is not finished with the Episcopal Church yet," Curry said, according to the Associated Press. He succeeds Katherine Jefferts Schori, the first woman to lead the church who held the position for nine years.
Curry served about 15 years as leader of the Diocese of North Carolina, before being chosen in a landslide election in June, the Episcopal News Service reported. The newly minted bishop grew up in Buffalo, New York, and earned a degree from the Yale Divinity School in New Haven, Connecticut, according to the AP.
The Episcopal Church, a denomination based in New York, was the church of many of the Founding Fathers and today boasts about 1.9 million members nationwide. But its membership is shrinking as fewer Americans claim religious affiliation and tensions with other Anglicans flare over the church's support for gay marriage.
"It is an understatement to say we live in a deeply complex and difficult time in the life of the world," Curry said during the installation ceremony. "This is a time when again it is an understatement to say there are challenges before the church and communities of faith. This is a time of difficulty and hardship for many. A time of goodness and joy for others. And a time when we must even find ways to save the Mother Earth, who is the mother of us all."
Episcopal Church | Graphiq
© Copyright IBTimes 2023. All rights reserved.