Episcopal Church Elects First African-American Bishop To Lead The Organization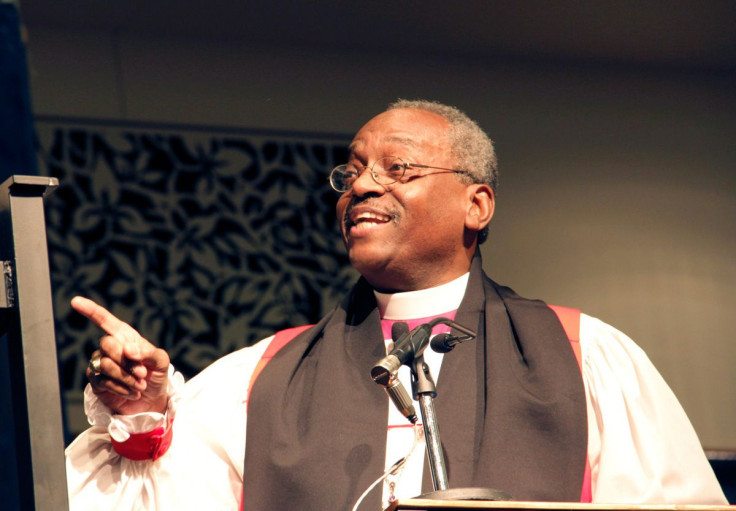 The Episcopal Church made history Saturday, electing the first black presiding bishop to the lead the church, the Episcopal News Service announced. Bishop Michael Curry, head of the Episcopal Diocese in Raleigh, North Carolina, was elected in a landslide to serve as the church's 27th presiding bishop.
Curry, 62, was chosen in an election process held by the House of Bishops at the Episcopal General Convention in Salt Lake City, Utah. Some 9,000 members gathered for the church's convention, which is held every three years to determine the church's future course.
Three other bishops were candidates for the role of presiding bishop, who serves as primate and chief pastor of the church. Curry earned 121 votes while the other three candidates had no more than 21 votes each, the Associated Press reported.
Curry's nine-year term officially begins Nov. 1 when he will succeed current Katharine Jefferts Schori. She served for nine years as the first woman presiding bishop and the first woman to head an Anglican national church.
The Episcopal Church is headquartered in New York City and claims about 1.9 million members, but it also serves at the U.S. body of the Anglican Communion, a worldwide network of churches stemming from the Church of England, with some 80 million members around the globe.
Hailing from Chicago, Curry has served as the bishop of North Carolina for 15 years, presiding over 48,000 church members, 112 congregations and a vast ministry network. According the church's official news network, Curry "has been active in issues of social justice, speaking out on immigration policy and marriage equality."
In a video interview in May after his nomination was announced, Curry said it was the role of Episcopalians to "witness in the social sphere, witness in the public sphere, through personal service that helps somebody along the way … prophesying deliverance … [and] being a voice for those who have no voice."
© Copyright IBTimes 2022. All rights reserved.
FOLLOW MORE IBT NEWS ON THE BELOW CHANNELS