The Equal Pay Act: 50 Years Later, Pay For Women, And Particularly Women Of Color, Still Lags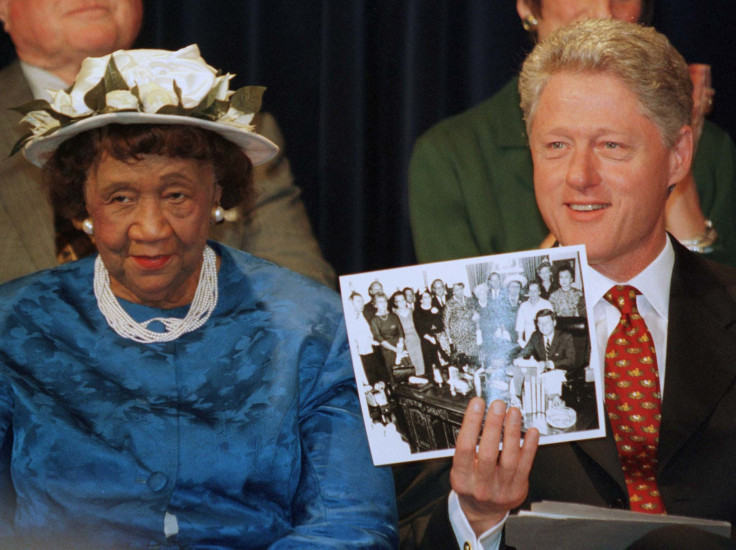 Lily Ledbetter, she of the Lily Ledbetter 1963 Equal Pay Act, had a thing or two to say Monday about the 50 ensuing years since former U.S. President John F. Kennedy signed the Equal Pay Act into law. Namely, that not enough has been done.
"This is a family affair," Ledbetter said during a Google Plus Hangout, hosted by U.S. Congresswoman Donna Edwards (D-Md.). "I had no idea how far behind we really were. I thought surely we were further along on equal pay."
In 1963, women in the United States were earning 62 cents to every dollar that a man earned. Today, the average is 77 cents. That's an increase of 0.3 cents every year since the bill has been passed. Way to go, America.
The disparities in pay based on race were also discussed: Black women on average earn 64 cents to a man's dollar, and Hispanic women earn 55 cents, Edwards said. Further, women with children were apt to earn around $11,084 less than a man. Men with children were paid $6,000 more than average. White women with no kids did the best: They earned 90 cents to the dollar.
Congresswoman Rosa DeLauro (D-Conn.), another participant in the hangout, said that women in the GOP who claimed that the issue of equal pay is no longer a problem were "out of touch with what's really happening. Members of Congress are being paid equally, therefore they're not aware of the barrier in the private sector."
Kristen Rowe-Finkbeiner of the Momsrising movement declared, "When we have this many people with this same problem, we have a national structural issue that we must address."
U.S. President Obama also devoted some of his schedule today to avoiding questions about the NSA and Edward Snowden, and instead addressed the still-present gender gap in an event at the White House. "This is the 21st century. It's time to close that gap," he said in a statement.
See the White House's video on Equal Pay:
© Copyright IBTimes 2023. All rights reserved.