Eric Garner Chokehold Death: How Will The Department Of Justice Expedite Staten Island Police Killing Investigation?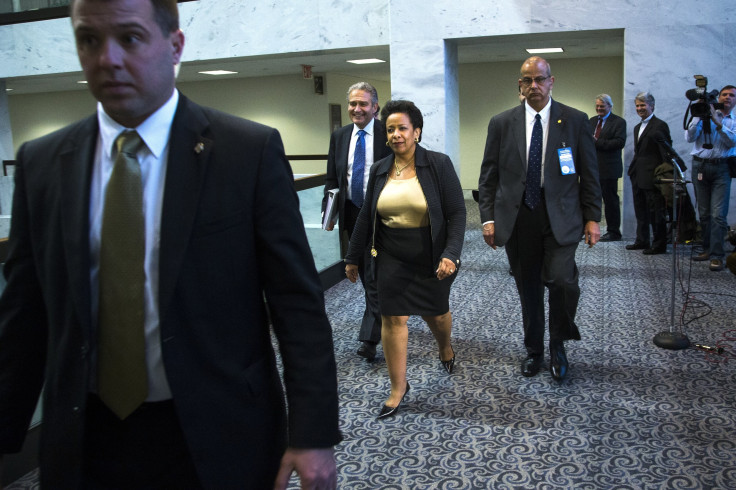 U.S. Attorney General Eric Holder has vowed to expedite the Justice Department's civil rights investigation into the chokehold death of Eric Garner after a grand jury failed to indict the police officer involved. Loretta Lynch, the U.S. Attorney nominated as Holder's replacement, has been tasked with leading the probe and pledged Wednesday night that it would be "conducted as expeditiously as possible." But despite Lynch's assurances and lengthy civil rights record, the DOJ's troubling record on wrapping up high-profile investigations, some of which have yet to be decided even after years, raises major doubts about the department's ability to quickly deliver justice in the Garner investigation.
The department has yet to file federal charges in the cases of Trayvon Martin (killed February 2012) and Michael Brown (Aug. 9, 2014), two other cases involving unarmed black males. Those stalled investigations have not inspired a lot of confidence in the DOJ's ability to expedite the Garner case, said Paul Cassell, a law professor at Utah University's College of Law and a former federal judge.
The investigation into the killing of Brown, who was shot by a white police officer in Ferguson, Missouri, hasn't moved forward, despite the DOJ's designation of the case as a high priority, said Cassell. The case of Martin, who was shot and killed on Feb. 26, 2012, by neighborhood watchman George Zimmerman, is another particularly frustrating example, Cassell said. Holder announced a federal investigation of the case on Mar. 20, 2012, but there's still been no decision. "I can't see any real reason why the case has dragged on. That case has already gone to a full criminal trial; there wasn't an elaborate forensic investigation," Cassell said.
There are two stages to any criminal investigation: collecting evidence and determining whether to move forward with a case. The process involved in the former stage is usually responsible for determining the timeline of an investigation, said Cassell. With the Garner case, "a lot of evidence has already been collected," said Cassell. "The only question now might be to find any missing pieces."
Given the information already out there, including grand jury testimony and a medical examiner's review, Lynch's goal of expediting the case already has this one built-in advantage. "One of the first things she will do is try to capitalize on the information already collected by [...] authorities," according to Cassell.
Another advantage is that the case is being investigated by the U.S. Attorney's Eastern District of New York office, which, Cassell said, has a very large number of agents and prosecutors at its disposal. This alone can considerably expedite the process, he said. The DOJ has not yet announced the number of personnel they have committed to the case, but Cassell said the department should be able to publicly divulge the information in this particular investigation.
Lynch also has an encouraging record on similar high-profile cases of police violence. During her first term in office, the U.S. attorney oversaw the successful prosecution of the New York police officers charged with brutalizing Haitian immigrant Abner Louima, according to the Washington Post. That record has won Lynch the support of activists who want greater accountability for police brutality, including the progressive group Alliance for Justice which praised her nomination as attorney general. "We are confident that Lynch will build on Holder's strong legacy of standing up for civil rights and ensuring equal justice for all Americans, said AFJ president Nan Aron in a statement.
New York Governor Andrew Cuomo expressed his support for Lynch's effort on Thursday, saying that her involvement "can go a long way toward restoring confidence in the system, which has been shaken by this apparently incongruous outcome" in a statement released by his office in which he also offered her the state's assistance for the investigation.
As promising as some of these factors might be for the prospects of a speedy investigation in the Garner case, the DOJ's troubling record on the Martin and Brown cases does not bode well for the timeline of the Garner investigation, said Cassell. "I'm hoping the department will look back at these three cases together and try to figure out how to reach a conclusion more quickly. People think an injustice has been done and the Justice Department is in a powerful position to say something about this," he said.
© Copyright IBTimes 2022. All rights reserved.
FOLLOW MORE IBT NEWS ON THE BELOW CHANNELS