Eric Garner Death: How Obama, Holder And De Blasio Are Raising Visibility Of Police Killings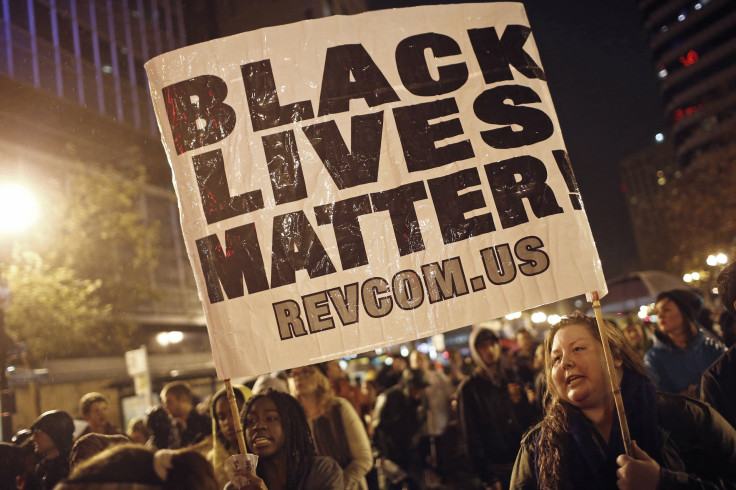 President Barack Obama famously said in 2012 that if he had a son, he would look like Trayvon Martin, the unarmed black teen who was killed in Florida by neighborhood watchman George Zimmerman in February of that year. This week, after a white New York City police officer wasn't indicted in the death of Eric Garner, a black man in Staten Island, New York City Mayor Bill de Blasio said he has always counseled his half-black son to be careful when dealing with police. In Missouri recently, after the fatal police shooting of unarmed black teen Michael Brown, U.S. Attorney General Eric Holder recounted his experiences of being pulled over by police simply because of his skin color.
Obama, de Blasio and Holder are among a new generation of political leaders whose personal stories are propelling police shootings and killings of black men into the national spotlight. Their narratives are being shared at a time when the racial makeup of American politics is more diverse than ever.
"It seems to me that Obama is animated in doing this in good part because he has a sense of it that a non-black president could not have," said Robert C. Smith, a professor of political science at San Francisco State University in California. "I think he is compelled in a way that a non-black president couldn't be."
Recent police-involved shootings in Missouri, Ohio and New York have also caught the attention of of black members of Congress, who have called for hearings to investigate the deaths of Brown, Garner and 12-year-old Tamir Rice, who was fatally shot by a white police officer in Cleveland last month while playing with a toy gun in a park. "Whenever you have a situation where civilians are being killed by police officers, unarmed civilians, I think it becomes very, very alarming," said U.S. Rep. Elijah Cummings, D-Md. "I would like to see [hearings], but we're not in control.
Black representation in Congress has grown tremendously since the 41st Congress of 1869-71, when three black lawmakers were first elected to the House and Senate, according to the House Office of Art and Archives. The 113th Congress, which ends its term next month, has 42 black members. The political power black lawmakers have today gives them more influence on issues like police-involved killings, but that could change when Republicans take control of both chambers of Congress in January. There will be only two Republican black members of Congress. The others are Democrats.
Holder is the nation's first black attorney general, while Obama became the first black president in 2008. De Blasio is white, but his wife is black and their children are half-black. New York City has had a black mayor before -- David Dinkins -- but Dinkins didn't make police policies much of an issue when he was in office in the early 1990s.
"I couldn't help but immediately think what it would mean to me to lose Dante," de Blasio said Wednesday after a grand jury didn't indict New York City Police Officer Daniel Pantaleo in Garner's death, referring to his teenage son. "Things would never be the same again."
While speaking at a community college in St. Louis shortly after Mike Brown was shot by Ferguson, Missouri, police Officer Darren Wilson, Holder said he understands the mistrust between the black community and law enforcement.
"I am the attorney general of the United States. But I am also a black man. I can remember being stopped on the New Jersey Turnpike on two occasions and accused of speeding... I remember how humiliating that was and how angry I was and the impact it had on me," Holder told the crowd in August. "I think about my time in Georgetown -- a nice neighborhood of Washington -- and I am running to a movie at about 8 o'clock at night. I am running with my cousin. Police car comes driving up, flashes his lights, yells 'Where you going? Hold it!' I say, 'Whoa, I'm going to a movie.' Now, my cousin started mouthing off. I'm like, 'This is not where we want to go. Keep quiet.' I'm angry and upset. We negotiate the whole thing and we walk to our movie. At the time that he stopped me, I was a federal prosecutor. I wasn't a kid. I was a federal prosecutor. I worked at the United States Department of Justice. So I've confronted this myself."
FOR FREE to continue reading
✔️ Unlock the full content of International Business Times UK for free
offer available for a limited time only
✔️ Easily manage your Newsletters subscriptions and save your favourite articles
✔️ No payment method required
Already have an account?
Log in
© Copyright IBTimes 2023. All rights reserved.