Eric Garner Grand Jury Indictment Decision: New York Braces For Possible Riots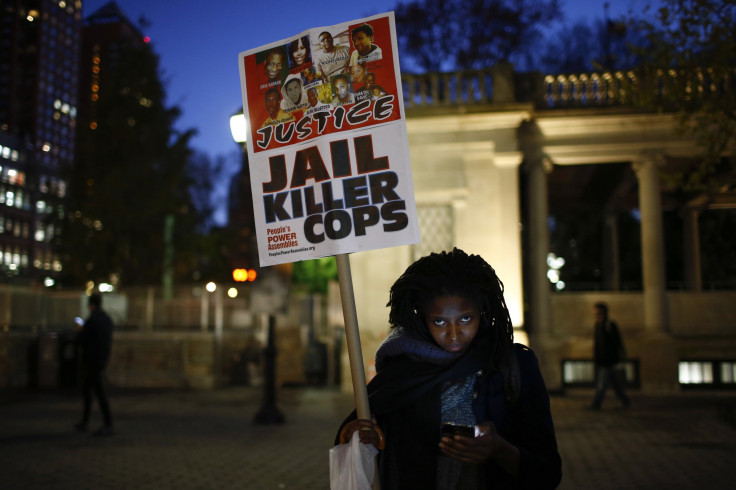 STATEN ISLAND, New York -- There's one simple reason why Staten Island barber Angel Sanchez said his community won't riot like Ferguson after a grand jury decided not to indict the white police officer who killed a black man here this summer: Tompkinsville residents are just more accustomed to police brutality.
"Ninety, say, 80 percent, nothing's going to happen," he told International Business Times Wednesday before the grand jury decision was announced. "It ain't something new. Out there, you got small towns, communities, so they're not used to stuff like that. We're used to it."
It was mostly business as usual for Sanchez on Wednesday, who spoke to IBTimes as he cut his brother's hair half a block down from 202 Bay Street, where Officer Daniel Pantaleo put a fatal chokehold on 43-year-old Eric Garner in July. But his eyes kept focusing on the TV tuned to NY1 in the corner, waiting for the grand jury to announce whether Pantaleo would face criminal charges.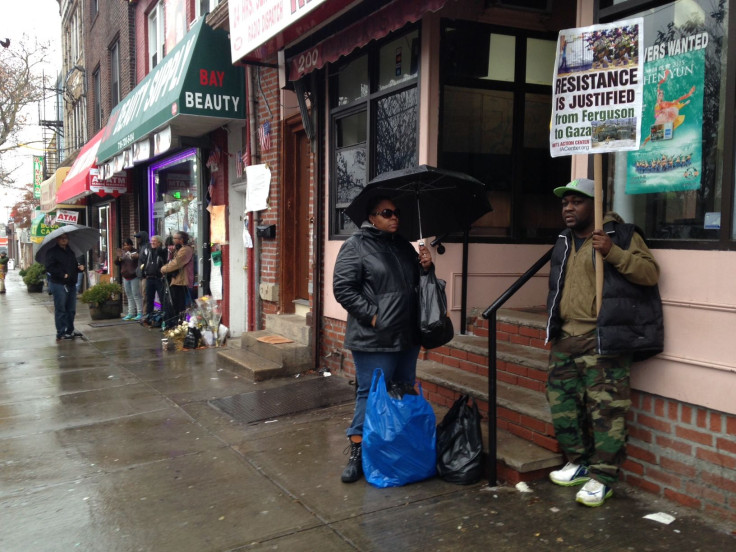 Media reports indictated late Wednesday that the grand jury would not bring charges against Pantaleo, but officials would not comment on the result. Protesters are scheduled to gather throughout the New York City boroughs of Manhattan and Brooklyn once an official announcement is made.
Comparisons between Ferguson, Missouri, and Tompkinsville, New York, are inevitable, but the latter was quiet on Wednesday, even at the site where Pantaleo put Garner in the NYPD-forbidden chokehold for allegedly illegally selling cigarettes. More news trucks, photographers and reporters stood along Bay Street than residents. Freezing drizzle kept people inside, where they leaned on deli counters and made conversation, but there were no signs of protests similar to those that unfolded across New York City after Garner's death this summer.
If Pantaleo doesn't face prosecution, Sanchez said, people will be upset. But he doesn't anticipate violent outcry. "We'll have our rallies, people will express their feelings, of course," he said. "But we ain't going to start breaking storefronts and robbing TVs and stuff like that."
That's because police in Staten Island have always used racial profiling and excessive force in dealing with residents, Sanchez said. Once, when he was wrongfully arrested, the cop clicked the handcuffs to the tightest link, pinching his skin so tight it cut off circulation. It's unfortunate "somebody had to die for it to come to light," he said.
A few people gathered by the makeshift memorial for Garner at 202 Bay Street on Wednesday. Some cried. Some chanted. One just said "You've got to be kidding me" over and over.
Garner's stepfather, Benjamin Carr, stood in the street after media reports of the grand jury announcement were made public, begging reporters to tell their audiences not to riot. He gestured to the beauty store behind him, the 99-cent shop nearby, the cafe next door. "They didn't do nothing to us," he said. "I don't want nobody out here fighting."
He said he disapproved of any violent reaction to the decision, including when Twan Scarlett threw a trash can into the street when reporters told him the news. Scarlett, who followed Garner to the ambulance after he died, had actually testified before the grand jury. Out of the roughly 20 jurors, he said, only two asked him questions. "This is ridiculous out here," Scarlett said.
Garner's son has also said that there will be no riots. "It's not going to be a Ferguson-like protest because I think everybody knows my father wasn't a violent man, and they're going to respect his memory by remaining peaceful," 18-year-old Eric Snipes told the New York Daily News. "It's not going to be like it was there."
But city officials remain unconvinced. Mayor Bill de Blasio has warned that rioting will not be tolerated. "People have a right to protest peacefully, and we will respect that right," he said. "But if we think public safety is compromised, then the police will act very assertively to address that problem."
Police Commissioner Bill Bratton said officials are "planning accordingly."
© Copyright IBTimes 2022. All rights reserved.
FOLLOW MORE IBT NEWS ON THE BELOW CHANNELS