Obama's Law Enforcement Reforms After Michael Brown Shooting Called Weak By Civil Rights Advocates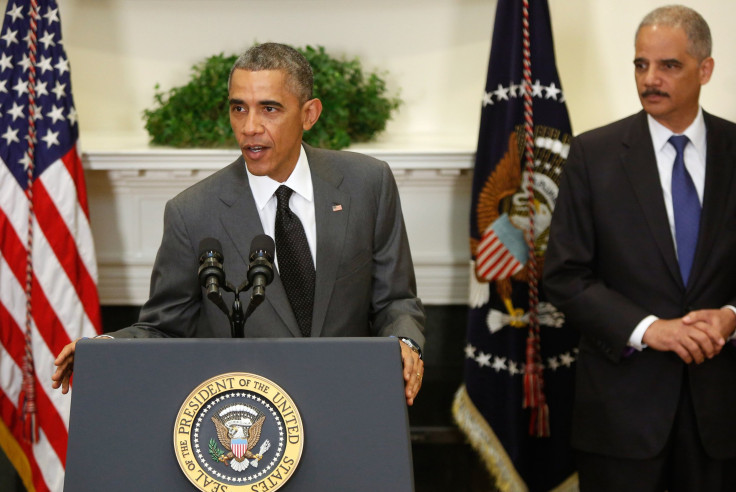 President Barack Obama's proposals to improve relations between police departments and minority communities does not go far enough to overcome decades of excessive police force, say some civil rights groups. Obama vowed Monday to reform how police departments respond to reported crimes in the wake of a Missouri grand jury decision last week not to indict Ferguson police Officer Darren Wilson for killing unarmed teen Michael Brown.
The unveiling of Obama's reform approach came via speeches by the president and U.S. Attorney General Eric Holder. Obama said he will ask Congress to approve $263 million in funding to reform police departments, The Guardian reported. The money would provide training and subsidize 50,000 video cameras that would be affixed to officers' lapels in hopes of providing greater accountability and justice for police and suspects alike.
But police reform advocates said the measures are too weak and should instead be expanded to all police officers nationwide. "I think that 50,000 body cameras over three years is a very modest start when you consider that there are 765,000 police officers in the United States," said Barbara Arnwine, president and executive director of the Lawyers' Committee For Civil Rights Under Law, a legal advocacy organization based in Washington. "You can do the math -- that's a very low percentage of coverage. However, it does have the power of incorporating a new standard in policing that could put pressure on local jurisdictions, state legislatures and others to make up the difference."
Obama also said he will issue an executive order by March 1, 2015, requiring federal agencies to reform the ways law enforcement agencies implement controversial programs that funnel military-grade equipment to them from the Pentagon. State and local police forces now regularly employ armored vehicles, tactical armor and assault weapons in law enforcement situations, a situation that gained infamy during protests after Brown's death in August.
"It is a solvable problem, but it is one that unfortunately spikes, but [then] fades into the background," Obama said of the national debate on police brutality. "There's been commissions before, there have been task forces, there have been conversations, and nothing happens. And I try to describe to people why this time will be different. And part of the reason this time will be different is because the president of the United States is deeply invested in making sure that this time is different."
But Kara Dansky, senior counsel at the American Civil Liberties Union, said Obama should do more to address how police use military equipment. "If all the administration is going to do is improve oversight of inventory, that's not a step in the right direction," she said. "The federal government has an obligation to oversee the use of the military equipment it gives away to police. The federal government is providing the funding, so the federal government could place conditions on the receipt of those funding streams to local police."
Holder spoke Monday at Ebenezer Baptist Church in Atlanta, a symbolic heart of the civil rights movement where Dr. Martin Luther King Jr. was preacher, Reuters reported. The attorney general announced he will release new guidelines "in the coming days" aimed at curbing racial profiling by federal law enforcement agencies; he has no such authority over state and local agencies.
"The new guidance will codify our commitment to the very highest standards of fair and effective policing," Holder said. "This whole emphasis on this issue was born of a tragedy, but it presents this nation with an opportunity. It's incumbent on all of us to seize that opportunity."
Arnwine, of the Lawyers' Committee, has been working since 2009 to get the Obama administration to address racial profiling in law enforcement. She said the vision outlined Monday needs to go further by mandating better data collection of police killings, universal lapel cameras for all U.S. police officers, universal use of dashboard cameras in police vehicles, and anti-racial-profiling and anti-racial-bias training for all police departments, and more.
"I think it's a good start, but it's by no means comprehensively everything we believe is necessary," Arnwine said. "I think the president is going to have to issue more executive orders in this area in order to comprehensively address the issue of racial discrimination in policing, and I think it's urgent and imperative."
© Copyright IBTimes 2023. All rights reserved.