Eric Garner Grand Jury Update: No Indictment For NYPD Officer Daniel Pantaleo In Chokehold Death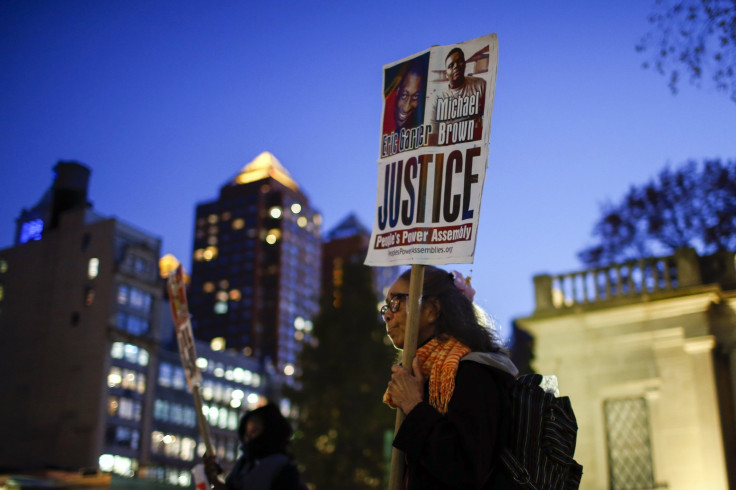 A Staten Island grand jury has chosen not to indict New York police Officer Daniel Pantaleo in the homicide death of Eric Garner, according to local media reports. The grand jury announced its decision Wednesday, nine days after another grand jury failed to indict Ferguson, Missouri, police Officer Darren Wilson for the shooting death of Michael Brown.
Garner, a 43-year-old father of six, was killed July 15 in the New York City borough of Staten Island while being arrested for allegedly selling individual cigarettes, or "loosies," to passersby, a misdemeanor offense under New York state law. Several cops approached Garner, who became agitated as officers tried to restrain him. Video footage of the encounter showed Pantaleo put Garner in an apparent choke hold, a tactic the NYPD banned in 1993, according to the New York Post. Garner repeatedly exclaimed that he was having difficulty breathing. Moments later, his body went limp. He died of a heart attack on his way to the hospital.
A New York City medical examiner later ruled Garner's death a homicide caused in part by "compression of the neck." Garner, who weighed 350 pounds, also suffered from asthma, which may have played a role in his death. A grand jury began meeting Sept. 29 to hear evidence in the case against Pantaleo.
Roving cigarette vendors are common in some parts of New York, satisfying a black market for individually priced smokes in a city where packs can cost as much as $12 or $14 – the steepest prices in the country. People in the underground cigarette market travel to states in the South where packs are significantly cheaper, then sell the packs to local stores, or bodegas, in New York. Dealers in turn sell the cigarettes for 75 cents to a $1 each, according to the New York Times.
Public outcry over Garner's case reached its fever pitch in August following the death of 18-year-old Michael Brown at the hands of a Ferguson police officer on Aug. 9. Thousands of protestors took to the streets on Staten Island to demand justice for the police killings of Garner and Brown and reform for police forces in general. Demonstrators carried signs and wore T-shirts that depicted the two men killed by police. Others chanted the familiar slogan, "Hands Up, Don't Shoot," a reference that stems from some witnesses in Brown's case who said the unarmed teen was surrendering at the time he was gunned down.
The grand jury tasked with deciding whether to indict Officer Pantaleo considered a range of charges, including reckless endangerment, criminally negligent homicide and manslaughter, according to CBS New York.
Pantaleo testified before the grand jury on Friday, according to MSNBC. He was believed to be among the last witnesses to be questioned by the jury.
Many people believed early on that Pantaleo would avoid being indicted for Garner's death. "I think everyone everywhere is concerned that there won't be a meaningful indictment in this case and that would be terrible," City Council Member Jumaane Williams of Brooklyn, who sits on the council's public safety committee, told MSNBC prior to the grand jury's decision. "We saw it on tape. Very rarely do you see a murder caught on tape and that happened here," he said.
© Copyright IBTimes 2023. All rights reserved.