Eric Holder On AP Scandal: 'Some Of My Telephone Records Were Examined' For Leak Investigation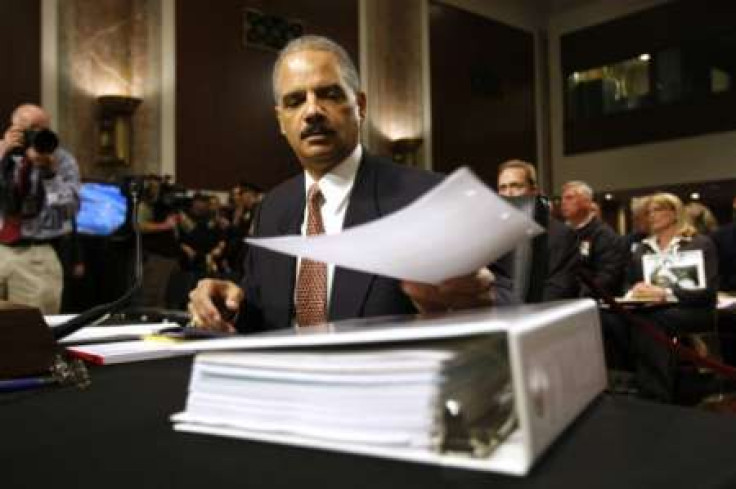 U.S. Attorney General Eric Holder revealed that he voluntarily turned over his phone records in his office's investigation of the Associated Press phone scandal.
Under questioning by U.S. Rep. Blake Farenthold, R-Tex., the attorney general said "some of my telephone records were examined" as part of the investigation.
Holder recused himself from the case because he possesses information that was leaked to the AP for a story that appeared last year about a foiled Yemen-based terror plot that was disrupted by the CIA.
The plot, involving a plan to bomb an airliner using components that would not set off a metal detector, was planned to be carried out on the two-year anniversary of the death of al-Qaeda mastermind Osama bin Laden.
The AP said Monday that it received a letter Friday from the U.S. attorney's office in Washington, D.C., that notified the news wire service that phone records from 100 of its reporters were obtained by the Justice Department. The news outlet was not notified about the subpoena when it was issued.
The scandal caused lawmakers on both sides of the aisle to criticize the Justice Department, arguing that the actions amounted to press intimidation and were an overreach of government.
"The subpoenas that were issued appear to be overly broad in scope" U.S. Rep. Hakeem Jeffries, D-N.Y., said during Wednesday's hearing.
Jeffries also said he was "troubled by the fact that the negotiation or consultation with the AP" over the phone records never occurred.
Despite his recusal, Holder was admonished by U.S. Rep. James Sensenbrenner, R-Wisc., over what the congressman called a lack of accountability in the attorney general's office.
"Mr. Attorney General, I think that this committee has been frustrated from at least the last 2 ½ years … that there doesn't seem to be any acceptance of responsibility in the Justice Department for things that have gone wrong," the congressman said.
© Copyright IBTimes 2023. All rights reserved.