Eric Holder Resignation: Obama Attorney General To Leave Justice Department Amid Tensions With Congress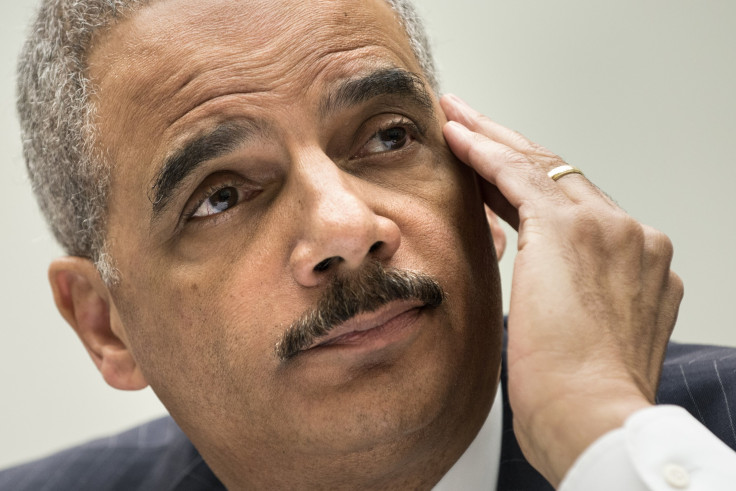 U.S. Attorney General Eric Holder is expected to announce his resignation from the Justice Department Thursday after a difficult relationship with Republicans in Congress amid ongoing investigations on national security and civil rights issues. Holder was appointed in 2009 by President Barack Obama as the nation's first black U.S. attorney general. He's expected to step down in the coming months, according to NPR.
Holder, 63, is one of Obama's longest-serving cabinet members. He previously worked as deputy attorney general for President Bill Clinton. Republican lawmakers have long criticized Holder's tenure, particularly after he refused to hand over documents about a gun-trafficking scandal known as Fast and Furious. A Department of Justice spokeswoman declined to confirm the resignation Thursday morning.
It's unclear why Holder is stepping down halfway through Obama's second term. While he previously hinted he was considering leaving the Justice Department this year, the abrupt resignation announcement Thursday seemed to come at a difficult time for Obama, who was in New York meeting with global leaders at the United Nations. After some prodding from the press, an Obama administration official praised Holder's service ahead of the expected resignation announcement.
"Holder's accomplishments have established a historic legacy of civil rights enforcement and restoring fairness to the criminal justice system. Holder revitalized the Department's praised Civil Rights Division, protected the rights of the LGBT community, successfully prosecuted terrorists, and fought tirelessly for voting rights, to name a few. He will remain at the Department of Justice until his post is filled," the official told the Washington Post Thursday.
Solicitor General Donald B. Verrilli Jr., the administration's top representative to the Supreme Court, could step in as Holder's replacement, according to NPR.
During his six years as the nation's top law enforcement official, Holder presided over an unprecedented series of prosecutions of alleged government leakers and was found in contempt by the House of Representatives, a first for an U.S. attorney general, according to the New Yorker. He also was protective of votings rights and criticized GOP state lawmakers' efforts to pass stricter voter identification laws.
"The history of this nation has always been to try to expand the franchise. Whether it's freed slaves, women, young people, we've always found ways to make it easier to vote," Holder told the New Yorker earlier this year. "We've always found ways in which we've made the voting process more inclusive. What these folks are intending to do, or certainly the impact of what they're going to do, is to turn their backs on that history. To turn our backs on that history is inconsistent with who we say we are as a nation."
Holder, a New York native, graduated from Columbia Law School in 1976 before joining the Justice Department as a prosecutor in the public-integrity section. In 1988, Ronald Reagan appointed him as a judge on the Superior Court of Washington, D.C. Five years later, Clinton made Holder the U.S. Attorney for Washington, D.C., where he focused on street crime. He worked for the law firm of Covington & Burling during the George W. Bush administration, representing large corporations such as UBS, Chiquita Brands International, and the NFL in the investigation into dog-fighting charges against quarterback Michael Vick.
Earlier this week, Holder discussed the nation's "destructive" legal system at an event titled "Shifting Law Enforcement Goals to ​Reduce Mass Incarceration," at New York University's School of Law. "The United States will never be able to prosecute or incarcerate its way to becoming a safer nation. We must never, and we will never, stop being vigilant against crime, and the conditions and choices that breed it," he said. "But, for far too long, under well-intentioned policies designed to be tough on criminals, our system has perpetuated a destructive cycle of poverty, criminality, and incarceration that has trapped countless people and weakened entire communities -- particularly communities of color."
© Copyright IBTimes 2023. All rights reserved.