Ethiopia Protest August 2016: Amid Internet Ban, Rally Against Government Leaves At Least 33 Dead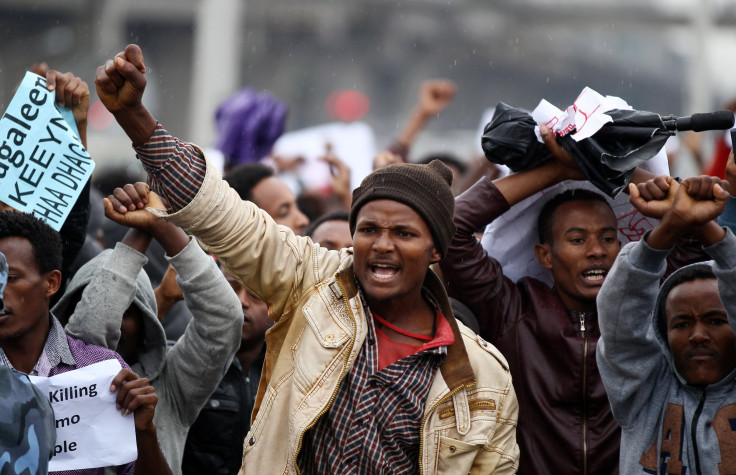 The two largest ethnic groups in Ethiopia took part in a massive anti-government protest over the weekend that has claimed dozens of lives. The protesters demonstrated against alleged government discrimination and human rights violations.
In Ethiopia, majority of the general population is made up of the Oromo and Amhara ethnic groups. Protests first began last November when the government had plans to expand the capital into Oromia, which would in turn displace Oromo farmers in the region. After the government dropped their expansion plans, demonstrations continued to spotlight other issues impacting the community.
Dozens of protesters in the nation's capital, Addis Ababa, were arrested on Saturday, BBC News reported. Things were far more violent in other parts of the country. According to the government, seven protesters died in Bahir Dar, a city located in the Amhara region. Demonstrations in the Oromia region reportedly claimed lives as well, with Oromo activists claiming at least 33 protestors were shot by police.
"So far, we have compiled a list of 33 protesters killed by armed security forces that included police and soldiers but I am very sure the list will grow," Mulatu Gemechu, deputy chairman of the opposition Oromo Federalist Congress, told Reuters.
In light of the protests, the government has responded by banning unauthorized public demonstrations and blocking social media. Officials claimed online activists were responsible for the outcry. Prime Minister Haile Mariam Dessalegn announced Friday the internet ban stating they, "threaten national unity."
"It has now become clear that people cannot hold peaceful protests in Ethiopia," Seyoum Teshome, a blogger following the demonstrations, told The Associated Press. "Regional police forces are being replaced by the army, leaving many areas to be under the military's control."
© Copyright IBTimes 2022. All rights reserved.
FOLLOW MORE IBT NEWS ON THE BELOW CHANNELS