EU Agricultural Crisis: UK Dairy Farmers Release Cows In Supermarkets To Protest Pricing War, Fear The Industry's Collapse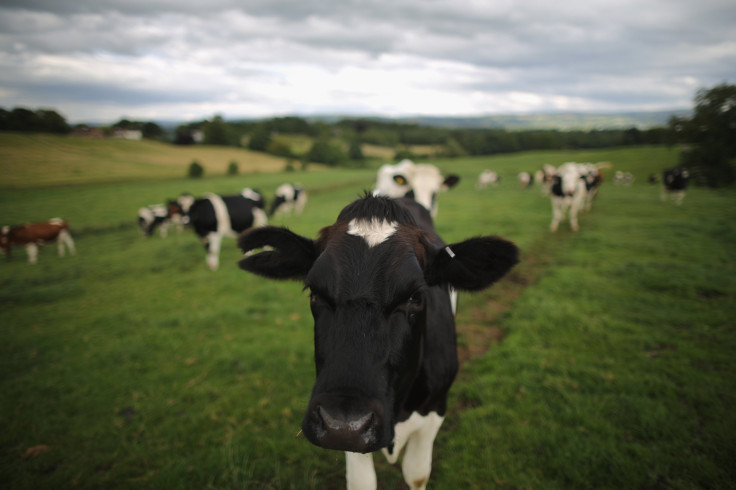 Set amid rolling hills, moors and the abundant natural beauty that inspired the nickname "the Jewel of the Southwest," Somerset embodies the English countryside. The Hole family has worked this picturesque land for 10 generations, starting off as tenant farmers and eventually growing into a medium-sized dairy farm with several hundred cows. Their farm and its sustainability, however, are now facing an uncertain future.
"[We need to] find a way to give a future and a sustainable future to an industry that is at the moment in crisis," said James Hole, 28, the youngest generation in his family of dairy farmers.
Dairy farmers in the U.K. have been hit hard in recent months by a continentwide agricultural crisis caused in part by a sanctions war between the European Union and the United States and Russia over the civil war in eastern Ukraine. Moscow's ban on milk, butter and cheese from Great Britain has taken a several-billion-pound toll on the U.K. dairy industry. At the same time, domestic supermarket chains grappling with a product surplus have slashed prices, forcing farmers to sell milk for less than it costs to produce. Farmers say EU and U.K. governments have done little to help their embattled industry, and if recent economic trends continue, the nation's dairy farms could collapse within a decade.
British dairy farmers have staged large-scale demonstrations over the past several weeks, releasing cows in supermarkets and pulling milk off the shelves to protest market prices. Hole, an organizer for the advocacy group Farmers For Action, said the protests have been successful and nonviolent.
"We are an island; we have a growing population that will require food," said Hole, whose family saw tens of thousands of pounds in losses in the past few months from low supermarket prices. "We're not asking to go to the dizzying heights. ... We're asking to make a fair living."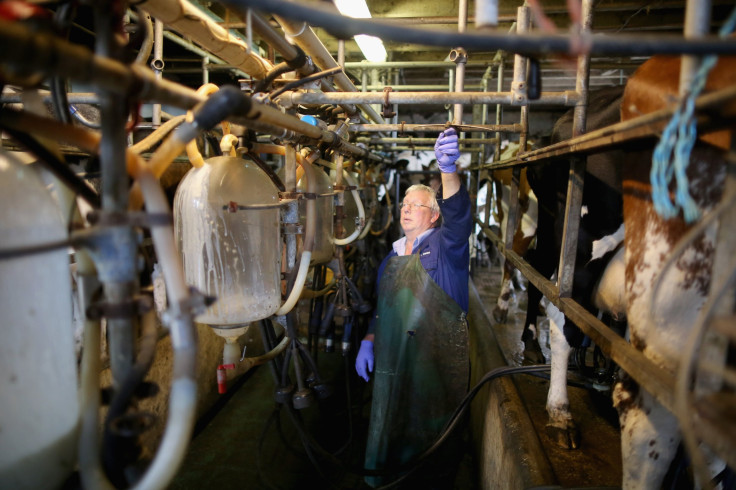 The U.S. and EU nations imposed sanctions on Russia last year following the annexation of Crimea from Ukraine. Russia responded with retaliatory sanctions on these countries, which have affected the agricultural export markets of almost every EU nation. Nations such as Belgium, France and Germany used to export to Moscow chocolate, cheese, and other food items by the ton; now they are losing billions of euros of revenue.
The U.K. is one of the top producers of dairy products in Europe and suffered a heavy blow after the sanctions by Russia. A dip in dairy exports, mostly due to Russian sanctions, accounted for 1.2 billion pounds, or approximately $1.9 billion, in lost revenue in 2014 -- a hefty sum for farmers. The U.K. dairy industry was worth 4.2 billion pounds, or $6.5 billion, in 2013, before sanctions.
Farmers in countries like France and Belgium in recent months have also staged large-scale demonstrations to protest losses from the Russian embargo and to call for universal regulations across EU member states that would protect them from being pushed out of business by cheap imports. But the U.K.'s dairy crisis has stood out to British farmers largely because the nation has one of the strongest economies in Europe.
Angry with lawmakers for not taking more steps to protect them, small farmers have taken social media platforms by storm, garnering support from the British population with photos and videos of their demonstrations that have gone viral on Facebook and Twitter. In recent days, #TeamDairy has been trending on U.K. Twitter.
Many farmers said they need supermarkets to pay them at least 30 pence ($0.46) per liter just to break even or have enough to invest back in their animals. In July, they were paid roughly 23 pence ($0.36), and some were paid as low as 7 pence ($0.11) a liter, according to the National Farmer's Union in the U.K. and firsthand accounts from farmers.
Dairy farmers are "paying the price for government intervention in the Ukraine," said Mike King, a dairy farmer and vice president of the Royal Association of British Dairy Farmers.
While foreign factors have played a divisive role in the milk crisis, some agriculture leaders say domestic supermarket chains that took advantage of the surplus to undercut farmers have dealt the most brutal blow to small farmers. Some 85 percent of dairy farmers don't have long-term contracts with supermarkets, so groceries and chain buyers that purchase directly from farmers are the ones setting the price of milk, pushing it lower and lower in an effort to compete for customers.
Milk has been less expensive than water in most British grocery stores for more than a year now. King said one supermarket in his area was charging one penny for two pints of milk as a giveaway with every loaf of bread. Supermarkets know they can drive the price and want to have the most competitive "basket" around, meaning the cheapest option for staples such as bread, milk and cheese.
King, 45, is a first-generation dairy farmer who left university 25 years ago to pursue his passion for milk. His farm has grown to include some 600 to 700 cows, and the profits he earns go to supporting his family. Given the recent crisis, he said he sometimes has regrets about pursuing dairy farming and worries that his two teenage children will not follow in his footsteps.
"They see the suffering and the hard work and think: What is the point?" he said.
In response to the crisis, the European Union Commission announced July 30 that "safety net" aid measures for dairy farmers that were set to expire in September would be extended until at least 2016. These measure included having the commission buy surplus butter and powdered milk from producers and storing it until it can be resold under better market conditions.
Dairy farmers who produce predominantly fresh milk said these measures do nothing to help them, however, since their product can only be stored for a very short time, keeping them at the mercy of supermarket chains.
Farmers have repeatedly asked for the European Union to intervene on their behalf to stave off bankruptcy, though the commission has not made plans to change its approach. Some farmers feel that the EU caused the crisis by passing sanctions against Russia and has now left small dairy farmers to deal with the aftermath.
"EU and U.K. agriculture has picked up the tab" for the Russian sanctions, said King.
Farmers have also said they felt abandoned by domestic politicians who used dairy farmers for photo opportunities during their campaigns, but have not intervened on their behalf during this time of need. Milk has often been presented as a symbol of self-sufficiency, national pride and even purity in the U.K. Prime Minister David Cameron fed milk to an orphaned lamb in a publicity stunt one month before his re-election in May. Former Prime Minister Margaret Thatcher, known for her prickly exterior, tried to soften her image by campaigning for re-election at a farm in her hometown in 1979. England is also known for its countryside, and politicians and residents alike might have a hard time seeing their supermarkets stocked only with French or German milk.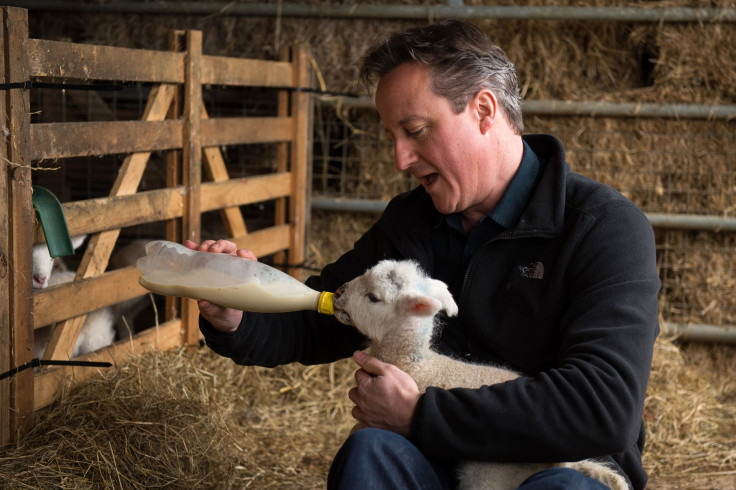 "Farmers work incredibly hard in order to produce delicious dairy products that millions of people enjoy every day," said John Bates, spokesman for a dairy advocacy group in the U.K. "They care for the countryside. They care for their animals. They want to continue doing that as long as they can, so it's clearly a challenging time for farmers and their families."
Chris Roberts, 27, is set to take over his family's 100-cow dairy farm in Oswestry, near the border with Wales. Despite scrimping where they can, the small farm is losing 150 pounds, or approximately $233.75, a day, because of the falling prices of milk.
Roberts said his family has tried to cut costs where they can, but that they needed to have a more stable cost of milk. Above all, he did not want to risk the health of the animals he cares for by cutting costs.
"It's quite an animal to look after," he said, describing how feeding a cow a little less has a great affect on the milk it produces.
"It's a vicious cycle," he said.
© Copyright IBTimes 2023. All rights reserved.
FOLLOW MORE IBT NEWS ON THE BELOW CHANNELS