Agricultural Crisis In France: Farmers Block Highways, Set Pigs Loose In Supermarkets To Protest Market Conditions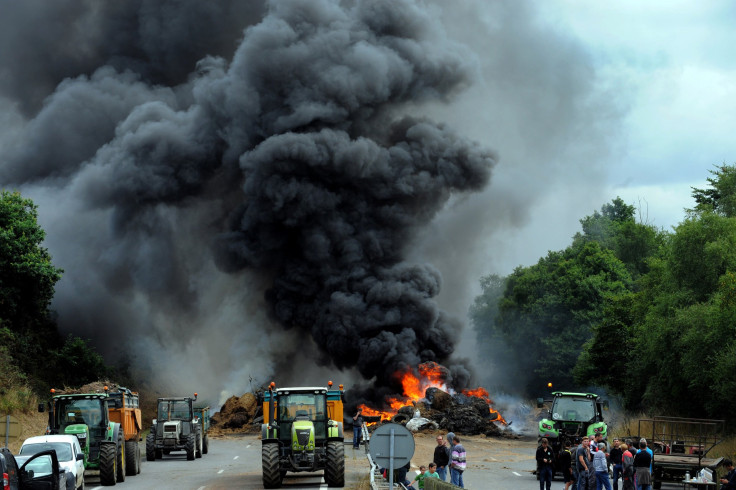 Nestled in the French Peyrissas region near the Pyrenees mountains bordering Spain, Didier Frechou's pig farm has been passed down from father to son for more than five generations. But after a century of selling whole animals, Frechou recently broke with family tradition and instead started peddling sausages and other finished products because he couldn't keep up with the low prices of pork cuts from neighboring Spain.
While curing pork and stuffing it into intestinal casings with different spices to make such classic delicacies as boudin or jambon sec might not appeal to everyone, for struggling small farmers like Frechou, 47, it has meant the difference between survival and bankruptcy.
Farmers across France in recent weeks protested European Union food import laws and poor deals with distributors by blocking highways and letting pigs loose in supermarkets. The widely publicized protests, though theatrical at first glance, underscore a grave problem for many French farmers. With lower quality controls in neighboring Spain and Germany, cheaper milk, meat and other products have saturated the French market, threatening to endanger centuries-old small farms whose products have long been a symbol of national identity. The crisis has been compounded by a 10 percent lower demand for meat in France, a shrinking market for French milk in China and continuing food sanctions upheld by Russia, a nation that was once a significant importer of French goods.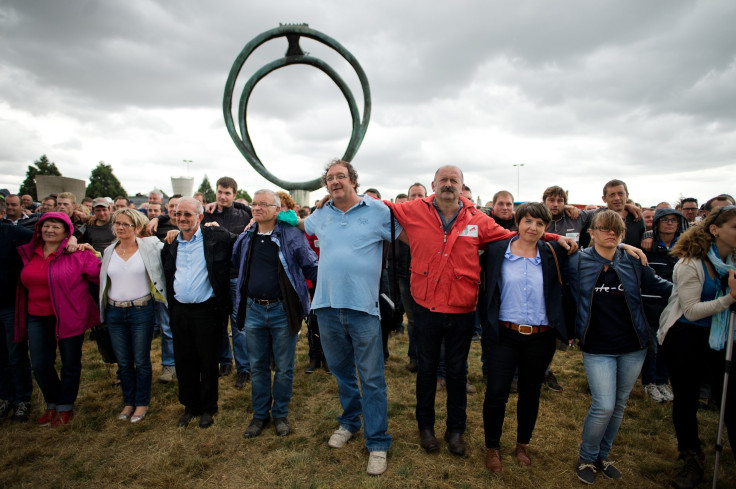 The protests have seen farmers burn tires, hay and manure to block roads near national borders with Spain and Germany. Some farmers near the German border in Alsace searched and seized foreign produce arriving on German trucks. In an expression of desperation, several pig farmers near Lyon even let their animals run wild in a supermarket to draw attention to how supermarkets have underpaid for domestic meat.
The demonstrations were intended to send a symbolic message that France's borders should not be left open to all import without regulation. The agricultural crisis has left 22,000 farms -- almost 10 percent of the total farms in France -- on the verge of bankruptcy, according to the French government.
One issue at the heart of the French farmers' struggle is the difference in regulations and quality controls across European countries. Though standardized agricultural regulations do exist for the EU, they are interpreted in vastly different ways by each nation. The laws surrounding farm regulations are incredibly vague and only provide general guidelines for things like "quality" and "diversity." Seeking the continuation of traditional methods, the French government interprets these regulations in the strictest possible way, which in turn hikes up the price of doing business for farmers.
"We are persecuted," said Raymond Berne, who raises cattle outside of Lyon with his three sons. Berne, 68, said he still works from sunrise to sunset to keep his farm going. He said that farmers selling within artisan markets, who produce luxury products like foie gras, charcuterie or champagne, never have to worry about competition because their products are indigenous to France. As someone who raises cattle for beef, however, he feared he would always be out-sold by neighboring countries who do not have the same strict agricultural regulations that France does.
Another determining factor in product prices is wage differences across EU nations. There has never been any wage standardization in Europe, and the minimum wage in Spain, for example, was less than 3 euros per hour, while in France it was nearly 10 euros per hour in 2014. Salaried workers in France are also entitled to five weeks paid vacation and are not supposed to work more than 35 hours per week.
"We are dedicated Europeans," said Franck Sander, a farmer and union organizer in the northern region of Alsace. "We just want our country to stop overcharging us with taxes."
Sander, 36, was one of the leaders of the group of farmers that blocked highways in northern France to Germany and searched vehicles carrying imported goods for market. Sander said the protest was the only way to demonstrate the gravity of their situation to the French government. Sander and his group have had some success, and as of Tuesday, he had secured a meeting with the agriculture minister in their region to discuss concrete changes to agricultural regulations.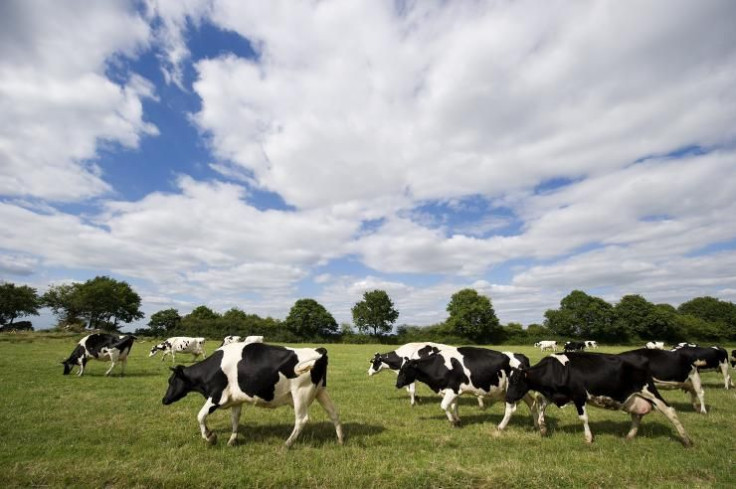 Jean-Pierre Fleury, president of the National Association for Cow Farmers in France, called the regulations a "price-war without precedent" and said the protests should serve as a wake-up call concerning universal standards in the EU. "We don't have any problem with our colleagues, our fellow farmers in Spain or Germany," he said. "This is a political problem."
President Francois Hollande promised 600 million euros in aid last Wednesday, and the Minister of Agriculture has issued 24 mandates to help farmers in the short-term, but farmers said they need sustainable and systemic change. Many farmers took on large amounts of debt in the past fifteen years to accommodate higher demand from both domestic and international consumers. But when that demand dropped following sanctions in Russia over the conflict in Ukraine and changing national tastes, small farmers found themselves in debt and with a surplus of a product they couldn't sell.
Far-right groups, such as the National Front, took notice of the farmers' dissatisfaction with the government response and capitalized on this crisis to draw farmers farther to the right. The National Front, an anti-immigrant party and euroskeptic party, has gained support from farmers in the past few months because of the crisis and the party's promises of stricter import controls, the French newspaper Figaro reported. With 25 percent of the nation's voters coming from rural areas and a general election approaching in 2017, this shift could have implications in senatorial and presidential contests.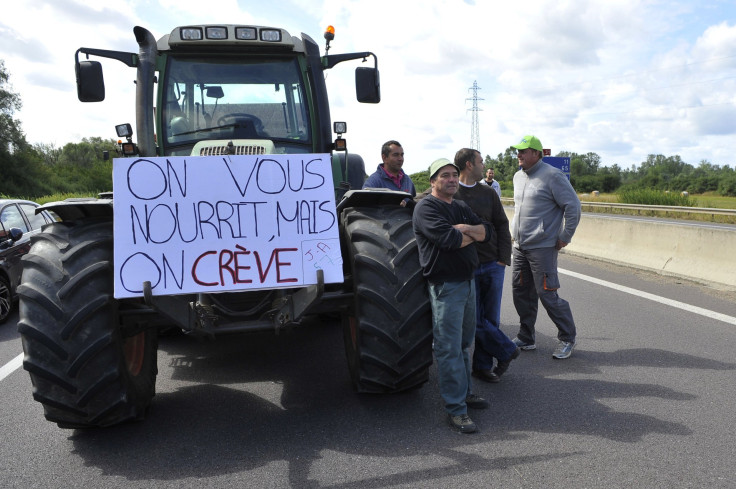 France has a long history of protest culture that arguably stretches back to the storming of the Bastille during the French Revolution. When citizens are angry about a new law or regulation, they often take to the streets the very next day by the hundreds or even thousands. And the farmers know that this approach has worked in the past. By mounting huge protests in Brittany during the summer of 2014, farmers succeeded in practically reversing a heavy "eco-tax" that would have charged high tolls on produce trucks.
Despite the inconveniences caused by the demonstrations, support for farmers has remained high, according to a poll published last Friday by the French agency Brulé Ville et Associés. Roughly 9 out of 10 French people supported the farmer's movement, with 26 percent saying they strongly supported farmers. More than 80 percent of French people polled said they were ready to help French meat and dairy producers in the supermarkets, even if it meant paying a little more for their groceries.
Aurélien Guinard, a Parisian millennial, said that when he had the choice between clearly marked French produce and foreign, he always chose French. "[These farmers] work so hard for so little, so if they are complaining, they must have a good reason," he said.
Many nations use the small farmer as a hero, a symbol of patriotism and home-grown values in an uncertain time. For the French, however, who are known worldwide as cheesemakers, vintners, and chefs, the small farmer is more than a symbol, he is an integral part of national identity. Gastronomy is so important to the French understanding of nationality that when former President Nicolas Sarkozy ordered a new citizenship test, it included identifying different types of cheese and their regions of origin.
For farmers just trying to get by, however, daily life can often seem anything but heroic. Herve de Mézerac, 49, sold all of his father's animals and planted apple trees in their Normandy farm when he took over a few decades ago, knowing the animals were too expensive to raise. He said he soon discovered the profit margin for selling apples straight to market was also low, so he decided to make cider and the regional apple brandy, calvados. Despite setbacks, Mézerac said he remained hopeful about the future.
"This soil is very rich," he said. "It has saved us from crises worse than this one."
© Copyright IBTimes 2023. All rights reserved.