EU-Turkey Summit: Ankara Uses Refugee Crisis As Leverage For Unexpected Demands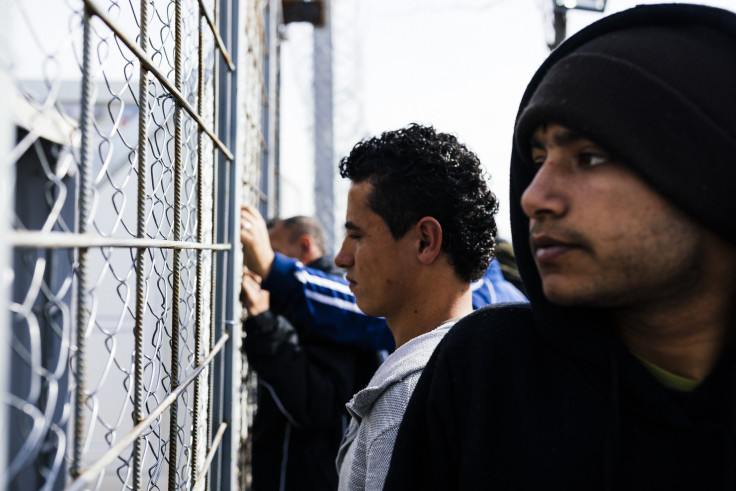 It's a waiting game at the makeshift encampment near the closed Bab al-Salam border crossing in northern Syria, where Turkey is just out of sight. There, thousands of internally displaced Syrians fleeing war in their hometowns wait to receive tents, blankets and food. But most importantly, they wait for Turkish authorities to open the border gate.
"I would give everything I had just to get my family out," Ali, 29, recently told a reporter from the Telegraph, as he begged border guards to allow his disabled mother to cross to safety. "Not just money, but my life if I had to. But no one wants either. I can't do anything for them."
Turkish Prime Minister Ahmet Davutoğlu has said his government would continue to feed and shelter the refugees, but the border crossing remains closed despite calls from the United Nations and the European Union to let them in.
The fate of countless Syrian men, women and children lies in the hands of world leaders, who must decide whether to comply with Turkey's unexpected demands made during an emergency summit in Brussels on Monday. Turkey, a gateway to Europe, has become overwhelmed by the number of refugees fleeing an offensive by Syrian President Bashar Assad's regime and Russian bombardments in Aleppo, Syria, and its northern countryside in recent weeks. At the same time, the buildup of people near its southern border has given Turkey unprecedented leverage in negotiations with the European Union over a deal for Turkey to take back refugees and migrants who have reached European shores.
During the start of the summit with EU leaders Monday, Davutoğlu sought billions in more aid money, visa-free travel for Turks going to Europe and an acceleration of the Ankara government's long-stalled bid to join the 28-member bloc in exchange for helping stem the flow of refugees and migrants into Europe. Davutoğlu also sought a refugee swap under which the European Union would resettle one Syrian refugee from Turkey for every one that Turkey takes back from Greece.
Turkey's hardening position underlined its apparent attempt to use the refugee influx to its advantage. But the last-minute, ambitious proposals faded hopes of a breakthrough deal Monday night. European Council President Donald Tusk said on Twitter he "will work out [the] details with the Turkish side" before the next summit March 17-18 in Brussels, indicating that EU leaders needed more time to consider Ankara's demands.
Millions of people have fled Syria since civil war broke out in 2011. The conflict has claimed more than 250,000 lives and left tens of thousands displaced. Turkey has provided shelter to more than 2.7 million refugees, while almost 363,000 Syrians claimed asylum in Europe last year, Agence France-Presse reported. Turkish President Recep Tayyip Erdoğan said Monday his country has spent $10 billion caring for Syrian refugees and the European Union has been slow to disburse the 3 billion euros ($3.3 billion) it already pledged to raise the living conditions of more than 2 million Syrian refugees currently living in Turkey, Reuters reported.
As the Syrian civil war inevitably enters its sixth year, EU leaders are seeking to gain stronger commitments from Turkey to reduce the number of refugees arriving in Europe. Ankara, however, has its own goals. Turkey has long sought EU membership, but accession talks have been delayed by a lack of progress in meeting criteria, recently deteriorating democratic institutions and reluctance from member states. Turkey's indispensable role in the refugee and migrant crisis has allowed Ankara to push for revived membership negotiations, among other things, and the demands might not stop there.
Turkey is battling the Islamic State group, also known as ISIS or ISIL, across its border with Syria as part of a U.S.-led international coalition. The United States and the European Union view a Kurdish group called the YPG as a crucial ally in the fight against ISIS. But Turkey labels the YPG a terrorist group because it is the military arm of the Democratic Union Party (PYD), a Kurdish opposition party in Syria that's viewed as an affiliate of Turkey's own Kurdistan Workers' Party (PKK), which has been fighting for an autonomous Kurdish region since the 1980s. The Turkish military has been shelling the Kurdish fighters in northern Syria. U.S. and EU officials have called on Turkey to halts its military action in Syria.
"Turkey now is going to raise the costs for Europe," Fredrik Erixon, director of the European Center for International Political Economy, a research group in Brussels, told the New York Times on Monday. "And to such an extent that Europe may not be able to oppose Turkish goals in the region, including how to deal with Syria and the Kurds."
© Copyright IBTimes 2023. All rights reserved.