Euro Ministers Reject Bondholders' Offer on Greece; Default Risk Rises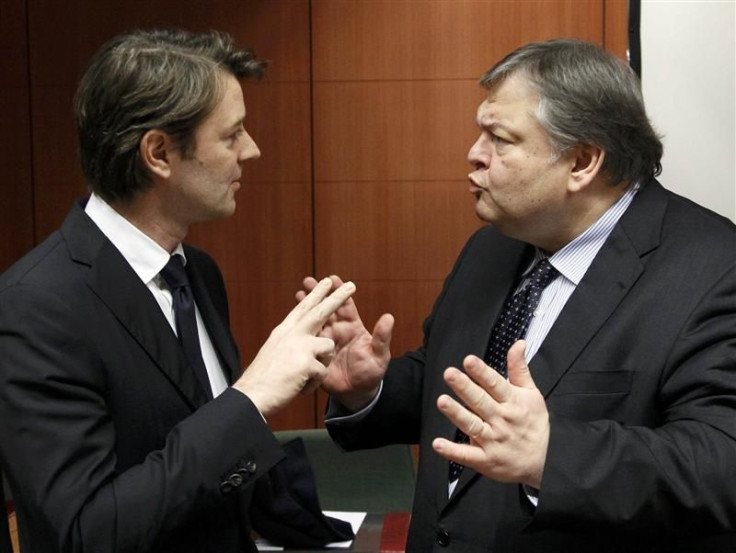 (Reuters) -- Eurozone finance ministers have rejected an offer made by private bondholders to help restructure Greece's debts, officials said Monday, sending negotiators back to the drawing board and raising the threat of default.
At a meeting in Brussels to discuss Athens' debt problems, ministers said they could not accept a coupon of 4 percent on new longer-dated bonds expected to be issued to private bondholders in exchange for their existing Greek holdings.
Banks and other private institutions represented by the Institute of International Finance want a 4.0 percent coupon on the new bonds, which will have a face value of half that of the bonds they replace, thereby cutting Athens' debts. Greece says the coupon must be closer to 3.5 percent.
The ministers have sent the offer back for negotiations, one eurozone official with knowledge of the talks said, indicating that the ministers had effectively come down on the Greek government's side.
The ministers want a lower coupon than presented in the offer from the IIF, the official said.
The disagreement increases the risk that it may prove impossible to strike a voluntary restructuring deal between Greece's creditors and the Greek government - an outcome that would have severe repercussions for financial markets.
The aim of the restructuring is to reduce Greece's debts from around 160 percent of GDP to 120 percent of GDP by 2020, a level EU and IMF officials think will be more manageable for the growth-less Greek economy.
Negotiations over what's called 'private sector involvement' have been going on for nearly seven months without a concrete breakthrough. Failure to reach a deal by March, when Athens must repay 14.5 billion euros of maturing debt, could result in a disorderly default.
As well as assessing Greece's debt restructuring, eurozone ministers discussed efforts to enforce stricter budget rules for EU states via a fiscal compact, and steps to finalize the structure of a permanent euro zone bailout fund, the European Stability Mechanism, due to start operating in July.
The ESM will have an effective lending capacity of 500 billion euros and replace the European Financial Stability Facility, a temporary fund that has so far been used to bail out Ireland and Portugal and will be used to provide part of a second, 130 billion euro package of aid to Greece.
Germany has insisted that once the ESM is up and running, the combined potential outlay of the EFSF and ESM should not top 500 billion euros.
Italian Prime Minister Mario Monti and IMF chief Christine Lagarde have said the ceiling should be raised, possibly up to 1 trillion euros, so it has more than enough capacity to handle any problems in major economies such as Spain or Italy.
The Financial Times reported Monday that German Chancellor Angela Merkel was ready to see the ceiling of the combined firewall raised to 750 billion euros in exchange for agreement on tighter eurozone budget rules, but the report was immediately denied by her chief spokesman.
It is not true. There is no such decision, Steffen Seibert told Reuters.
DEBT SUSTAINABILITY
Ahead of the ministers' meeting, French Finance Minister Francois Baroin said the elusive deal to convince the banks and investment funds that own Greek debt to accept deep losses on their holdings appeared to be taking shape.
But his German counterpart Wolfgang Schaeuble said any deal must help Greece cut its debt mountain to not much more than 120 percent of GDP by the end of the decade, something many economists believe will not be achieved by the existing plan.
The negotiations will be difficult, but we want the second program for Greece to be implemented in March so that the second (bailout) tranche can be released, Schaeuble told a news conference in Paris with Baroin and the heads of the German and French central banks.
Greece must fulfill its commitments, it is difficult and there is already a lot of delay, Schaeuble said.
Greece and its private creditors are converging on a deal in which private bondholders would take a real loss of 65 to 70 percent on their Greek bonds - giving a nominal reduction of 50 percent - officials close to the negotiations say.
Sources close to the talks told Reuters Monday that the impasse centered on questions of whether the deal would return Greece's debt mountain, currently exceeding 350 billion euros, to levels that European governments believe are sustainable.
There will likely be an updated debt sustainability analysis that will be discussed at the Eurogroup, a banking source in Athens said, requesting anonymity. Talks will continue this week. The aim is to have an agreement by late next Monday.
In Brussels, European Economic and Monetary Affairs Commissioner Olli Rehn said talks had been moving well and expressed confidence a deal could be sealed this week.
LAGARDE DEMANDS
Speaking in Berlin, Lagarde called on European leaders to complement the fiscal compact they agreed last month with some form of financial risk-sharing, mentioning euro zone bonds or bills, or a debt redemption fund as possible options.
Merkel told a news conference it was not the time to debate an increase in the euro zone's bailout funds.
I don't think it is right to do one new thing then do another. Let's get the ESM working, Merkel said, reiterating that Germany was prepared to accelerate the flow of capital into the ESM ahead of its planned introduction in mid-2012.
Eurozone leaders agreed in October that the second bailout would total 130 billion euros, if private bondholders forgave half of what Greece owes them in nominal terms.
But Greek economic prospects have deteriorated since then, which means either eurozone governments or investors will have to contribute more than thought.
(Additional reporting by Stephen Brown and Alexandra Hudson in Berlin, Leigh Thomas in Paris, Lefteris Papadimas and Ingrid Melander in Athens; Writing by Noah Barkin and Luke Baker, editing by Mike Peacock/Jeremy Gaunt/Rex Merrifield)
© Copyright Thomson Reuters 2023. All rights reserved.