Europe Gay Marriage Laws: Italian Civil Union Bill Opens To Heated Debate In Parliament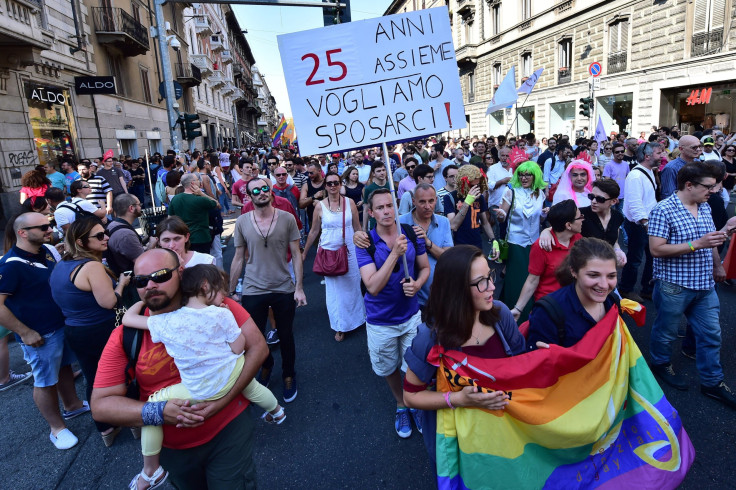 Members of Italian Parliament began heatedly debating a bill to legalize same-sex civil unions during a session that opened Wednesday. The legislation, supported by Prime Minister Matteo Renzi, has already met with push back from conservative parties in the country, including the New Center Right, Renzi's coalition partner.
"It is not exactly equal to other marriages, which I would have preferred, but it is a bill that recognizes all social rights," said Sen. Monica Cirinna , the author of the bill, German broadcaster Deutsche Welle reported.
Italy is one of the last nations in Europe to legalize some form of same-sex union. France, most of the U.K. and Ireland, to name a few, have all passed legislation legalizing some form of same-sex union. Italy has a large Catholic population and Vatican City, the seat of the Roman Catholic papacy, is located less than 10 miles from Rome.
Despite Italy's history of Catholicism, a religion that has often opposed same-sex marriage, recent polling data showed that nearly three of four Italians supported the bill. A June poll reported that 74 percent of Italians approved of the legislation, the Local reported Thursday.
International leaders, human rights groups and even celebrities have criticized Italy's lack of protections for gay couples and attitudes toward same-sex families. The European Court of Human Rights ruled in June that it was a breach of human rights that Italy offered no form of civil union that would allow same-sex partners to share the same benefits as straight partners, such as adoption powers, shared pension benefits and tax breaks.
Local authorities in the nation have also come under fire over the past several months in relation to gay rights. Venice Mayor Luigi Brugnaro felt the wrath of pop idol Elton John after Brugnaro pulled all books featuring same-sex families from libraries in the city in a controversial move in August that John called "boorishly bigoted." The mayor also banned a gay pride parade several weeks later.
The prime minister, for his part, has continued to support gay rights, saying he hoped to have legislation on same-sex unions passed before the end of 2015. With that deadline fast approaching, however, and a lack of consensus in parliament, Renzi's goal may prove difficult to achieve.
© Copyright IBTimes 2023. All rights reserved.
FOLLOW MORE IBT NEWS ON THE BELOW CHANNELS