Italy Gay Rights: Rome Mayor Breaks Italian Law, Recognizes 16 Same-Sex Marriages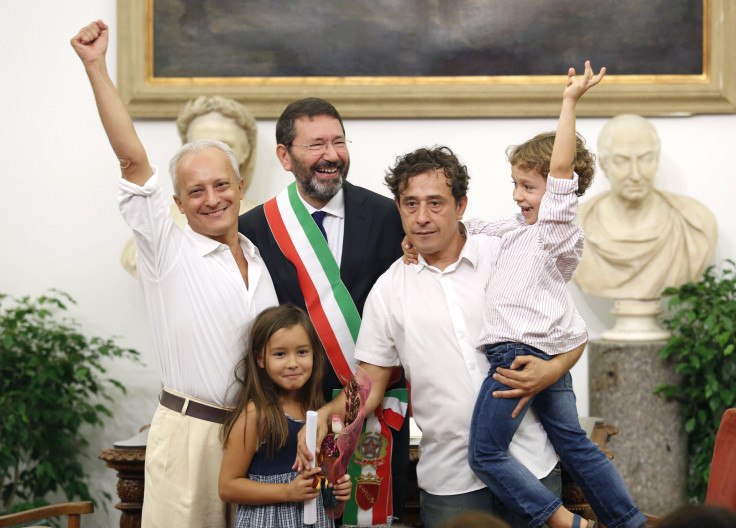 The mayor of Rome Saturday officially recognized 16 same-sex marriages in violation of Italian law, which bans homosexual unions, Agence-France Press reported. "The most important right is to say to your companion 'I love you' and to have that be recognized," Mayor Ignazio Marino said at the ceremony, according to the Associated Press.
Interior Minister Angelino Alfano said the marriage certificates were not legally binding since same-sex marriage is still illegal. "According to Italian law, this is not possible. Marino's signature can't be a substitute for the law. All he did was give these very respectable couples his autograph," Alfano said.
Though the marriages, which had been registered outside Italy, may still not be valid in the country, Saturday's ceremony was one of many indications Italy's stance on basic rights for same-sex couples like marriage and adoption could change.
Recently elected Italian Prime Minister Matteo Renzi said he would push for legislation that would legalize same-sex civil unions, but did not say it would include adoption. When Renzi announced the bill during the summer he said the Chamber of Deputies was expected to debate it by September, but that did not occur.
Italy is home to the Vatican and Italian laws are influenced by Catholic doctrine, which states marriage is a union between a man and a woman. However, the symbolic recognition ceremony took place just as hundreds of Catholic bishops were assembled at the Vatican for a two-week synod on traditional family values. Among the topics discussed was whether that definition should include same-sex couples. Bishops were unable to agree, so the issue was tabled, the AP reported.
In a statement, the bishops called Marino's ceremony on the day their Synod was due to end "unacceptable."
© Copyright IBTimes 2023. All rights reserved.