Europe Refugee Boat Sinkings 'Direct' Result Of Middle East, Africa Conflicts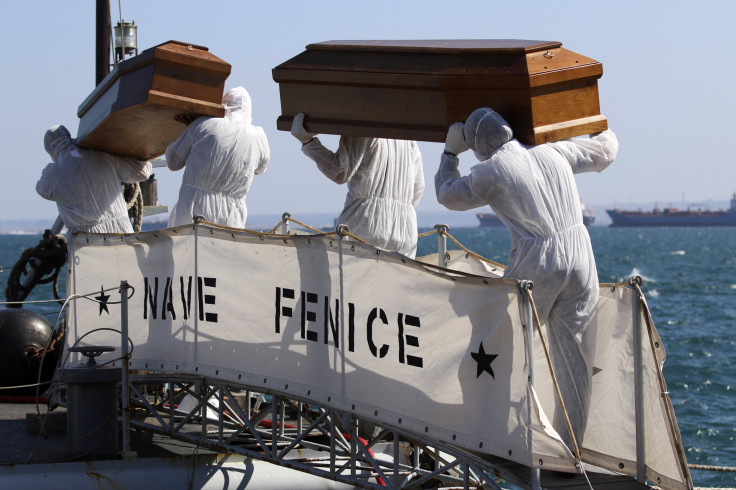 More than 2,500 refugees from Africa and the Middle East have drowned or gone missing trying to cross the Mediterranean Sea to Europe this year, compared with 700 people in 2013, having boarded unsafe smugglers' boats that sank en route from Libya, a U.N. report estimates. Officials say the increase in boat sinkings is directly related to ongoing conflicts in Iraq, Syria and parts of Africa, according to the United Nations High Commissioner for Refugees.
The sinkings are "part of a bigger problem -- the soaring numbers of people displaced by conflicts around the world," actress Angelina Jolie, a special envoy to the refugee organization, said in a statement after she and other agency members visited a rescue site in Malta near where 500 refugees died in a sinking last week. Jolie said there is a "direct link" between the conflicts in Syria and elsewhere, and the rise in deaths at sea in the Mediterranean. "Unless we address the root causes of these conflicts the numbers of refugees dying or unable to find protection will continue to rise," she said.
From 1993 to 2013, more than 20,000 people died trying to reach the Italian coast, the International Organization for Migration said. That number includes 2,300 in 2011 and 700 in 2013.
The more than 2,200 of the deaths that have occurred in accidents this year happened after the start of June. That does not include the sinking of a ship off the coast of Malta last week that killed an estimated 500 refugees after the traffickers hired to smuggle them into Europe purposely sank the boat. The figure also does not include the 250 African migrants who died Monday off the coast of Libya. That would put the number of people killed in boat sinkings while trying to reach Europe at more than 3,000 so far this year.
"We have become too used to seeing these people who are escaping from war, persecution, poverty and hunger as mere statistics," José Angel Oropeza, director of International Organization for Migration's Coordinating Office for the Mediterranean in Rome, said in a statement in January. "We urgently need to find ways to stop these people from dying at sea when all they are trying to do is to achieve a better life. We need to find ways to make migration safe and to give these people real choices."
The migrants who perished in August were mostly from conflict-ridden areas in Africa and the Middle East, including Egypt, Libya, Palestine, Sudan and Syria.
© Copyright IBTimes 2023. All rights reserved.